Skyworks Aerial Systems is a Las Vegas team of developers, engineers and designers who are passionate about bringing down the barrier to robotics. The startup is comprised of recent graduates from UNLV. The interdisciplinary team have worked on award-winning world class projects such as Solar Decathlon. The team took grand prize in 2014 Southern Nevada Business Plan competition and was voted "most promising early stage start-up" by TBAN (Technology Business Alliance of Nevada).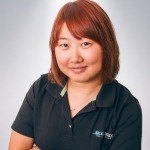 "Our team is passionate about bringing down the barrier to entry for robotics development and autonomous future," said Jinger Zeng, the company's COO. "Our products are inspired by the idea that anyone can learn how to program hardware given the proper tools. Dronesmith kits remove the complexity behind building a robot, while still giving the user the gratification of building their own drone."
Through the team's STEAM outreach in Las Vegas, they saw many schools were interested in having drones and robotics classes. However, the schools were under equipped to provide a full curriculum around it.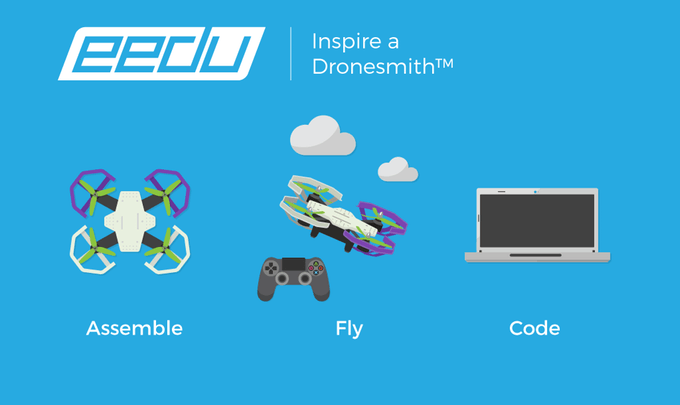 Their work in schools sparked the team's idea to create Eedu, an easy-to-use drone kit. Designed with simplicity in mind, it's a hardware and software platform that enables inventors who want to create new drone applications.
"We call these innovators Dronesmiths," the team writes on their Kickstarter page for the project. "Drones can be more than just flying cameras. Give it a nose for sniffing out hazardous material, temperature sensors for feeling heat, or any other sensor to make exciting applications. Eedu puts you in the designer's seat."
"Kids are only exposed to using drones as recreational hobby crafts or flying cameras, yet there are so many more useful applications," Zeng explained. "We are also inspired by maker movement where "hands-on project" is the core of learning. We set out to make a easy to use platform where you could mount your own sensors for accomplishing tasks, but also learn how to code. That way, kids are exposed to think outside of the box when it comes to drones and understand how to use technology to collect data and create other meaningful innovations – eventually, they will get to understand commercialization and businesses."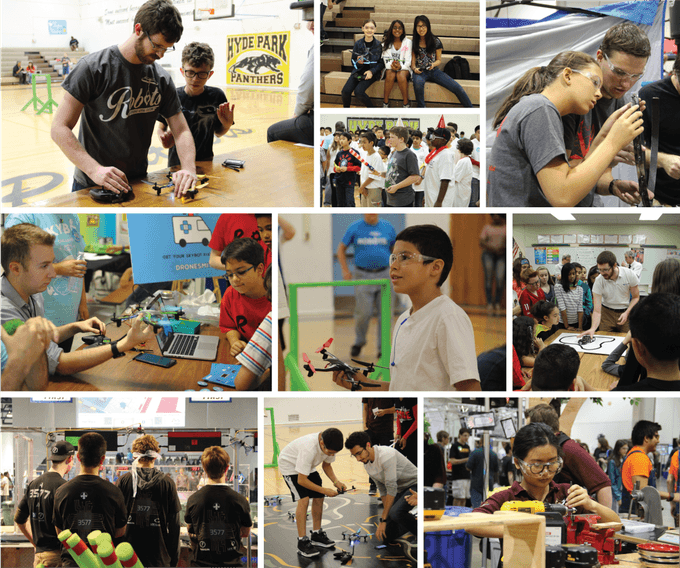 Zeng and the team have tips for those in the #VegasTech community who are looking at using Kickstarter as a platform to crowdfund their next idea.
"Use Kickstarter's creater handbook and their Youtube playlist to guide you through launching a successful campaign," they suggest. "Tell your story and show your passion. "Wear your enthusiasm — and your gratitude — on your sleeve." We did tremendous amount of pre-campaign work to build up contacts and contents. We also laid out marketing plan throughout the month of our campaign to give it constant momentum."
Zeng said she and the Skyworks Aerial Systems team hope to harbor the success of their Kickstarter to build a community in Forge, which is the software platform where dronesmiths will be building their drone apps.
"We envision everyone will be able to collaborate on ideas and showcase their portfolios. We see this will truly accelerate innovation in the drone space. And if introduced to more schools, we can transform the current STEAM workforce, and retain more students' interest in going into science, technology or even creative industry such as interactive arts," she said.
Get involved in the Skyworks Aerial Systems Kickstarter campaign. Learn more, back the campaign, and share it with friends here!