Are you struggling to find the right to promote your business?
Do you want to capitalize on a new opportunity with this new social media platform?
With online platforms like Reddit, Twitter, Facebook Groups, Meetup, and LinkedIn at your fingertips, finding the right people should be a walk in the park. Right?
As an aspiring entrepreneur and writer, even with all these resources available, finding the first loyal customers and team members have always been the biggest challenge for me when starting a new business.
Over the years I've run into several problems when trying to grow previous businesses using online platforms.
Online communities hate when members self-promote.
Nobody wants to buy products or services from a random stranger on the internet.
I can't find anyone to help build my business because It's too difficult to develop meaningful business relationships online.
In pursuit of finding the answer to these problems, I ran across Aryk Grosz, a tech entrepreneur from Silicon Valley working on a new app that solves this problem called Tribefy.
What Is Tribefy And How Is It Different?
In short, Tribefy democratizes access to people in your city.
Based right here in Las Vegas, Tribefy has quickly grown despite being invite-only.
This location-based social network aims to connect you with people in your city that share common interests, affiliations, organizations, and backgrounds.
Let me reiterate — this app helps you find potential customers, employees, business partners, investors, mentors, etc. in your local community. How amazing is that?
But what makes this different from other social "networks"?
Follow Tribes, Not People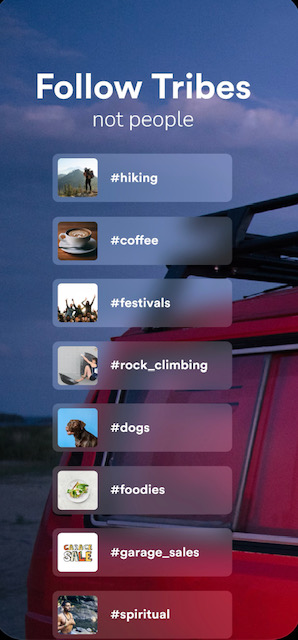 Once you join a few tribes that you are interested in, you will receive posts and events (or "gatherings") with people in those tribes nearby.
Best of all, all tribes are global—meaning if you join the #real_estate tribe, you will be connected to anyone in the world interested in real estate, no matter where you are.
No more sifting through hundreds of mostly inactive online groups in your city. Just connect with others that like the same things you do. Simple.
For upcoming gatherings, tribe members are given the ability to see who has been invited, who plans to join, and who is interested in attending to get a better sense of what to expect from an upcoming event.
For small gatherings of up to 50 people, you're going to meet everyone there anyway so why not see who's going ahead of time?
For example, if a business owner who needs help raising capital for their startup sees that a VC is joining a gathering near them, the business owner will be much more inclined to attend.
And with over 15 social links that users can add to their profile, you can share different facets of yourself as you choose. They even have Wikipedia as an option in case you're that famous!
Users can notify members whenever they want feedback on their posts.
Discover people in your city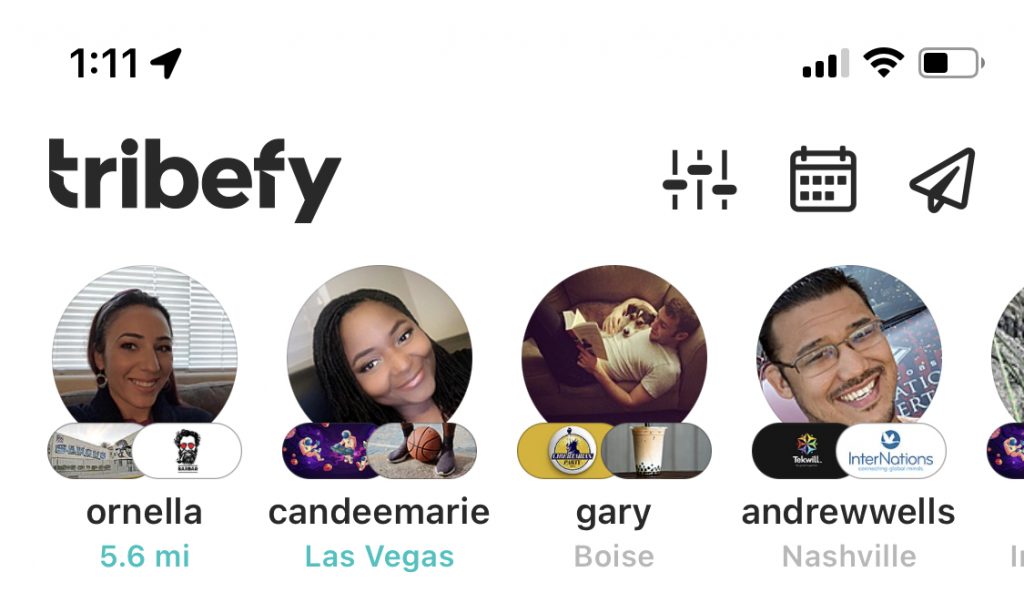 Tribefy not only notifies you when events or "gatherings" are occurring nearby but also shows you people nearby that share common interests with you.
This allows you to form deeper connections than just the initial shared tribe.
For example, if there's live music happening nearby and you're part of the #live_music tribe, you will get a notification about it.
Within this tribe, you can find people with even deeper shared interests such as #vegan or #small_business_owner.
This means you can spend less time behind a computer screen and more time interacting in the real world, by forming real, genuine connections based on common interests.
You can start a conversation to learn more about a local venue, ask for advice, and maybe get together with locals to do something fun!
Because Tribefy focuses on connecting you with users in your city, every conversation that starts online could end up with an invitation to some cool event or beneficial connections in your city.
Think Reddit, Tinder, and Meetup, but for general networking and less toxicity.
Plan gatherings for free!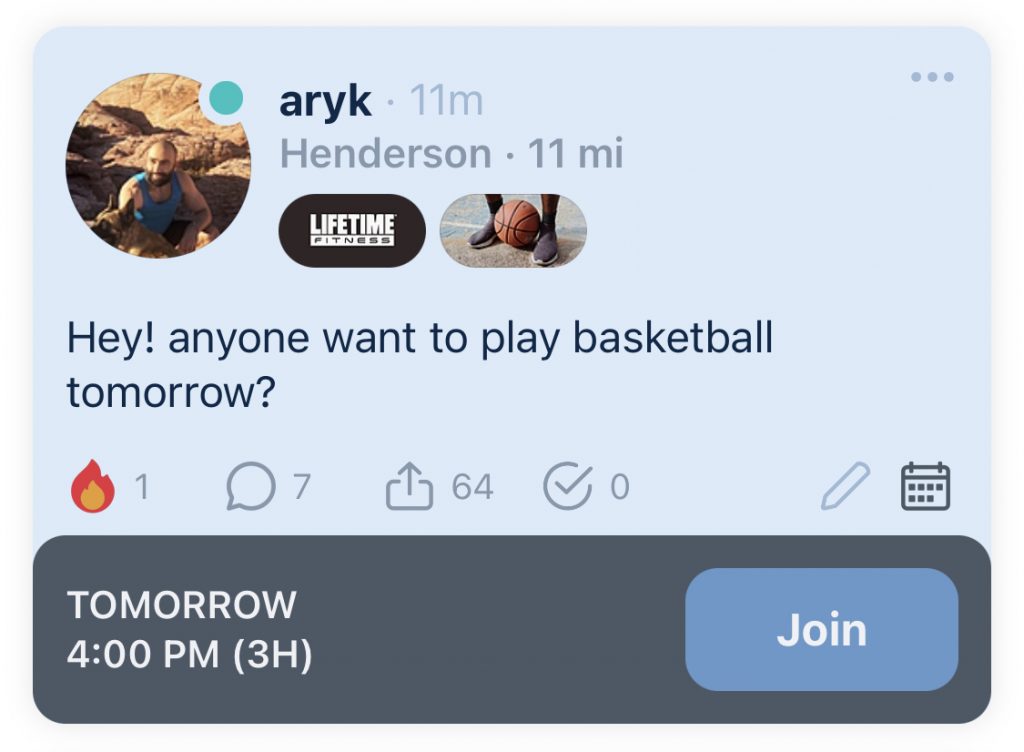 Once you post a gathering, participants can choose if they want to join and opt-in to get notified on updates for that upcoming gathering.
If hosts add event details such as the location and time of the event, tribe members can simply click on the details and will be taken to Google/ Apple Maps to help direct them to it.
This gets rid of all the repetitive questioning and allows you to get right to the good stuff— meeting in person!
Reduce spam by limiting your audience!
Online forums and communities often have issues with new members joining just to spam their businesses.
To prevent this, Tribefy has built a system that allows users to limit their posts by radius, location, gender, age, and friendship.
Imagine you fly into Vegas from New York City and are interested in connecting with others from the #crypto tribe.
All you do is open the app and bam! You now see a whole new set of posts from members of the #crypto tribe in Las Vegas.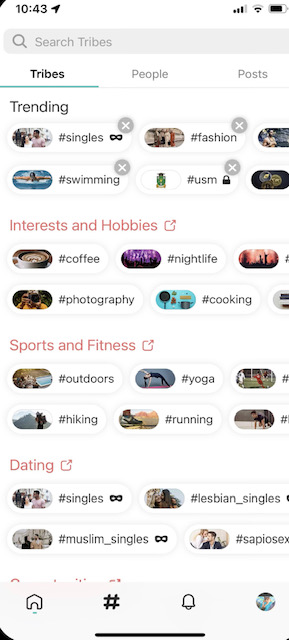 No searching for countless online groups, awaiting approval to join, and constantly checking them hoping for someone to post something relevant to you.
Tribefy does this by implementing a feature called SmartLists, where you are able to target the people that need to hear your message the most.
This eradicates the need for any ridiculous algorithms by giving you a platform to hyper-target your content to the appropriate audience.
For example, let's say you wanted to send a post to everyone in vegas who is interested in crypto and speaks Spanish.
This would be next to impossible before Tribefy but now is incredibly easy by just creating a simple list that combines people from the #crypto and #spanish_speakers tribe.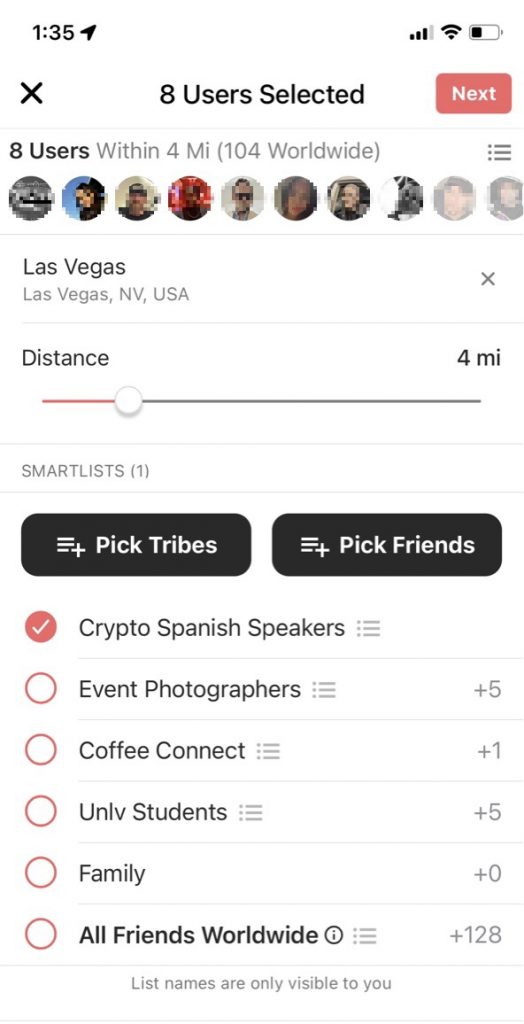 Problems With Other Platforms
Facebook Groups
While Facebook Groups are a great place to join communities of like-minded individuals, the app does not curate an engaging environment.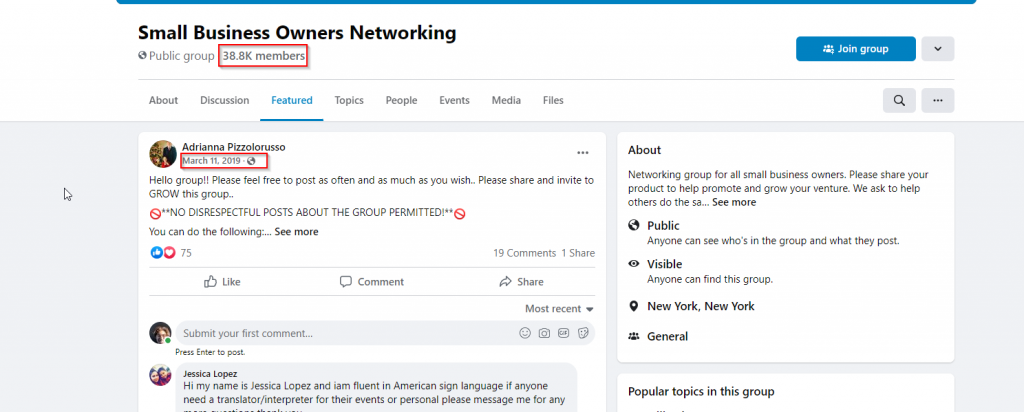 As you can see, there are more than 30,000 members in this group, yet, less than 5% of the members are active currently as most of the posts are from 2019.
These groups were created to simply share their thoughts on common subjects, but Tribefy was designed to have small communities of people actually plan events to make that shared common interest a reality.
Tribes become much more connected when they are able to interact online and in person. It's much more difficult to build a genuine relationship with a random stranger in a Facebook Group.
Not to mention how many groups exist in the same city for the same topic. How are you supposed to know which group will actually be beneficial to you? How are you supposed to know which is the most active?
Meetup
Meetup is a decent option for a location-based social network, but it falls short of Tribefy in massive ways. First and foremost, it is not intended for general networking.
In Meetup, you have to create a group before hosting a gathering, meaning you lose valuable time that could be spent fostering these connections.
With Tribefy, your message is easily shared with your target audience with one simple, real-time post.
Instagram
Sure, creating a "close friends" list is a cool concept, but it completely limits your audience. Maybe that's great for memes and selfies, but not for networking or business opportunities.
Reddit
Just like the platforms listed above, Reddit also does not offer an environment where users can build meaningful relationships that amount to real-life gatherings.
How To Use Tribefy In A Few Simple Steps
Create an account
Join the tribes that interest you
Pick a tribe and invite friends to it
Create a post introducing yourself to your favorite tribe.
Discover other members in your city
Meet up with your tribe!
Tribefy is a location-based app that allows you to find a community within your city based off common interests, backgrounds, affiliations, and more.
It's the perfect way to connect with real people, nearby, about things you actually care about.
Whether you're looking to find potential team members, markets, investors, or even just some friends, Tribefy will help you form your tribe.
If you're in Las Vegas you can download the app from the App Store or Google Play Store.
To find out if Tribefy is in your area, you can visit tribefy.com and sign up on their email list.
Conclusion
The team at Tribefy want to flip the idea of social media completely on its head, and create a platform that encourages users to create relationships in person, by connecting interest groups together based on users' locations.
The app builds upon previous location-based networking platforms and adds the essential features that are missing in other platforms, and ultimately has created a more engaging user experience.
If you are looking to foster new, meaningful relationships with potential customers, business partners, employees, or friends, Tribefy is a new social media platform that you need to check out.
Want To Share Your Startup?
Contact us or leave a comment below to be featured in the next blog post.