In a recent Vegas Seven article titled "Silver State, Green Energy", writer Nicole Ely tells why Nevada remains a promised land for the alternative-energy sector.
"In the past four years, Nevada, rife with clean-energy opportunities, has seen an investment boom," she writes.  "Those opportunities come from both the sky and the ground beneath our feet: The Silver State ranks third in the country for solar energy per capita and second for geothermal. Since 2010, capital investments total $5.5 billion, and an additional $820 million in employment and property benefits will come to the state as a result of clean-energy enterprises, according to the report, authored by the Clean Energy Project."
Curious about what Nevada has brought (and is bringing) to the clean energy table? Check out the projects Nicole Ely featured in her article: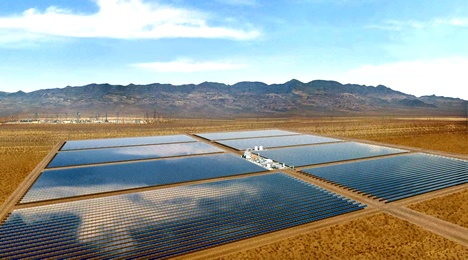 Nevada Solar One (Completed in 2009)
In Boulder City, this is one of Nevada's largest solar installations, with capacity to power 14,400 homes, according to the National Renewable Energy Laboratory.
Copper Mountain 2 and 3
With the former completed in 2012 and the latter still in construction, these combined solar plants will generate enough energy for 142,000 homes when completed.
Crescent Dunes Solar Energy Project
This utility-scale project is currently in the works in Nye County and will be online this year. With 110 megawatts of solar power, Crescent Dunes will power 75,000 homes.
Pattern Energy's Spring Valley Wind
This 152-megawatt plant in White Pine County is Nevada's first utility-scale operation for wind energy. The project's 66 2.3-megawatt turbines provide NV Energy with electricity under a long-term power purchase agreement.
Searchlight Wind Acquired by Apex
Clean Energy in January and still inching through the permitting process, Seachlight will generate 200 megawatts of electricity with 87 turbines churning away on 160 acres of Clark County land near Harry Reid's hometown.
Geothermal
With 32 plants, Nevada produces more geothermal energy than any other state except California.
Read the full article on Vegas Seven's website here.