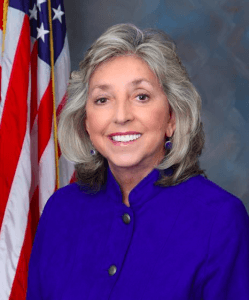 Representative Dina Titus announced the third annual Congressional Science, Technology, Engineering, and Math (STEM) Academic Competition called "The House App Challenge."
"This competition for middle school students in Nevada's First Congressional District is designed to engage students' creativity and encourage their participate in STEM education fields," the Representative said in a statement. "Students will compete by creating and exhibiting their software application for mobile, tablet, or computer devices on a platform of their choice."
By encouraging and recognizing the nation's young programming talent, Congress hopes to shine a light on the growing importance of these skills.
"I am proud to sponsor the House App Challenge in District 1 and am a strong supporter of STEM education," said Representative Dina Titus. "I need the help of the #VegasTech community, however, to be mentors to the students – setting examples, introducing them to the latest techniques, and opening their eyes to the possibilities of a career in these fields. The tech community at large can help them to really experience the excitement of the tech world and all it has to offer."
"In the past we have conducted the challenge for both high school and middle school students," she continued. "The teachers were delighted to have their students participate and the mentors from the tech community gave generously their time and talents. The resulting apps were amazingly sophisticated, well thought out, and expertly designed. It was especially gratifying seeing such a diverse group of students participating at every level, and I love that girls are getting involved in STEM fields."
The STEM Academic Competition is designed to get students thinking about a future in the growing tech industry. There is no better way than to have leaders in the industry interact with students and give them advice and one-on-one interaction.
Representative Titus and her team are seeking #VegasTech community members to serve in the Mentor role for the competition. Mentors can attend any workshop at participating schools and workshops will run between February 8 – April 8. Mentors will assist students with design, coding, and videography across all platforms.
For any questions about the challenge, or if you are interested in becoming a STEM Mentor, contact Ana Quintanilla at [email protected].