VegasTechFund backed CheckiO, the game for coders, announced a partnership with Treehouse, a technology learning platform.
The CheckiO team is building a technology that allows players to build games, publish them and compete at the best algorithms to play those games. And, at the same time, they are making it fun for users.
CheckiO is partnering with Treehouse so users can go to Treehouse with their special partner discount to ramp up basic Python coding skills. With the new partnership, users can start from the coding basics at Treehouse and then come to CheckiO to practice complex challenges.
"CheckiO has been always targeting those coders who want to become better at coding via exchanging experience with engineering minds around the world," said CheckiO co-founder and CEO Liza Avramenko. "One thing we noticed is that game aspect and a large supportive community were attracting quite a lot of people who wanted to learn coding basics. In order not to loose the focus, which is crucial for early stage startups and not to derail product development into another area, I have been looking for the right partner for some time. With the Treehouse when we started talks it was pretty obvious that the two of our services complement each other perfectly, having similar vision of making code learning fun."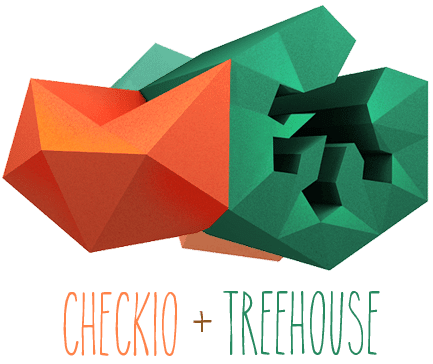 "CheckiO partnering with Treehouse has one goal – to show that one can learn coding on his/her own and do it in a fun way with the support of a community. Treehouse having amazing interactive video lessons makes learning coding basics very easy and entertaining," Liza Avramenko said. "Then, the graduates from their course are suggested a logical transition to CheckiO – once somebody had enough of theory it's time to practice cracking CheckiO puzzles and build up coder's portfolio. Summarizing, I want to say that this partnership not only makes code learning fun and social, but makes it in a such way that a total newbie can start learning and be ready for interesting engineering jobs with a resume, portfolio with code and even references from the community."
When asked how other startups can strike game-changing partnerships with other companies, Liza Avramenko says there are a couple of things to consider.
"First, you as a startup need to figure out if you need a partnership and what kind of partnership – do you want to increase awareness, usership or revenues," she said. "Once you have identified the kind of partnership that could be mutually beneficial for you and the company, it's pretty easy to convey your idea to potential partners. Based on my experience warm intros always work better."
"Another point is that not all partnerships turn out to be successful and no matter who you are partnering with, you have sometimes to put a brake on a partnership that turned out, for example, distracting for the team or much more resource consuming than expected," she added.

About CheckiO: CheckiO is an interactive and educational game and competition platform for developers. For experienced developers CheckiO is a fun and challenging competition and a way to share their knowledge. For novice coders CheckiO has created a self tutoring community where code review and feedback are game elements.