Happy first anniversary to LevelUp! This event was first held on September 24th, 2021, and after a full year of great presentations and game-changing events, we're pleased to see LevelUp thrive as part of the Las Vegas tech community.
Like in past events, we have a group of great presentations to share with you today. Our lineup includes four fresh startups eager to make their mark as well as a returning startup founder who first appeared at last year's inaugural LevelUp event. Read on!
StartUp Vegas – LevelUp!
LevelUp is an event built to cultivate a thriving startup community in Las Vegas. We want to connect founders with mentorship opportunities, networking, and resources to help every startup thrive in our fast-paced, competitive industry. From angels to VCs to talent to founders, LevelUp has something for everyone!
AloeVR Sets the Stage for Immersive Mental Health Recovery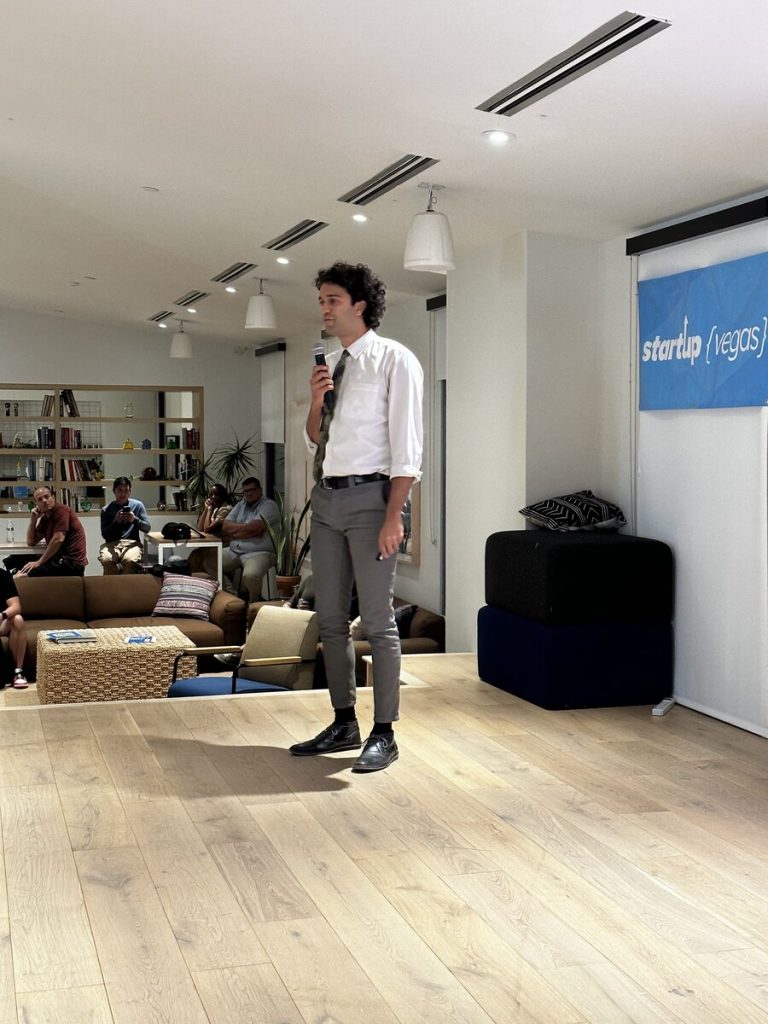 [aloeVR, Vedant Peris, CEO & Founder]
It's no secret that many in the world today suffer from mental health crises, and vulnerable student populations are no exception. AloeVR founder Vedant Peris witnessed this problem up close during his time as a local school teacher in the Las Vegas community.
"66% of students suffer from symptoms of trauma, and that's pre-pandemic," says Peris.
The future is in the hands of our students, and aloeVR is taking a proactive approach to boost their mental health, one that's built around innovative virtual reality (VR) technology and mindfulness training.
Students who participate in AloeVR's program benefit from guided sessions tailored to be culturally-relevant and trauma-informed. From meditating on a calm beach to taking in the visual wonders of Machu Picchu, aloeVR allows students to journey beyond the classroom, travel through immersive VR environments, and receive guided mindfulness support to improve mental health.
AloeVR's program also supports educators and counselors because it gives them the headset technology to facilitate a VR healing program for students. On the administrative side, the benefits of better mental health for students can include increased test scores, reduced teacher turnover, and more. While these benefits have been known for some time, Peris notes that conventional therapeutic programs for students tend to be underfunded or poorly advertised to the students who need them.
AloeVR aims to address the mental health crisis in a way that goes beyond what competitors and more conventional mental health strategies can provide.
"We have some challengers, but they don't have our combination of the VR medium, cultural relevance, and trauma-informed nature, as well as proven market value at $20 per student," says Peris.
To date, four schools have subscribed to aloeVR. This impacts over 500 students across the country. AloeVR seeks an initial infusion of $200,000 to finalize its patent, upgrade marketing efforts, and scale to more school districts.
Contact [email protected] to learn more!
Find Wellness and Self-Acceptance With the Magnify Method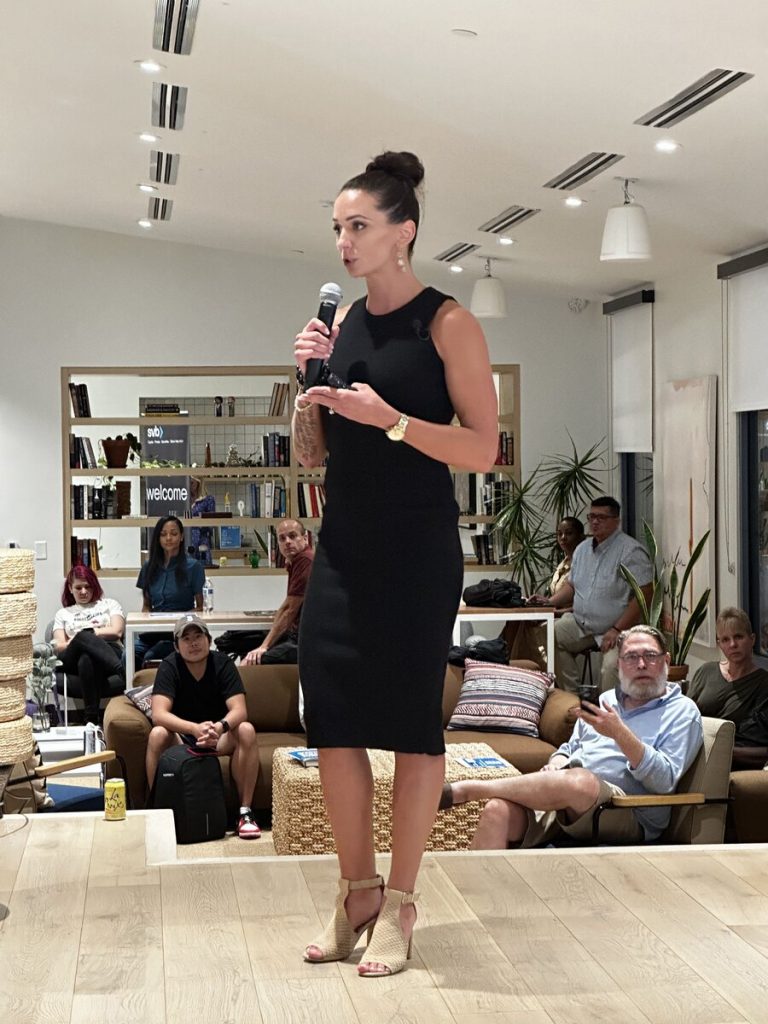 [Magnify Progressive Wellness, Maggie Jensen, Founder & CEO]
Alcohol abuse and its effects on our population are well-known but poorly-understood problems.
Alcohol Use Disorder (AUD), more commonly known as alcoholism, is a destructive condition that is often a challenge to address long term. Providing help to those who need it is the primary motivation behind Magnify Progressive Wellness, a coaching and mentorship program designed to be a one-stop-shop for everything mental health.
Statistics show that 1 in 10 Americans over the age of 12 has AUD, and 140,557 Americans die from the effects of alcohol in an average year. Just as concerning is that over half of Americans increased their alcohol consumption during COVID-19 lockdowns.
"What we're doing as a society is not working," says Maggie Jensen, Founder of Magnify Progressive Wellness and creator of the Magnify Method.
The Method is an alternative recovery approach for those who fall on the AUD spectrum, ideal for individuals who seek elevated levels of support and accountability. Programs are created and delivered digitally as video modules, digital dashboards, and educational resources to give clients the right information at the right time. Maggie also offers more intensive one-on-one coaching, complete with goal setting, regular check-ins, and personalized education plans suited to each client's unique challenges.
The Magnify Method is different from 12-step programs because it reframes what it means to get help and acknowledges that addiction is neither disease nor choice; it's an answer to a problem made by those who lack the necessary support to find better solutions.
"We're on a mission to help billions of people around the world think differently in order to 'drink different or never again,'" says Jensen.
Future plans for Magnify Progressive Wellness involve development of an all-in-one Magnify app for mindset coaching, habit tracking, nutrition plans, customized fitness regimes, and geo-tracking. Plans are also in the works to scale up, hire more staff, and expand the reach of the Magnify Method to help anyone who suffers from self-sabotaging behaviors.
Visit Magnify's website to learn more!
Faster Decisions and Higher Profits Through SpotlightCRM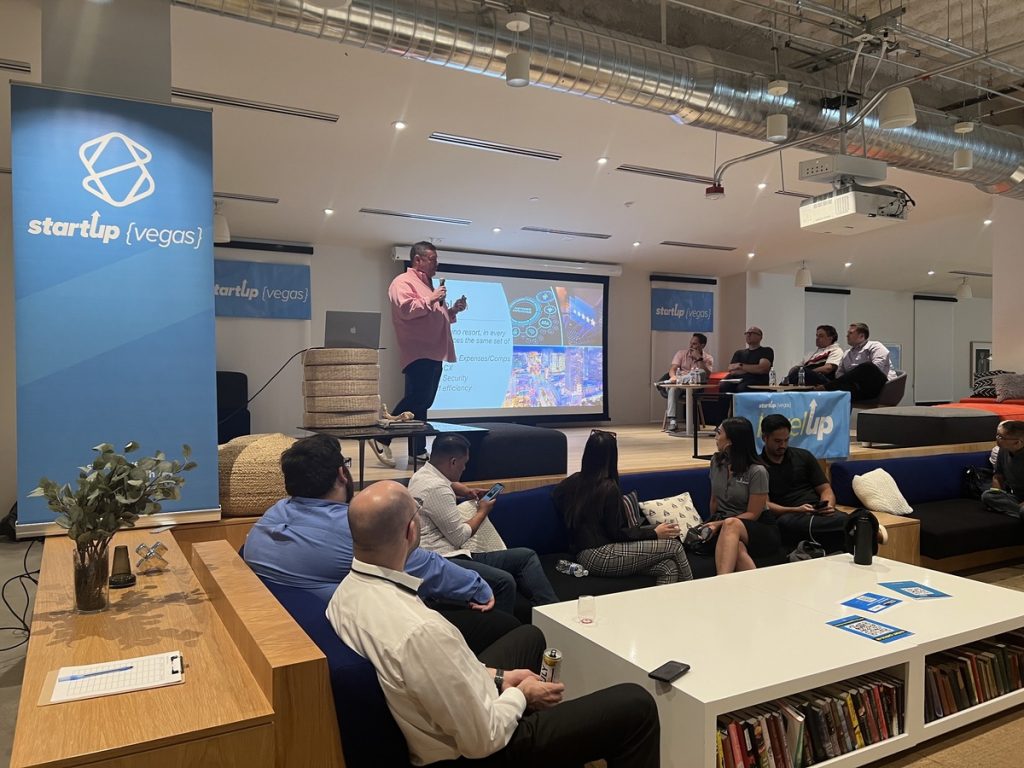 [IC Intelligence, Jeff Baldi, CEO]
The casino and resort industries hold a special place in the Las Vegas community, so it's always exciting to see innovators enter the space and show us a better way forward. Casino operators understand the critical importance of driving superior customer experiences across all interactions, something that Jeff Baldi, CEO of IC Intelligence, understands well as a 27-year veteran in the gaming industry.
"What it really comes down to is customer experience," says Baldi. "Customer experience and service are the only unique things that any casino can provide."
In light of this, IC Intelligence (known as SpotlightCRM in Nevada), offers an innovative resort-specific customer relationship management (CRM) platform focused on achieving better guest experiences.
SpotlightCRM provides operators with the ability to predict and respond to each patron's needs, expectations, and goals using analytics and real-time notifications. In short, SpotlightCRM enables faster and more profitable decision making in real-time. The system allows resorts to compile key metrics on user behavior and leverage those analytics to provide superior service across staff and management.
Better yet, SpotlightCRM is inherently extensible and compatible with the business systems casinos already use.
"We have proprietary, elegant integrations with all casino management systems and property management systems, as well as point of sale," says Baldi.
SpotlightCRM's built-in logic provides deep metrics on each player. It offers an all-in-one system that casinos and resorts can use to create better, higher-revenue customer experiences. Plus, data entry in SpotlightCRM is minimal, so it provides a simple user experience for businesses.
At a total addressable market size of $61 million, Baldi predicts annual recurring revenue approaching $5 million within three years. SpotlightCRM seeks $500,000 to be split across efforts for R&D, growth, and SG&A.
Contact [email protected] to learn more!
Park Smart With Less Stress: JAPA's Approach to Parking Optimization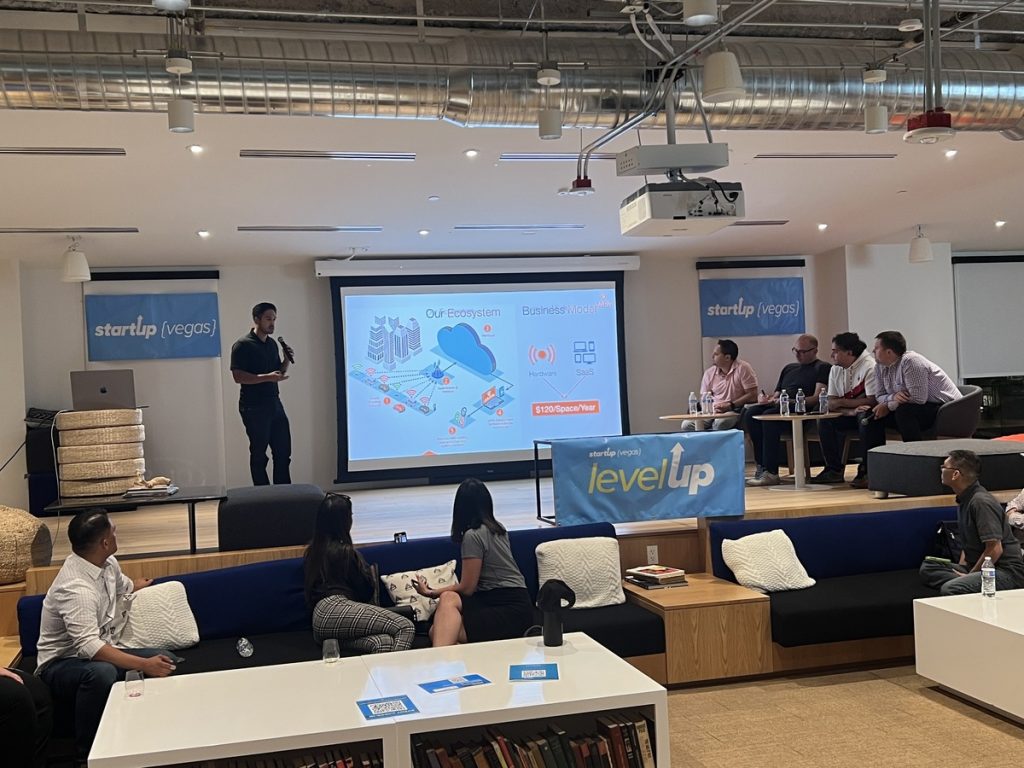 [JAPA, Mathew Magno, CEO & Co-Founder]
As those familiar with the Las Vegas community know, finding a place to park while out on the town can be a Herculean task. Spaces aren't available. There's too much traffic. Residents may spend thirty minutes or more circling a full lot, hoping to get lucky.
This is an all-too-common scenario for visitors, which is why JAPA was created.
JAPA is a mobile application meant to empower both drivers and those who manage parking lots by coordinating battery-powered parking space sensors with a connected digital dashboard. With the JAPA app, users receive real-time parking availability for connected lots straight to their device.
"We can cut the time searching for parking by 50%, which means we can put fewer running vehicles out on the road and less pollution into the environment," says Magno.
Statistics show that, while there are over a billion parking spaces in the U.S. today, commuters waste 17 hours each year looking for parking, which costs an average of $1,200 annually on wasted gas. JAPA's solution can substantially reduce these costs.
But the benefits aren't only for commuters. JAPA provides a way to automate management for lot owners as it turns conventional lot management practices into a fully data-driven operation. Owners can completely automate parking management and enforcement, provide real-time parking availability, and benefit from ongoing usage analytics over time.
JAPA's battery powered sensors are easy use and install; JAPA's team can outfit a 1200-space parking lot in just a day and a half, and sensors cost just $120 per space per day to operate.
"We're blowing the competition out of the water, not only in costs, but with accuracy as well," says Magno.
Since launch, JAPA has had no-churn, non-stop growth and currently $7 million in annual recurring revenue in the pipeline.
Visit parkjapa.com to learn more!
Bonus: Update on Halo's Driverless Electric Car Rental Service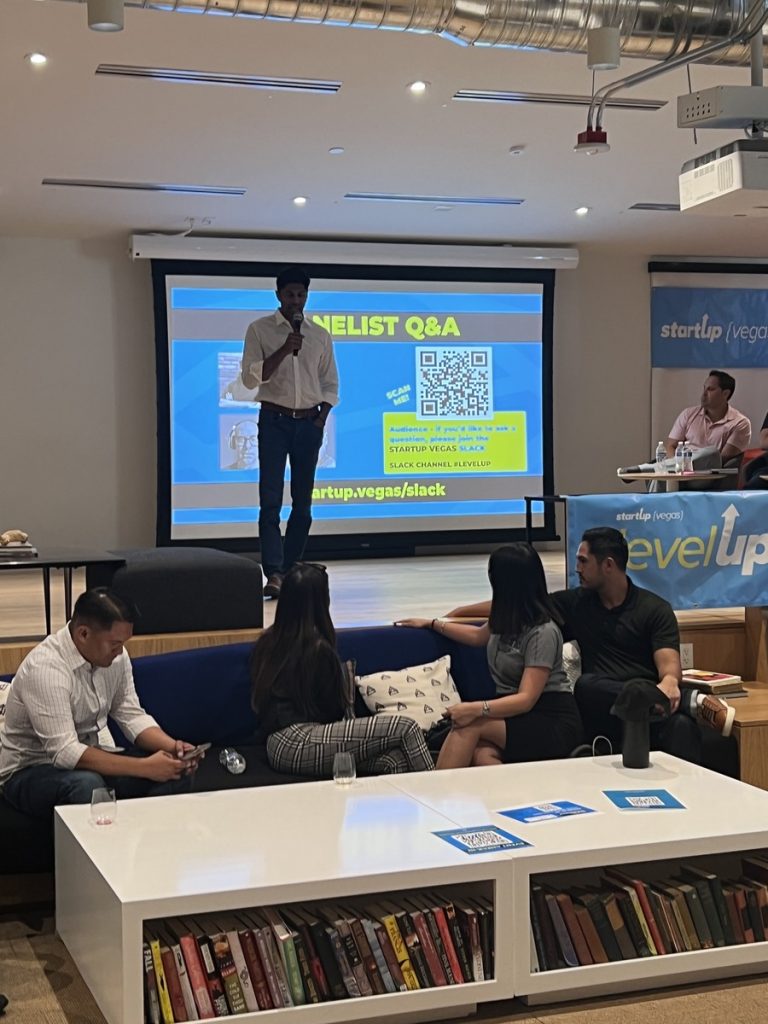 [Halo, Anand Nandakumar, CEO & Founder]
Closing out our presentations and in honor of LevelUp's one year anniversary, we brought back one of the very first founders to grace the stage: Anand Nandakumar, CEO and Founder of Halo.
Halo is a cutting-edge car rental service built around a fleet of self-driving, electric vehicles. Users log into the Halo application, request a ride, and wait until an electric vehicle arrives at their door. After completing their ride, users don't even need to return the car to a hub. Just release the car, and it will automatically travel to its next pickup location.
Although Nandakumar began Halo as a one-man operation, his hard work and dedication have helped the company expand to a team of 20. Halo's representatives now actively attend industry conferences and events and continue fundraising efforts to sustain its growth.
Halo's story illustrates the type of innovation and creative thinking that we love to highlight at our LevelUp events. Rather than wait for others to blaze the trail, founders like Nandakumar prefer to lead the pack and be among the first to set the standard for innovation in the valley. As electric vehicle adoption continues to increase, we expect great things from Halo's team!
"I'm a strong believer in Las Vegas as one of the next big tech hubs. I really strongly believe that," says Nandakumar.
Visit Halo's website to learn more!
September 2022 LevelUp Overview
This month's LevelUp event gave us some great topics to think about, given the challenges we're all facing and the much-needed rise of mental health awareness. From therapeutic support systems to experience management tools that help guests enjoy their time on the town, we're thrilled to see so many startups committed to the health and well-being of those in the Las Vegas area. Our LevelUp event hosted 173 at WeWork Town Square, and, as always, a wide variety of industries were represented.
Attendee Breakdown:
Entrepreneurs: 55%
Marketing: 13%
Investors: 12%
Developers: 11%
Creative: 5%
Other: 4%
Panelist Shout-Out
We wouldn't be here without the support and investment of our guest panelists, all of whom have taken time out of their busy schedules to share their expertise at LevelUp. To Shane Ballew, Marco Benvenuti, Brandon Rockow, and Piotr Tomasik—thanks for everything you do!
Coming Attractions
What's next for StartUp Vegas? Keep your calendars clear for the next events in our series:
LinkUp (Wednesday, Oct. 26th) A monthly meetup for local startup founders and entrepreneurs to work remotely in a community workspace setting while they network. (WeWork in Town Square, 6543 S Las Vegas Blvd, Las Vegas, NV 89119)


LevelUp (Friday, Nov. 18th)This event highlights the best of #VegasTech. It provides opportunities for companies to pitch to a panel of experts and create a great networking opportunity for the ecosystem. (WeWork Town Square)


LinkUp (Wednesday, Nov 30th) A monthly meetup for local startup founders and entrepreneurs to work remotely in a community workspace setting while they network. (WeWork in Town Square, 6543 S Las Vegas Blvd, Las Vegas, NV 89119)
Get in touch to learn more or to get involved!
Heather Brown ([email protected]) and Piotr Tomasik ([email protected]) are the Co-Founders, operators, and minds behind the magic for StartUp Vegas. Their goal is to solidify Las Vegas' position as a premier tech destination in North America and showcase the hard work of startup owners taking us there.
---