Imagine investing in your favorite professional athlete or celebrity participating in skilled events, knowing that your contribution allowed them to enter and win an event, all the while interacting with that professional or celebrity real-time during that event. And when they win, you win by sharing in the prize pool.
Founded in 2013, Las Vegas-based YouStake is the first fully integrated sports staking platform that allows the masses to invest in skilled sports players for entry in live events. The team at YouStake is cutting out all of the manual processes – finding a player, finding a backer, typing up an agreement, signing a contract, transferring money, registering for a tournament, keeping track of taxes, and paying out the winnings. They also provide security of funds by mitigating the risk of loss of funds between agreement to back and registration.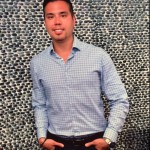 "We are a marketplace created to allow users to invest in their favorite poker players," says Frank DeGeorge, YouStake CEO. "It's a 3-sided problem – the poker staking and sports sponsorship industry has zero transparency and zero security. For fans/backers, they are looking for access, the ability to "sweat the action", and when the player wins, they win. For players, they are looking to reduce risk by selling shares. Bankroll management and reducing variance are keys to long term profitability for players. And for operators, because we only operate in legal and regulated environments, we provide the customer data such as AML/KYC for them to comply with industry requirements. We're bringing both the supply and the demand to what used to be a messy marketplace, joining poker and tech together."
The idea for YouStake was first sparked when DeGeorge was watching the World Series of Poker on ESPN.
"I heard one of the commentators mention how a well known player only had a small percent of himself. This player was playing to win millions of dollars and put up a lot of money just to enter the tournament. I thought to myself, how come I didn't have access to this player?" he explained.
DeGeorge then did research and found out that a majority of poker players, from amateurs to professionals to celebrities, were all "selling" equity in their tournament action.
"As a big fan of poker, I started looking for ways to stake players and discovered there was this big underground economy that lacked transparency, security, and access," he said.
YouStake launched on June 1, 2015 and in 6 short weeks garnered 2.8 million page views from 22,000 unique visitors, according to Forbes. They also signed up 1402 unique Poker players from 108 different countries, that generated $2.6 million in potential pledges, with $860,000 in actual pledges initiated. Most recently, YouStake reports $2.5M stakes initiated and $1.4M in pledges.
DeGeorge thinks the biggest challenge other startup teams experience is making sure they have a strong understanding of the market, the problem, and are creating the right solution. This is YouStake's advantage. The YouStake team has had multiple exits in startups, and they are domain experts in technology, finance, gaming, and sports.
"I started my first business when I was 16 years old, selling high quality used tires on eBay with 100% profit," recalled DeGeorge. "I found out luxury car dealers were paying to dispose the tires, found an opportunity to get them for free, and kept the inventory in my parents garage."
The team's COO, Scott Hansbury, has had 3 exits and was part of a team that grew to a $400M acquisition.
When deciding where YouStake should set up shop, DeGeorge says Las Vegas made the most sense since it is the poker mecca of the world.
"It only made sense to be deeply rooted in the culture, even though poker is only our first vertical," he explained. "The startup scene is awesome, it's a smaller ecosystem than places like Silicon Valley, but a lot of great companies and people have relocated there. One of our advisors works for Downtown Project Ventures, and one of our investors is closely tied to Tony Hsieh and his big initiative [Downtown Project]."
DeGeorge says that community is important for YouStake, and being involved with #VegasTech is necessary for the team's success.
"We are hiring," he said. "Right now there is a job post on AngelList for a front end UX/UI designer/developer. We're planning to open our seed round that will be used to increase even more growth. Any support from the community is appreciated!"
Although they call Las Vegas home, DeGeorge and his team recently received exciting news – acceptance into 500 Startups. The program has invested in over 1,500 companies, across 50 countries, and has partnered with over 3,000 founders. According to the 500 Startups FAQ page, the accelerator investment for Batch 16 (Spring 2016) is $100k net of fees for 5% of the company.
"Believe it or not, we applied late to the 3 top accelerator programs in the world, initially only at the recommendation of an investor," said DeGeorge. "Our first application was more than 2 weeks late. Our next two were probably within 24 hours of the final deadline. We went through 4 rounds of interviews with one accelerator, and the day after the last interview, we had our in-person with 500 Startups. The next day we received the offer and accepted pretty quickly because they were our #1 choice."
Right now, the YouStakes team is 3 weeks into the program, and DeGeorge says they could not be happier.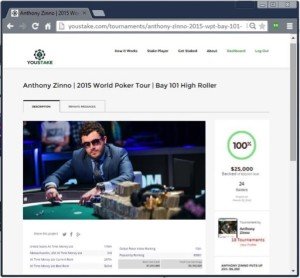 "Scott, Nick (Head of Customer Experience), and I are learning exponentially fast and realized we need to be a sponge, absorbing as much as possible, and afterwards prioritizing our goals," he said. "I would definitely recommend other entrepreneurs to apply."
For those interested in applying to an accelerator like 500 Startups, DeGeorge advises to know your metrics, have good knowledge of your space, and be ready to roll up your sleeves.
"Be brutally honest, it only helps you better understand your strengths and weaknesses," he said.
Since launching their MVP in June 2015, DeGeorge says the team has been running off the same platform with slight iterations. In 2016, they plan to release version 2.0 of the site, which will have a new facelift in design and provide a lot of automation and backend reporting.
"From a growth perspective, our goal has been 20% month over month user growth, and I'm happy to report that we are surpassing that goal each month," he said.
Get to know other startups that call Las Vegas home! Follow our Meet #VegasTech Startups series.