WiseBanyan allows everybody to make the same level of investment advisory and services previously only available to the wealthiest clients. And because of their technology, they can do it for free.
WiseBanyan launched in the fall of 2013, and the team is now bringing free investing to everyone in the world.
The WiseBanyan team recommends, invests, and manages a tailored selection of stocks and bonds for each of their clients based on the client's investor profile. There is no minimum to invest.
The team at WiseBanyan believes the current financial system was not built with the modern investor in mind. They believe the best way to maximize your savings is to invest as soon as possible, but most options on the market either require a lot of money to start or charge high fees in exchange for access.


"WiseBanyan is the world's first free financial advisor," said Herbert Moore, WiseBanyan Co-Founder & CEO. "We see the world of asset management as very much behind the times – most of us without the $250K required for a financial advisor are left with poor or no solutions for investing, and even for those that do have significant assets, the solutions are generally expensive and overly complex."
The WiseBanyan team says they are powerfully disrupting the established order in financial services by giving access to investing to everybody.
""We are changing how existing financial services companies (e.g. banks) think about investing, their fee structures, and working with Millennials," Herbert Moore said.
Herbert Moore and his co-founder, Vicki Zhou, decided to start WiseBanyan while they were running a more traditional asset management business.
"We found that there simply wasn't a good solution for our friends and family who wanted to get started investing for retirement – the existing industry was committed to only serving those with very high net worth, not those who were looking to build their net worth," he said. "WiseBanyan was founded based on two goals: to bring fees down as low as possible and to allow people to invest as soon as possible. We decided to push the envelope, and we eliminated fees as well as minimums. By eliminating fees we allow people to keep more of their money (higher returns), and by investing sooner, your money has longer to compound and grow (again, higher returns)."
In addition to its free portfolio management service, WiseBanyan also offers financial planning services, which is how the company generates revenue.
VegasTechFund recently invested in WiseBanyan and the company has relocated to Las Vegas.
Co-founder Vicki Zhou grew up in Las Vegas, and she had heard about what was going on here in downtown when she came back for a Christmas vacation.
"She also had a connection to another VegasTechFund company, and we had the chance to speak with the founder," Herbert Moore said. "He spoke very positively about Downtown Project and VegasTechFund, and he put us in touch with the VegasTechFund team. After that, we flew out to meet them for a few days, and we really liked what we saw!"
Herbert Moore says there are many benefits to relocating the company to Las Vegas, one of which is lower real estate prices.
"Our office here is a lot nicer," he joked.  "In all seriousness, that is just an example of how much more accessible things can be in Las Vegas than in a larger city. Do you want access to George Moncrief over at Work In Progress? Want to plan a company outing? There are simply less frictions, and it is exciting to be in a place where if you can dream it you can do it."
Vicki Zhou said this new community has had an impact on the WiseBanyan team.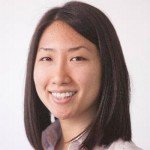 "All eight of us moved out to Las Vegas," she said. "That really says something about how not only the company but also our team of individuals saw the opportunity."
At this time, WiseBanyan is in a growth phase and the team adding clients more quickly than they expected.
"There is a lot of excitement as the business grows," Vicki Zhou said. "In addition to the growth of our business, another specific goal is establishing a strong company culture. Our entire team individually decided to move out here, and that says a lot for their passion and commitment to WiseBanyan. We hope to continue to forge a strong company culture as our team continues to (rapidly) expand."
Get to know the team at WiseBanyan and welcome them to the #VegasTech community!
"We encourage community members to open a WiseBanyan account!" Vicki Zhou said. "It will be one of the best decisions that you will ever make for your financial future. Also, if you are a founder or business owner and want to hear more about our investment plans for employees, please reach out to us."
In addition, WiseBanyan is hiring. Learn more about their open senior developer position here.
"Hopefully you will see people wearing WiseBanyan shirts walking around," Herbert Moore added. "If you have any questions about what we are up to, please ask us! If there is any way that I, Vicki, or the WiseBanyan team can help you, please let us know."