Ginx created a fun new way to be visually social with communities of people who share your interest in a #hashtag and the photos you post around it.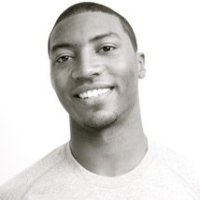 Originally from Houston, TX, Vegas-based founder Gerome Sapp was a finance major at The University of Notre Dame and was also an All-American and captain of the football team.
"I was drafted into the NFL and played 5 years between two teams, the Ravens and Colts. In the off-season I got my Exec. MBA at Harvard Business School, which introduced me to the important fundamentals of being an entrepreneur," he said.
Gerome Sapp said the idea to create Ginx came from realizing millions of social media users, who weren't connected, were using the same hashtag at the same time. The activity created natural groups of interest (defined by the hashtag) in the cloud.
"However, there was no way to connect these people around their hashtag interest and the media they post around it," he explained. "So I borrowed principles of a flash mob to create a model that allowed strangers to come together to be social, around a single interest during definite moments in time. I realized that this created a concentrated awareness around that interest. For Ginx, my strangers are millions of social media users and the interest are hashtags and the images they post around a specific hashtag."
Using the app, anyone can create hashtag-themed visual communities and set a time frame around them. Participants can join into them from within the app or by simply adding an asterisk in front of their hashtag while their posting within Instagram (ex. *#VegasTech). Then, participants up/down-vote on the images to determine who best visually represented that particular hashtag to crown a person "STAR" of that hashtag. Brands can reward the STAR of their brand's hashtag.
Gerome Sapp said he decided to launch the new app at SXSW Music 2015 because attendees are more visually social around concerts and music festivals. And he said the launch went very well.
"Do things that stand out so you wont get lost in the noise!" he advises other startups who want to launch products at SXSW. "I teamed up with Walls360 to print some of the most creative promo material SXSW has ever seen. It worked!"
He says the app is still in an early beta with a few kinks that need to be worked out, so the company's next steps are to continue to evolve the app while raising additional capital.
"I received an investment from the VegasTechFund over a year ago and relocated here," he said. "However, once I was here, I realized the Vegas Tech scene was bigger than just the VTF. It's always easy to get people to come to Vegas to meet, which makes doing business here great!"
To try out Ginx, you can simply start 'GINX'ing' hashtags you want to create visual communities around. GINX a hashtag by adding the asterisk in front of the hashtag in Instagram.
"Who knows, you could be voted STAR of that hashtag and rewarded!" Gerome Sapp says.