The Mill is an Idea Lab and Startup Accelerator in downtown Las Vegas. As part of their Startup Accelerator program, The Mill gives founders $25K, space, and a three-month program to help them take their startup to the next level.
The Mill launched their second cohort in September 2015. Find Veggies, the farmers market app to find and buy local fresh goodies any day of the week, was part of the group. Co-Founders Mitch Allen and Przemek Augustyn recently finished The Mill's Idea Program, a place to test an idea before joining a more traditional accelerator. In this second group of startups at the Startup Accelerator, the duo represented Las Vegas, both coming from nearby Henderson.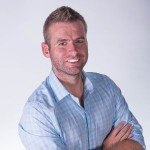 "Living in Las Vegas and working at the time for a tech company I was very interested to be more connected in the growing tech seen that there is here," explained Mitch Allen, Founder of Find Veggies. "I did lots of online research and a couple tours of Work In Progress and The Innevation Center. In this research I found The Mill and fell in love with the concept of pitching an idea and then growing that idea into the startup. It seemed like a good fit for me. I wanted to be in a small group that was new where it would be easy to meet people."
The team at Find Veggies aims to be a farmers market on your phone. The app allows customers to purchase items directly from farmers and vendors at the farmers market. Users can schedule a pickup time or have it delivered right to their front door.
"We are solving a problem we have found that busy people love farmers markets that just don't have the time to get to them when they are open," said Allen.
While participating in The Mill, Allen said the team never ran into any life or death problems, but there were a couple challenges that they worked to overcome.
"The beauty of The Mill is that not only Jill and Sara are always there giving you advice, saying what works and what doesn't, but the awesome mentors often duplicate their comments," said Allen. "It's that third voice that caused us to re-work how a portion of our application functioned, Letting our customers shop directly from a farmers market. We had the great opportunity to face the challenge, fix it, and re-review with Jill, Sara, the mentors, and potential customers. It's a great way to prove out your thoughts and ideas before you go live."
The Mill Startup Accelerator helps seed-stage companies focused on developing an exceptional customer service culture. The program team and mentor network works together to accelerate a startup's growth, making it a great place to grow a big idea.
"Being immersed in the The Mill forced me to be around the #VegasTech community," said Allen. "It was a great and welcoming experience. The biggest take way I have had was the awesome connections I have made. I would encourage anyone that is not involved or scared to go to an open speaking event or a community dinner to just get off the couch and do it. Everyone is so friendly and welcome to hear your story."
Allen says the best advice he'd give to others accepted to The Mill would be to make the most of it.
"You are going to be challenged," he says. "Accept that challenge and work with the awesome team to come up with an awesome solution. also make the most of your cohort-mates. They often are strong in areas you are week in. It's one of the most wonderful experience I have ever had so enjoy every little step of it."
Right now, the Find Veggies team is working on launching their product and starting to expand into other markets outside Las Vegas.
"We would love to have beta testers that would be willing to try out Find Veggies," said Allen. "We are looking for beta testers from both sides people making purchases from farmers markets and those that sell at farmers markets. We will be looking to expand our team later in 2016 and will be looking for some sales/marketing assistance."
Get to know other founders who call #VegasTech home here!