VegasTechFund-backed Fandeavor uncovers the best things to do before, during or after a game or sporting event. The startup finds curated sports travel packages, exclusive VIP experiences, tickets to games and even expert tips on how to make a fan's gameday more enjoyable. From pre-packaged experiences to the ability to work with one of the company's gameday experts to create something custom, Fandeavor has something for everyone.
Fandeavor's customers are people who love to travel and attend sporting events. The team's goal is to provide a product that makes it effortless for them to research and book an otherwise complicated travel itinerary to a live event.
The idea for the company started while founders Dean Curtis and Tom Ellingson were working at Zappos. With the backing of Zappos CEO Tony Hsieh, the duo left Zappos in 2012 to work full-time on building Fandeavor.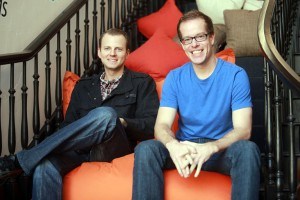 "We are both super passionate about sports and had an entrepreneurial itch that wouldn't go away!" said Tom Ellingson, co-founder and CEO of Fandeavor. "We started testing some events in the fall of 2011 and saw some energy around the business and initial traction with the tests that we were running. We left Zappos in June 2012 to go full throttle into the business. We started Fandeavor because we felt there was a gap in the sports experience business. We saw a huge opportunity to provide once-in-a-lifetime experiences and seamless travel packages for fans traveling to sporting events."
As one of the first companies in the VegasTechFund portfolio, Ellingson and Curtis have watched the Las Vegas tech scene grow in downtown Las Vegas.
"When we left Zappos in 2012, there was very little infrastructure for startups in downtown Las Vegas," said Ellingson. "Our first office was at the Beat Coffeehouse, we then graduated to an office in the Ogden that was shared with a couple other startups. When Work In Progress opened up it was a major upgrade for us. The space allows for us to spend our time building our business and not having to worry about signing a lease or maintaining an office space. There's also an added benefit of getting to know entrepreneurs and professionals from all walks of life who share the space with you. I'd highly recommend co-working for any small business."
Since the launch of the company, Fandeavor has received national press, including this piece by CNBC. In addition, 2014 was the best year for the company. The team hit many milestones including over $1M in annual sales for the first time.
"There have been lots of lessons learned along the way and many more to come," said Ellingson. "One of the biggest lessons has been to let your customers guide your business. The minute you steer away from listening to customers, you're heading to down a very difficult path to success. New lines of business, features on a website, etc., should be determined by your customers."
"Another lesson is that building a business isn't easy," he continued. "There are very few overnight successes, you have to be ready to put in the work and be prepared for a long journey with peaks and valleys. If you can grind it out through the struggles that all small companies will face, you'll come out the other end a stronger company and entrepreneur."
The Fandeavor team says this is just the tip of the iceberg.
"We're in the process of hiring and just opened up an office in Dallas to take advantage of the huge success we've had providing Dallas Cowboys experiences, as well as to support our largest customer base," Ellingson said.
Throughout his journey as an entrepreneur working on Fandeavor, Ellingson recalls a moment that was amazing for the Fandeavor team:
"One moment that I'll never forget was the first event that we sold experiences," he said. "It was UNC vs. UNLV basketball game in 2011. The fact that people would spend hundreds of dollars with this small startup that they've never heard of was super inspiring and gave us the momentum and confidence needed to get the business off the ground."
The Fandeavor team has big goals on deck for 2015.
"Our vision for Fandeavor is to be an indispensable research, planning, and booking tool for anyone attending a live event," explained Ellingson. "We're putting lots of resources into building the technology and the content necessary to support that vision."
Meet other VegasTech startups. Follow our series here!