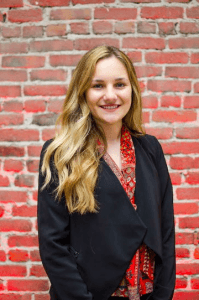 Katelyn Dunn, 17 years old and a senior at Bishop Gorman High School in Las Vegas, enrolled in a summer program at Singularity University in 2014. While she was on-site at Singularity University's campus at Moffett Federal Airfield in California, she began thinking about solving big problems.
"Singularity University focuses on using exponential and cutting edge technology to solve the world's grandest problems," she explained. "It's tagline is "How can you positively impact the lives of a billion people in the next ten years." They are most known for their 10 week graduate studies program, and my program XYC (Exponential Youth Camp) followed that program for 5 of the 10 weeks."
Singularity University's Exponential Youth Camp (XYC) is a 5-week pilot program at NASA Research Park that empowers young future leaders with life-changing, hands-on education and encourages them to build solutions to global grand challenges using exponential technology. Participants are exposed to graduate level education, internships, team projects and mentorships that challenge them to apply technology to change their world, network with a global community, and discover and align their passion with future opportunities.
"I would recommend Singularity University to anyone," explained Dunn. "The programs they run truly grab the brightest minds from all over the world and help foster global thinking and exponential thinking. Overall its a really great program, and anyone can apply through their website. I heard about it from a family friend, and that is how most get involved as well."
Within five weeks at the program, Dunn discovered a dire need that she felt like she could solve — helping people survive disasters. Soon, Disaster Mesh was born.
"My co-founders and I met at SU, connected on the Disaster Relief, and decided to work together," she explained.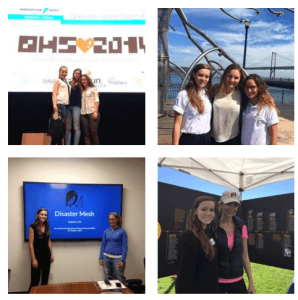 She and fellow Disaster Mesh founders Margaux Giles and Karla Dana, both college students, were inspired to create their product after hearing from disaster survivors.
Disaster Mesh is an instantly deployable mesh network that provides communication networks to the survivors of natural disasters. Since its founding in 2014, the company has grown tremendously, traveling far and wide in sharing its innovative solution as well as receiving feedback from and collaborating with influential people in the industry.
Interestingly, none of the three women had any formal background in engineering. Dunn is CTO of the company. "Our all woman team is super not abnormal," Dunn points out, "but we definitely do receive a little bit more attention, especially because we're young."
"I love being CTO of Disaster Mesh," she continued. "It has its challenges for sure, but learning the ropes for this particular project came surprisingly intuitively for me. I was originally taught how to create a mesh network by a graduate student at SU and from there through endless practice, and acquiring a basic knowledge of computer programming, I am able to create and monitor our mesh. That being said, i can create and monitor a mesh network, and do basic computer programming, but that leaves a lot of things I don't know, which is difficult but I'm actively working to fill those gaps. The biggest project on my plate right now is researching the best hardware that will be most compatible with the mesh software we use."
Dunn says she thinks the Disaster Mesh team is incredibly adaptable.
"We have only worked in the same place for three weeks of the almost two years we've been working together, which is tough for sure, but we all are hard workers and choose to make it work," she said. "We are the right team to solve this problem because we started out wanting to help, and that was it. The mesh network, seeds and more came later. We started out with heart and I think that is apparent and a huge motivator for all the things we do."
One of the biggest highlights for Disaster Mesh in 2015 was winning Verizon's Powerful Answers Award, a competition that challenges innovators, developers and entrepreneurs to provide innovative solutions that deliver social good. Verizon announced 36 finalists from a pool of over 1,400 candidates from around the world. The award offers a total of $6 million in cash prizes, plus the opportunity for winners to participate in an Accelerator program designed to help develop their ideas and bring solutions to market faster.
The 2015 program finalists – who come from diverse backgrounds and represent 10 different countries – presented their ideas before judges and competed for a prize of $1 million in three categories: Transportation, Emergency Response and the Internet of Things.
Jerry Rizzo, a Verizon spokesman, told the Review Journal that Dunn and the team are the youngest winners chosen to receive funding in the Powerful Answers competition. The competition attracted more than 1,400 entries, from more than 78 countries, Rizzo said. Only a quarter were female-founded companies.
"They're an inspiration, not only for all tech entrepreneurs, but for anyone who wants to pursue putting your ideas into reality to make the world a better place," Rizzo said.
"The Verizon Award process was awesome," recalled Dunn. "My company and I kind of stumbled upon the contest through a friend who knew thought we would be a good fit. Turns out we were! The process forced us to grow a lot, and that was incredibly helpful for us. Not only did we have to formulate a lot of documentation that we hadn't had before, and we got some really good pitching practice through the semi-finalist pitch day, and met some great people at the finalist events!"
She says top 3 things that helped Disaster Mesh secure their win was:
Knowledge. "We built this project from the ground up, and all of the material and information that could be brought up about our product was originally said by one of the three of us, so pitching wasn't very difficult for us, and I think that ease and confidence came through in our pitch," she said.
Honesty. Although the team built the product and know more about it than anyone, they are not formally trained or educated in any of the subject matter. "And we have always been honest about that," said Dunn. "I think our willingness to be so transparent helps us win people over and makes up for our shortcomings."
Advice. Dunn says she and her team take advice from everyone. "Although some of it gets thrown out, when we were working to create the best documents and plans for this competition we were open to advice on how to do that and I think our willingness to take advice lets us create the best and most tailored paperwork and materials," she said.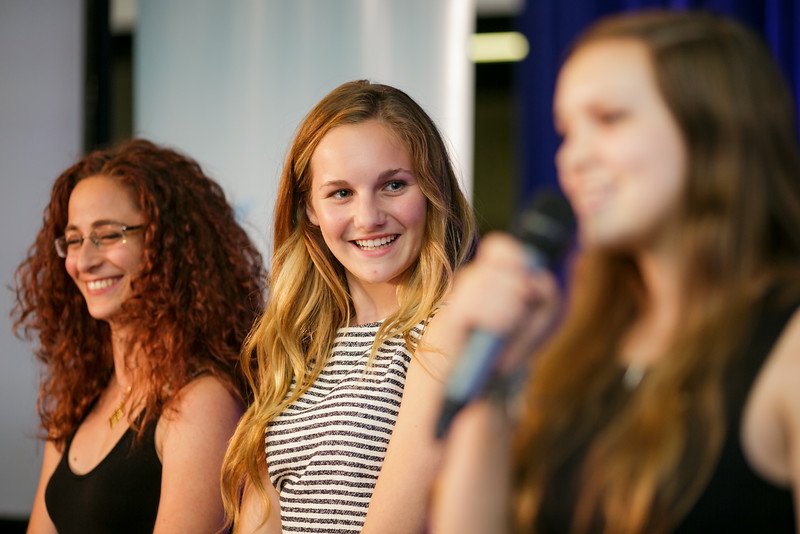 Dunn says because she is a full time high school student, she works from The Innevation Center fairly sporadically. But when it's time to be in a tech inspired work space, that's where she often heads.
"It has always been very helpful to have a space with conference rooms, collaboration spaces, and fun events," she said.
For those in the #VegasTech community who want to help Dunn and her cofounders make Disaster Mesh a success, the door is wide open.
"The #VegasTech community could be super helpful with overall startup advice and software feedback!" said Dunn. "We're new in the tech/startup field, but we are eager to learn so any experience, expertise, or feedback someone would like to share would be greatly appreciated!"
In 2016, the Disaster Mesh team is aiming to get out of the conceptual phase that Dunn says they have been in for about two years. "We also plan on attending an accelerator to help us really get moving," she said.
Get to know other startups that call Las Vegas home! Follow our Meet #VegasTech Startups series