Battle Pig is a health and fitness mobile game that encourages users to workout alongside a piglet-warrior friend. Users can choose workouts, exercise, and level up their pigs as they progress. Then, users battle friends' pigs for Ultimate Glory!
"The goal of Battle Pig is to take care of your adorable yet fierce piglet warrior friend," explained Greg Wingert, PrimoPig (CEO and Cofounder of Battle Pig). "Users get to name their pig, dress it up in different pop culture inspired outfits, work out together, and then mercilessly vanquish enemies in fierce unrelenting arcade-style combat!"
Wingert says Battle Pig's primary long-term goal is to help curb childhood obesity rates.
"Most of our team has personal experiences as to why we believe that living a healthy and happy life is a basic human right no matter where you are from or what you look like," he said. "By giving people something to take care of, play with, and healthfully compete with, we can make exercising more attractive and easier for everyone."
The idea for Battle Pig all started with a doodle.
"The doodle was of a somewhat harmless pig carrying an axe and I first sketched it during my business law class at UNLV," Wingert said. "That same semester, my professors urged me to participate in a Startup Weekend event in Las Vegas, which is a competition to create a startup in 48 hours. My professors urged me to pitch an idea to compete with. At a loss for what to pitch, I decided to use an idea I had been sitting on for a while ― a fitness game. The idea I pitched won first place at Startup Weekend and so a teammate from the competition, coder/designer Leonard Madarang, and I decided to make Battle Pig a reality."
This is the first startup Wingert has been formally involved, while Madarang works for another startup in the Las Vegas area called Sabanetics. So far, Wingert says the journey has been rewarding and full of great lessons.
"Aside from my marketing background from UNLV and Leonard's Computer Science degree from UO, we started by taking startup classes at Work In Progress. Then, we eventually moved into developing more and more of the code behind the application," explained Wingert. "We talked for several hours about art and game design. This is an ongoing process especially as we combine the design of the game with both the code and the graphic art."
When Battle Pig won Startup Weekend, they won a free 3-month membership at Work in Progress, which they now call their home.
"The community is great and always friendly, plus nowhere else in the valley will an entrepreneur find so much professional help than at Work In Progress," said Wingert.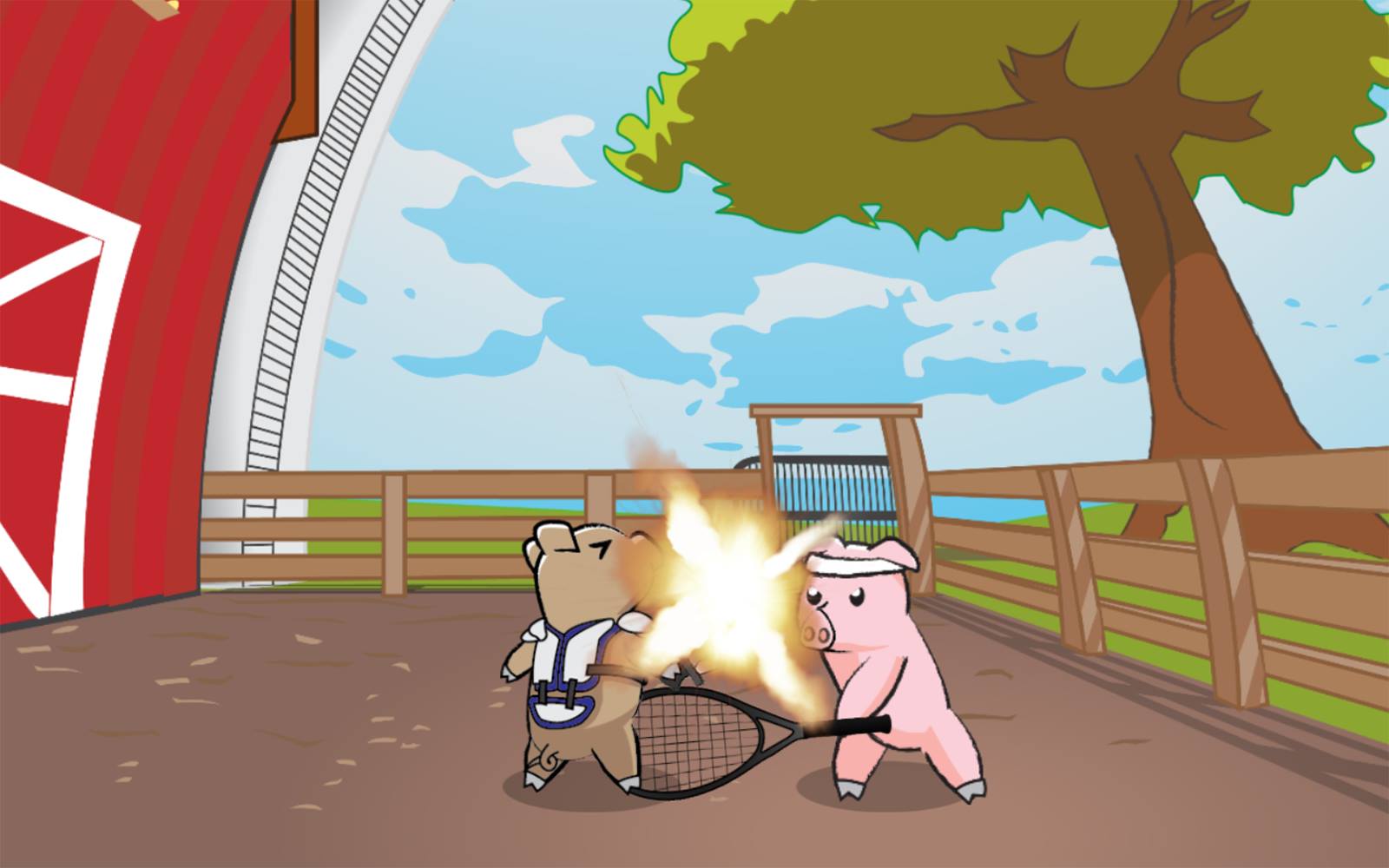 He says that so far, the biggest challenge in getting Battle Pig off the ground is handling legalities with a limited budget. As a solution, Wingert and Madarang decided to launch a Kickstarter campaign so that they can cross the hurdle of legal costs. Depending on how much funding they receive from the campaign, they also plan to hire extra help on the development side.
"Then we will focus on growing our community, which will make the game more fun for everyone," said Wingert. "Running a successful campaign will also prove market acceptance to potential investors. Battle Pig's upcoming Kickstarter has been in development for some time now. You could say we've been working up to it since a couple of months after we started coding."
Battle Pig calls Las Vegas home not only because that's where the team is located, but also because being in Las Vegas makes it easier to give back to the community that has helped each team member over the years. "The startup scene in Las Vegas is definitely growing in a positive direction," said Wingert. "Las Vegas is so close in proximity to San Francisco and Los Angeles that our community's positive growth makes sense. Not to mention that we are home to some major startup successes and the exciting new innovations coming to the state from Tesla and the Hyperloop. It's a really exciting time to be in Las Vegas."
To get early feedback from potential users, the Battle Pig team had a booth at Sabakon, an anime convention. There, they were able to show off a small demo to the target audience of teens and young adults.
"The response was extremely enthusiastic, especially among the younger crowd," recalls Wingert. "We were getting kids that were extending the time on their convention tickets to come back and see our booth. It was then we decided that if we could expose our project to more and more people that we would be able to do a better job faster, so we set our sights on a Kickstarter campaign."
The Battle Pig team is hoping to have the support of the #VegasTech community.
"Having the #VegasTech Community share our story, share our Kickstarter page, and help grow our community is the biggest help to us right now," said Wingert. "Every like we get on our
Facebook Page
not only helps keep track of our list of potential beta users but I also post a funny video of me doing 10 pushups! Every like means the world to Battle Pig. We do need some help on the investment side because we are planning an ambitious marketing strategy to help get Battle Pig finished and in the hands of high school students so we can help fight childhood obesity in the U.S. So by telling other blogs about our Kickstarter and possibly getting us in touch with some investors interested in fitness, games, and technology would be a big help."