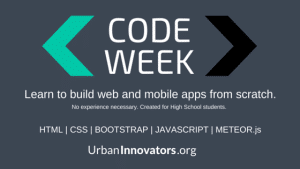 The next UrbanInnovators event is the first of a series of multi-day workshops to teach high school students how to go from no coding experience to building a prototype web app. Attendees will learn to build web and mobile apps from scratch in 3 days' time.
The event will take place December 28-30, 2015, from 9 am – 2 pm at Cheyenne High School in Las Vegas. Workshops will lead up to a hackathon in February, where students will be able to pitch and present their own apps.
"UrbanInnovators has been an idea that I've had for quite some time," said Shavonnah Tièra Collins, Founder of UrbanInnovators. "It originated from co-organizing the first Startup Weekend events in Las Vegas and seeing more people with ideas than with the skills to bring them to fruition. That, coupled with seeing startup teams have to leave Las Vegas because they didn't have the technical talent to scale their services, became a problem. This chasm between having valuable ideas and the skill set to execute them has to be addressed for #VegasTech to thrive at any level, exposure, startup or as large organizations."
At the December 28-30, 2015 workshop, attendees will learn how to ideate, design, and develop meteor.js apps. No coding experience is necessary. They will start with the basics of HTML, CSS, and Twitter Bootstrap, then get into the logic with javascript and Meteor.js. The goal for UrbanInnovators is to expose people ages 16+ to technology and innovation.
"But we don't stop there," she says. "Once they are hooked on the ability to create, we match them up with businesses and non-profits in the community who pay them to work on websites and app prototypes. We are building a bridge between underexposed future technologists and growing companies that need their skill set."
Along the way, UrbanInnovators has has some challenges and successes.
"The biggest challenge has been finding a location and transportation to get the students to be able to be able to attend consistently," said Shavonnah. "I've taught Saturdays at a community center, during a block period at a local charter school, and now during winter break. Since I've taught at the charter school, we've been recording the sessions for multiple classes to take advantage of learning the content. In-person sessions help error check and answer questions. Moving forward, we'll train up more students and teachers to become tech assistants and have a library of recordings to review."
When it comes to defining successes, Shavonnah says to look at the students served by the program.
"We began teaching free classes to underserved students in early 2014," she said. "With each cohort, it was great to see them go from never seeing HTML to imagining all the projects they could create on their own. The transition from the consumer of tech to tech innovator was happening right before our eyes."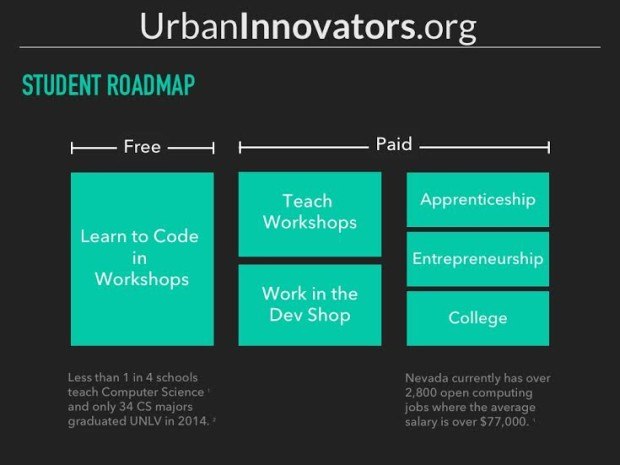 If those in the #VegasTech community are interested in helping UrbanInnovators grow, there are three major ways to support:
Volunteer to be a tech assistant at a workshop
Donate dollars or in-kind resources to support lunches, development tools, and software
Chat with Shavonnah about how your company can create a project to outsource to our Dev Shop students or develop an apprenticeship experience in the Summer of 2016
"Let me know what you think or who we should speak to in the comments," said Shavonnah. "Let's do it!"
Get to know other #VegasTech community members and learn how you can help them grow their ideas! Take a look at our "Meet Vegas Tech Community Members" series.