Container Summit will be taking place on May 3, 2016 at Mandalay Bay Convention Center. The event joins Interop 2016 to continue the conversation surrounding containers in the enterprise.
Local Tianon Gravi, the SVP of Operations at InfoSiftr, will be speaking at the Summit. At InfoSiftr, he helps organizations "get Dockerized" and feel comfortable with their transition. Some of his other roles include being Docker Core Maintainer, serving as a member of the Technical Developer Community for the Open Container Initiative's Runtime Specification, and is an official member of the Debian Project as an uploading Debian Developer.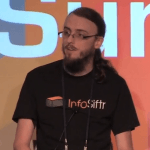 "I've been living in Vegas for roughly a year now (still loving it) with my wife and two young children," said Gravi. "I'm excited that Container Summit in Vegas this round. Travelling for events like this is exciting in a way, but it's also exhausting, and throws off life. I'm looking forward to being able to go back to my own home, sleep in my own bed, and see my kids!"
Container Summit will be coming to Las Vegas for the first time, and the team at InfoSiftr says they were players in that exciting decision. Past events have been in New York City and San Francisco.
This year, Gravi will be speaking about some of the Docker "dos and don'ts."
"The overall gist is that I'll be taking some of the things we've learned from helping organizations do this over the last few years and offering guidance around potential landmines," Gravi explained. "When preparing an application to run inside a Docker container (so called "Dockerization"), there are a few potential baby dragons waiting to strike on the unsuspecting developer (or the poor ops they hand the application off to). In this talk, we'll explore a few of these snags, and the mitigation strategies that have been the most effective in our experiences working with Dockerizing software."
Other speakers include Las Vegas locals including EVP Cloud at Switch Supernap Jason Mendenhall, as well as team members from companies like Disney, Joyent, and Cisco. See the full speaker line-up here.
Can't make it to the event this year? Gravi says you might be able to catch it online. Or, at the very least, you can take a look at the material he plans to present.
"I know past Container Summit events have been recorded (although the inaugural event wasn't), so I'd imagine Joyent's planning to coordinate with the folks at Interop to make that happen here too. I don't have any specifics on that," he said.
"The materials I plan to run through will be made public in a repository on my GitHub account either just prior to the event, or shortly after. Although my narration won't be recorded there, so they'll have to read between the lines a little from the example code I'll be demonstrating unless/until the recordings become available following the event."
In his career, Gravi says he has delivered one talk and sat on three panels. For those in the startup world with a technical background and an interest in speaking for the first time, he offers some advice.
"I can definitely say that panels are a great way to go if you don't feel very comfortable standing alone," he advises. "If you've got a good moderator, which I've been fortunate enough to have all three times — Bryan Cantrill and Casey Bisson, who are both great. I find that for me, answering questions and responding to dialogue with the moderator and other panel members is more natural than giving a standalone talk and it's easier to forget you're presenting. I imagine a "fireside chat" style would be a similar experience, although slightly higher stress given that you're not sharing the spotlight with a full panel."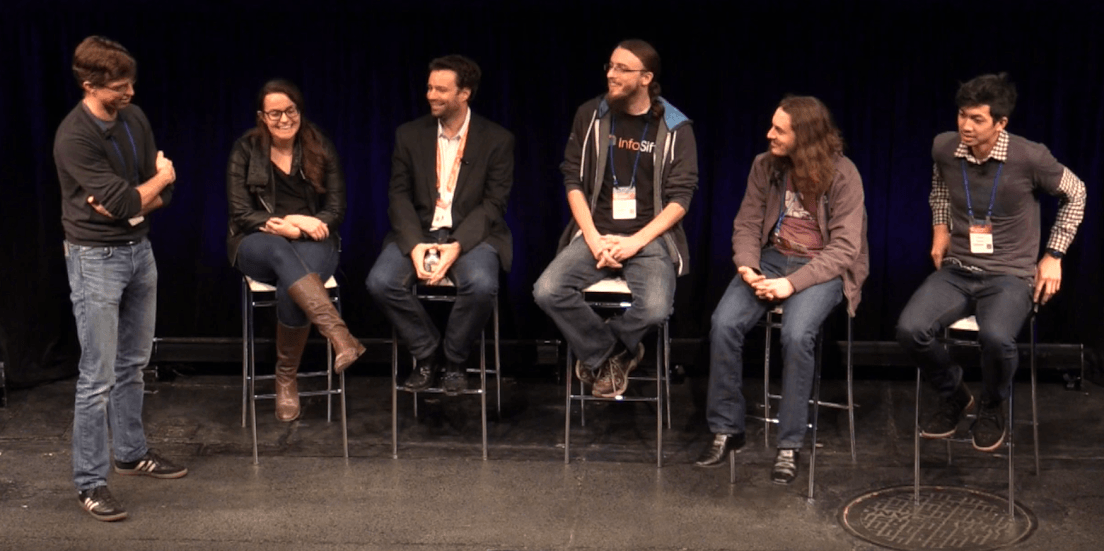 For Gravi, the biggest challenge when speaking solo is making sure he sounds natural and not trying to force conversation from the audience.
"It's a different way of having a "conversation" with people when there are no non-verbal cues. It sounds corny, but giving mock-presentations of your talk to stuffed animals or similar inanimate objects is a solid plan," he said. "For this talk, I plan to go heavy on the demos/"live coding" because I know I'm usually comfortable when I'm browsing my own code, and getting to that comfort zone should take me from "what could I possibly talk about for 30 minutes??" to "wow, only 30 minutes; what am I going to axe?"
There are more and more events talking about containers, but what sets Container Summit apart is a focus on sharing actual best practices from enterprise users of containers in production. Some of the most innovative enterprises like Walmart, Twitter, and Netflix have been running containers in production for years and have experience with what solution stacks work best, what pitfalls to avoid, and how to get optimal performance without breaking the bank.
Attend this event! Get all the details here.
Meet other members of the #VegasTech community who are doing amazing things in our "Meet #VegasTech Community Members" series!