Rich Belsky is a Pitt Law graduate, part-time professor and UNLV, and seasoned entrepreneur. In the years since he graduated law school, he has lived the entrepreneur's dream in Las Vegas. He worked in industries from media to talent management before jumping head-first into the startup world in 2008. He launched VTF Capital-backed Rolltech in 2011.
Recently, Sports Challenge Network, Inc. merged with Rolltech, and Belsky is now the co-founder and COO of Sports Challenge Network.
"Being a part of the Las Vegas startup scene has been one of the most important experiences of my career," said Belsky. "I've met lifelong friends, danced joyfully in the streets and mourned tremendous losses. The culture here is as involved as you want to make it, but nobody is just going to hand it to you."
Belsky believes that Las Vegas' biggest strength is the accessibility of those that would be hard to reach in other cities – if you're willing to put yourself out there.
"There are people and companies everywhere with money, connections or willingness to partner," he said. "What inspires me most about Las Vegas is the evidence of dreams realized; the stories of so many that came here and built their stories from the ground up. There are reminders all around that hard work, persistence, and a little luck can build empires."
In September 2016, Belsky spoke at The Innevation Center's monthly event, the CommunityCation Luncheon. His talk was titled: "The Stories We Tell Ourselves: Killing Cognitive Bias in Entrepreneurial Decision Making."
"I talked about how the BS things we tell ourselves about business, fundraising, failure, etc., only serves to mismanage our expectations and limit our ability to make well-rounded decisions," he said. "I shared personal stories from my own experience and experiences of some I've come into contact with. There are a lot of different types of biases, and I focused on the ones most pertinent to the startup/entrepreneurial experience."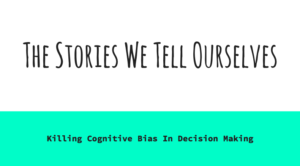 "It was a very satisfying talk," Belsky said. "There was a lot of email and outreach afterward."