Girls in Tech (GIT) is a global non-profit organization focused on women's innovative and entrepreneurial achievements in technology. Created in February 2007, Girls in Tech is an organization founded by Adriana Gascoigne, and was born out of a need to provide a place for women to cultivate ideas around their careers and business concepts involving technology and entrepreneurship.


"As women with the capacity to inspire and lead, it's our desire to sustain an organization that focuses on the promotion, growth and success of entrepreneurial and innovative women in the technology space," the Girls in Tech website reads.
Girls in Tech is headquartered in Denver, Colorado and has multiple chapters around the world, including in Las Vegas. NV. The local Las Vegas chapter (Girls in Tech Las Vegas) has a goal is to promote the collaboration, growth, and success of women in the technology sector.
Rosa McGill, the original managing director, came to Las Vegas from San Francisco where she was the Social Media Manager of Girls in Tech, San Francisco.
Christina Aldan and Amber Bradley are now Managing Directors of the local chapter.
"The Girls in Tech, Las Vegas chapter began out of Rosa's need to connect with other women in technology," Amber Bradley said. "In addition to having a supportive network of like minded women, and to be part of a tech community that is all inclusive."
"Girls in Tech, Las Vegas has built a great friendship and partnership with the Girl Scouts of Southern Nevada," Christina Aldan explained. "It started back in 2012 where members of GITLV had volunteered for a summer session with the Girl Scouts. From there we grew to understand the lack of STEM programing that the Girl Scouts had in Las Vegas, and we found an opportunity to fill that gap."
Since then, Girls in Tech Las Vegas has developed a computer series called "She's Geeky" where members of the Girl Scouts of Southern Nevada can learn skills ranging from computer basics and graphic design to programming and online safety.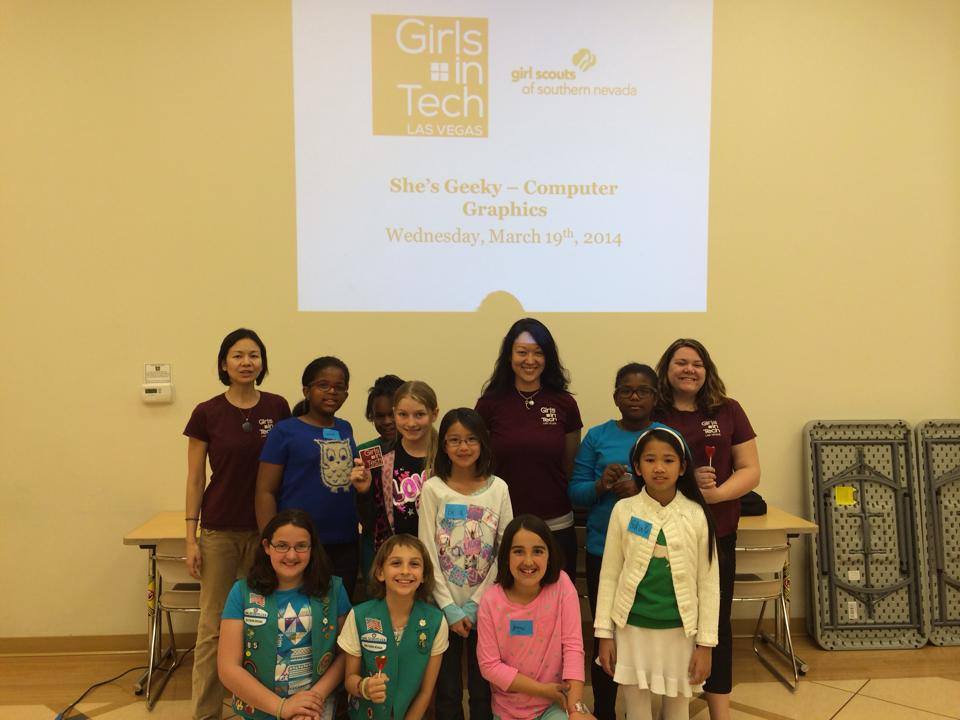 "Upon completion of these classes the girls receive badges specifically designed by GITLV for their participation," said Amber Bradley.  "We are so proud to be partnered up with such a wonderful organization to help empower the next generation of women in business and technology."
The team says the "She's Geeky" program has been so successful, they have been able to offer it multiple times throughout the past year.

"It has also sprouted the idea for a She's Geeky Week," said Amber Bradley.  "This will be a full week of computer related activities and discussions that is part of the Girl Scouts Summer of STEM day camp series."
As part of the She's Geeky Week, the girls will learn hands on lessons for Word, Powerpoint and graphics. They will also take part in a daily speaker series with related topics.
"One of the speakers in the series will  be Local Motors of Las Vegas, talking about 3D Printing and related concepts," Christina Aldan said.
We are always looking for community partners and collaborators who are interested in promoting the achievements and growth of women in the technology space.
Girls in Tech Las Vegas is currently accepting new members for their advisory board and is always looking for volunteers to champion their community events.
"If you'd like to join us, please visit us here online," Amber Bradley said. "There you will find information about our next planning and development meeting (6:30pm every other week at Work in Progress) and volunteer opportunities."