There's a growing media outlet in Las Vegas called Don't Sweat The Tech Show, which is produced and brought to you by Midlife Media, Inc.
The team behind the show is Gabe Shepherd and Mike Cao. Gabe Shepherd, a self-described startup junkie, has a background in business development and marketing.
"I love all things tech, hip hop, and work with SXSW and Vegas Tech startup Wedgies," he says.
Mike Cao is a web developer, videographer and music producer. And an amateur competitive food eater.
"Don't Sweat The Tech is an entertainment show for startups and entrepreneurs with current tech news, comedic bits, and cool interviews," Gabe Shepherd explains. "Think of us as the Late Night of the tech startup world."
The duo explains that the world doesn't need another TechCrunch, Mashable, Wired, Venture Beat or Quora.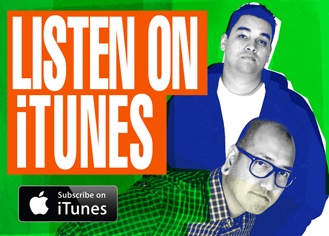 "Don't get us wrong, those are all great," Gabe Shepherd said. "So great there's no point in trying to duplicate them. We took a different angle, namely that lots of people don't really get what computer geeks do or what it means to be a tech startup. Sure they use your app, subscribe to your service or are technology curious but they're not immersed in it. So really they're kind of excluded but we wouldn't even exist if they didn't buy our products. We wanted to break it all down in a fun, offbeat, entertaining way into simpler, digestible conversations that non-techies would relate to."
On Don't Sweat The Tech, you'll find self-depreciating humor, perspectives on tech you won't get anywhere else, and a ton of approachability.
"We're PBR, not a microbrew," he adds.
Gabe Shepherd says he and Mike Cao always had funny conversations about their lives and tech startups.
"Well, at least we thought they were funny. So one day, we were especially inspired by the NSA and so we thought, "We should really be recording these conversations." 6 months later, here we are," he explains.
While Don't Sweat The Tech is only technically considered a "podcast" today, the duo hopes to become a much larger platform.
"Look at the evolution of Funny or Die or Giant Bomb for video gamers. That's who we look up to (Will Ferrell, can you hear us?) and use as a model for what we are trying to do," Gabe Shepherd says.
When asked why they think the Vegas Tech community is special, the answer is simple: the people.
"The doers who organize Startup Weekends, meetups, Downtown Podcast, hackathons and tons of other community-based events," said Gabe Shepherd. "Once upon a time, we all clamored for tech-oriented events, venues and entertainment. Now we have to pick and choose what to attend – and that's a good thing. This is a show from Vegas, but the reach is global. Our success at that global level would mean almost certain world domination – but before we reach that humble goal, we gain serious props for our local community and get the chance to hire local, too. Making an economic difference is important to us."
The duo says they feel like in the short time since they launched the media platform, they have received a tremendous amount of help from the Vegas Tech community.
"We wouldn't have this show or even be friends if not for the #VegasTech community. Mike and I only connected because of a friendly game of werewolves led by Jimmy Jacobson of Wedgies," Gabe Shepherd said. "That was at Vegas Jelly. That's how we realized we were both into hip hop and sports teams, and that even though we were totally involved downtown, we both actually lived in the suburbs – just a mile away from each other as it turned out."


They say iTunes is a natural starting point for their podcast, but feel that what they are doing has the potential to be much more.
"We are all about creating moments through content, and doing it for the "lulz." But if you want to still do more for us, please subscribe to the show on iTunes and spread the word," he asks. "Even if you just like the show, leave us a written review saying you loved it. Since launch, we've been at or near the top of the iTunes Podcast charts for Technology and Tech News. We're damned proud of that and so appreciative of the support we've had from our community and growing fan base."
Interested in checking out the show? Listen to the demo reel here!