Ryan Chatterton, Director of Marketing & Operations at Impact Hub Salt Lake, shared his thoughts on the emerging startup community in Salt Lake City, UT. He creates and manages Impact Hub Salt Lake's marketing strategy and runs its technical systems and operations. He was born and raised in Salt Lake City, and completed an AS in Economics at Salt Lake Community College before diving head-first into the fast-paced world of business and marketing.
Impact Hub Salt Lake is a co-working space, venue, think-tank, and incubator for social entrepreneurs.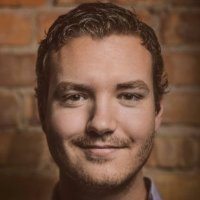 "In the heart of downtown Salt Lake City, Impact Hub is a co-working space, innovation lab and event venue for people with a purpose," the mission reads on the space's website. "By providing a beautiful space that inspires creativity and collaboration as well as a range of educational programming, Impact Hub fosters a community of doers that build enterprising ideas and projects which create more value than they capture. At the intersection of for-profit and non-profit sectors, Impact Hub helps members consider the social and environmental impact of their ventures, while connecting Salt Lake City to a global network for a more prosperous and livable future."
"There are two suburbs of Salt Lake City, Provo and Ogden, that have very strong entrepreneurship scenes also," Ryan Chatterton explains. "Provo has a huge tech community. The interesting thing here is that Salt Lake City proper is pretty scattered. There are some university groups, some meetup groups, and some maker spaces/co-working spaces which have been popping up over the last few years. "Emerging" is the best descriptor I can label Salt Lake's startup community with."
He says that in him time spent adjacent and within the startup community, he has noticed that there are more creative individuals getting involved.
"I consider myself a startup novice still, but I will say that, whether as a result of our organization or because of some shift in attitude, social entrepreneurship is becoming increasingly popular," he explains. "People still want to make money with their business ideas, but younger entrepreneurs are very concerned with serving a social good."
Ryan Chatterton says the startup community in Salt Lake City faces three main challenges: know-how, funding, and support systems.
"Fledgling entrepreneurs don't have the scars that seasoned entrepreneurs do. They haven't failed yet (cliche, I know) so they think they can get it perfect, but they can't. Because of a lack of support systems though, they don't have anybody telling them to accelerate that failure process and to not get discouraged by it," he says. "I'm mostly speaking about people with ideas, not necessarily established startups. For established startups, the major issues I hear about are lack of funding and lack of high-quality mentorship."
He thinks Salt Lake City has an incredibly bright future ahead.
"In 2-3 years I expect there to be twice as many startups as there are now," he predicts. "There will be ample services provided via co-working space and accelerator programs. In 5+ years I wouldn't be surprised if Salt Lake City rivaled some of the nations hotbeds for startup funding as more investors/businesses move in to take advantage of lower taxes, robust infrastructure, and lower costs of living."
As for Impact Hub Salt Lake, the future is bright there as well. The team host weekly Coffee Colliders at their community/co-working space on 44 Exchange Place in downtown Salt Lake City now, and will be moving to the 150 South State Street location in Summer 2014.



"We host a lot of other events, from business clinics to one-on-one coaching sessions with experts from our partner organizations," Ryan Chatterton says. "Other notable groups are Salt Lake Circle, SLC Tech Startups, and Sustainable Startups. There are certainly other projects/co-working spaces that are in development, but they haven't been heavily publicized or announced yet."
He says another unique aspect of Salt Lake City's startup community is the large group of passionate people working in sustainability and social good.
"This group will change the course of entrepreneurship in Utah forever," he predicts. "We ask you (beg you) to start something that makes our world a better place. That's the best way you can help the entire ecosystem."
Ryan Chatterton says that in Salt Lake City, there is an abundance of talented people who are willing to work a lot longer for a lot less than entrepreneurs living in larger tech hubs like San Francisco and New York City.
"HireVue is a really great example of this," he said. "Mark Newman tells the story best, but I remember him talking about how, for something like four years, he lived in his parents basement building the company he believed in. Now look at them."
He says he is a fan of VegasTechFund funded Crowdhall, a company with a presence in Salt Lake City as well as downtown Las Vegas.
"They provide a platform for hosting online townhalls that thrashes any competitor in the market as far as stability and usability go. They've been operating for a couple years now, but have recently made the commitment to scale or die. Very mature," he said. "Another individual I'm feeling pretty confident about is a gentleman named Sam Hagen, founder of Element Computer. He's developed a stable, secure, robust PC alternative that can be bought for under $300. It uses all open source software. The best part is that he has a working prototype which is very sleek looking. I hope he gets funded very soon."
Ryan Chatterton says if you live in Salt Lake City (or visit often), the best way to plug into the most motivated, intelligent group of social entrepreneurs in the region is to join Impact Hub Salt Lake as a member at hubsaltlake.com/membership.
Learn more about other startup communities! Follow our "Meet Startup Communities" series here.