The growing tech community in Reno proves that the tech business is alive and thriving in Northern Nevada.
"It's a really exciting time in Reno," says Colin Loretz, CEO/Co-founder at Cloudsnap. "We now have startups in every phase of the startup lifecycle. There are a few globally known companies that employ teams of 15- 20 people, a strong number of smaller product-focused businesses that are on the up and up and lots of emerging startups that are in the process of incorporating and creating their MVPs. All these startups are tackling different markets, too. We have startups in education technology, fashion, civic engagement, fitness, farming, mobile entertainment, gaming, marketing automation, cloud services and analytics."


He says a handful of Reno's tech startups run their businesses on Reno's downtown First Street, which has recently become known as "Startup Row."
To give entrepreneurs in the Reno community a place to collaborate and co-working, Colin Loretz and a team of community members created Reno Collective.
"Reno Collective is a collaborative workspace for designers, creatives, technologists, entrepreneurs, freelancers, rocket scientists and startups," the Reno Collective site reads. "Our community is made up of some of the best talent in their respective fields and they're all looking to leave their own mark on the universe. Our members come from diverse fields including videography, photography, software development, design, business process optimization, coaching, marketing, and yes, even rocket science. The cross pollination that occurs in this building gets us all a little closer to truly changing the world."
"In February 2014, Governor Sandoval hosted a press conference at Reno Collective to show his support of the companies working and thriving downtown. He said, 'Let's rename Nevada from Silver State to Startup State.' Reno's startup community is helping make that statement a reality," Colin Loretz explains.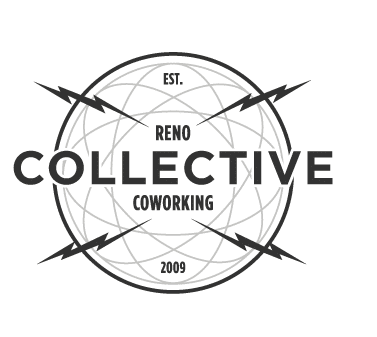 He says that not only is the number of companies calling Reno home growing, but the community has also witnessed the creation of inspiring events that are much more than the typical startup awards dinners and cocktail parties.
"These events showcase what Reno is capable of and speak to what we're passionate about," he explains. "Ignite Reno, TEDxReno, Startup Weekend Reno and 1 Million Cups, for instance, are just a handful of the periodic (and successful!) events that have been started in the past few years."
Beyond events, Colin Loretz says the Reno Collective is a good indicator of just how quickly the community has grown in the past 12 months.
"A graph of membership numbers would likely parallel the growth of Reno's startup community," he explains. "Started in 2009, there were only 12 members at the end of its first year of operation. After many years of providing a collaborative space and events to enable startups and individual professionals to follow their passion, it was home to just 35 members at the end of May 2013. One year later, it has nearly tripled in size with over 100 members in the new downtown location, acting as a solid anchor for Startup Row."
Colin Loretz is usually met with surprise when I mention there's a growing tech and startup community in Reno, which he says is a challenge for the growing community.
"This perception is something that might hurt companies unwilling to move to other locations if fundraising becomes necessary to grow," he said. "I think a lot of people here are fast to say that our community lacks investment opportunities. However, the investment community also mentions that they don't get enough deal flow. If companies focus on their customers and their product, the investors will follow… if that's the sort of thing they're looking for."
He says most of Reno's tech startups are bootstrapped, or started and grown without investment capital. He points to the fact that it's really easy to bootstrap in a city that has a low cost of living.
"Reno is a great place to bootstrap and that is something our startups are proud of. However, the perception of Reno in other markets is still going to be a challenge for us to overcome. We are very close to the Bay Area which makes it easy to visit customers and recruit talent," he adds. "After all, most of the Bay Area comes to us to ski and play at Lake Tahoe." 
He points to TrainerRoad and Shortstack as two of Reno's standout startups, and both are bootstrap success stories for the area.
"The team at TrainerRoad has taken their love for cycling and built a software platform that helps make competitive cyclists faster. There is a lot of activity happening in fitness and wearable technology but the results are often hard to prove. TrainerRoad helps cyclists in countries all around the world become better cyclists," he explains. "Shortstack grew out of Jim Belosic's years of painful client services work, manually building Facebook promotion pages for clients. After discovering how repetitive the work was for each client, they decided to build a self-service product. Three years later, Shortstack now enables over 280,000 users to take control over their marketing by creating custom apps for their Facebook Pages, websites and mobile devices."
"Robocoin, which recently moved to Las Vegas, got its start in Reno and they are making strides in bringing Bitcoin adoption to the masses by creating the tools necessary for Bitcoin to thrive," he adds.
Colin Loretz says even though there has been a long standing Reno vs. Las Vegas rivalry, there is a lot both the #VegasTech and Reno communities can learn from one another to build a strong Nevada startup community.
"I know that there would be considerable interest in having a couple North meets South, and South meets North events that can get Las Vegas startups to come up to Reno and get a sense of our startup community in person and vice versa," he said.
Learn more about other startup communities! Follow our "Meet Startup Communities" series here.

About Cloudsnap: Cloudsnap is a customer success platform for Software-as-a-Service companies. Cloudsnap integrates with a company's existing systems for billing, sales, marketing, customer service and communication and gives them a 360° view of their customers.