To explore the startup ecosystem in Utah, we talk with Clint Betts, Founder and Editor-in-Chief of BeehiveStartups.com.
"Utah is a unique place, not only to live, but also to start a company," he says. "Sure, the business climate is great, we don't have as much government regulation as some states, and the lack of "real" alcohol keeps us alert and focused. But what makes us unique is the people who choose to call the Beehive State home. Whether it's because of this state's pioneer heritage, or because we've been overexposed to polluted air, Utah entrepreneurs seem to have this deep-seated belief in the powerful impact a few individuals can have on the rest of the world. Hard work, the need to prove we're as capable as anyone, and a healthy distrust of the establishment seems to be the fuel that powers Utah's startup community."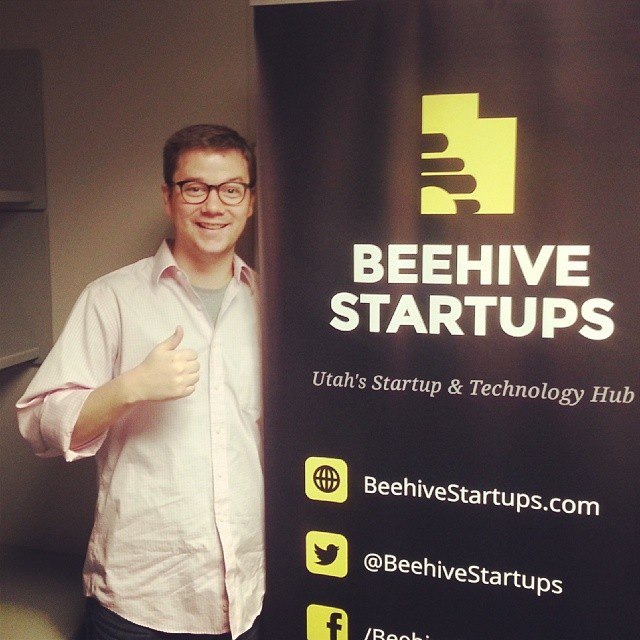 Clint Betts says the startup community in Utah is forever indebted to companies like Novell, WordPerfect, and Dynix for establishing a strong tech ecosystem within the state.
"The tech scene here in Utah has been gaining steam ever since they paved the way and proved there was money to be made in software and computers," he explains. "More recently, Omniture's rapid success, and Adobe's $1.8 billion acquisition of the Josh James-led company, has undoubtedly inspired an entire generation of Utah entrepreneurs hoping to emulate Josh and the incredible things he's managed to accomplish."
On October 23, 2009, Adobe acquired Omniture, Inc. in a transaction valued at approximately $1.8 billion.
"I'm excited to be a part of the future, and to watch the community grow into something special," Clint Betts said. "Growing Utah's startup community while also helping to foster inclusiveness, collaboration, and encouragement is a big part of our mission at Beehive Startups.
Beehive Startups is an independent organization committed to covering Utah's startup and tech ecosystem. Clint Betts and his team spotlight Utah startups, organize events tailored to the startup and tech community, and report Utah startup and tech news. You will also find in-depth interviews with entrepreneurs on BeehiveStartups.com.
He launched the site with Gabe and Jordan Gunderson, co-founders of Izeni, a custom software development firm located in Provo, Utah.
"The Gunderson brothers are two of the most innovative, forward-thinking entrepreneurs I've ever met. Simply put, I love those guys," Clint Betts explains. "They genuinely care about Utah startups and want to help promote the ecosystem however they can. They immediately saw the value something like Beehive Startups could bring to the community, and tasked Izeni's talented development team with building the site."
"I don't think any of us expected it to take off like it has, especially in such a short amount of time," he said when thinking back to the roots of the site. "Some of our success can probably be attributed to timing (we launched at a time when there was really no one covering Utah startups in any meaningful way), and an enormous amount of credit goes to Izeni and the Gunderson brothers for investing bandwidth, money, and brain power to the endeavor. But, more than anything, we've been successful up to this point because we've been sincere about our motives and the role we'd like to play within the community. We don't publish, or even rewrite, press releases. Our main focus has been on producing high-quality, forthright content to capture the essence of Utah entrepreneurship. It's an approach that's served us well thus far, so I think we'll just keep at it."
Clint Betts explains that just like every startup community in the country, the state of Utah is struggling to become more diverse and inclusive.
"We do have a number companies, entrepreneurs, and community leaders striving to make a positive impact, but — just like everyone else — we still have a lot of work to do," he said.
He says his hope is the state of Utah will one day lead the nation in the number of women and minorities who are not only members of the tech community, but hold prominent leadership roles.
"It would be great to one day look back and say Beehive Startups played a small role in making that happen," he adds.
He explains that aside from promoting diversity, the state of Utah could always use more VC firms investing in local startups.
"Lack of access to local funding is the biggest complaint I hear when talking to Utah startups and entrepreneurs. That said, startups should probably just focus on building an amazing product. If you do that, the funding will take care of itself," he said.
When asked about the teams he thinks are crushing it in the state of Utah, Clint Betts shouts out Cotopaxi, an outdoor gear brand with a social mission that just held an incredible launch event a couple of weeks ago.
"Cotopaxi's founder Davis Smith is one of the most inspiring entrepreneurs I've ever met. Davis tells a very moving story about why he founded Cotopaxi, which you can read here," he says. "We also just had two Utah companies come out of Y Combinator: Weave and Vidpresso. They're both crushing it. In fact, TechCrunch named Weave one of the eight best startups to come out of Y Combinator's most recent class, and Vidpresso founder Randall Bennett is one of the coolest people on the planet."
Lastly, he says he is a huge fan of HireVue and its founder and CEO Mark Newman.
"HireVue is a talent interaction platform that allows employers to conduct interviews digitally. They're a nationally recognized company committed to keeping its headquarters in Utah," he said. "Based on that alone, Mark is an American hero."
Clint Betts and his team say they have been impressed with everything that's happening in the #VegasTech community.
"We could learn a lot from you about how to build a community focused less on leaders and more on building each other up for the sake of the ecosystem," he said. "Everyone I've met from the #VegasTech community has been wonderfully gracious and friendly. The real question is how can we help #VegasTech continue to rock?"
For those interested in what's happening in Utah, he encourages entrepreneurs in Las Vegas to come visit the startup communities there.
"Come to our events. Let's be friends. Let's collaborate when it makes sense," he said. "We're both in the middle of a tech revolution, and we're both trying to figure out how to build a community we can be proud to call home. Let's share ideas and learn from each other as we grow.
Learn more about other startup communities! Follow our "Meet Startup Communities" series here.