Girls in Tech, Las Vegas and Women in Media Mentoring Initiative (WIMMI) are co-hosting "Mentor Moment" on Wednesday, November 5, 2014 at Work In Progress in downtown Las Vegas.
"Mentor Moment" is a casual event that spotlights a mentor for the evening. The mentor featured for the event is from the Las Vegas media, marketing, entertainment, and tech community who has something to share with attendees.



"The connection and synergy between tech and media are undeniable," said Melissa Skipworth, chapter organizer behind the Las Vegas chapter of WIMMI. "And, the ways in which WIMMI and Girls in Tech engage and support the Las Vegas communities of women in both media and technology are definitely connected; it absolutely makes sense for us to partner together on our common cause of advancing professional women. Both organizations are focused on creating environments for women to connect at all stages of their careers, to learn through shared experiences, to make meaningful personal and professional connections. WIMMI looks forward to this and other opportunities to partner with its sister community GIT."
Amber Bradley, co-organizer of the Las Vegas chapter of Girls In Tech, said the partnership between GIT and WIMMI for this event is a natural next step.


"Both WIMMI and GIT chapters in Las Vegas began around the same time, it has been a natural progression to partner," Amber Bradley explained. "Both of our groups encourage women to strive to do their best in their industries and to learn from other like minded women."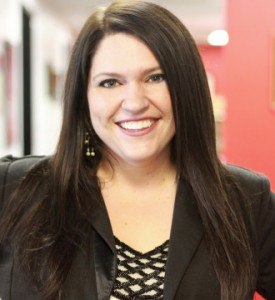 For the November 2014 event, Jamie Naughton is the featured mentor.
Jamie Naughton joined Zappos.com, Inc. in 2004 after the company relocated from the Bay Area to Las Vegas. As Chief of Staff, Jamie works directly with CEO Tony Hsieh, focusing on maintaining company culture. Her role is essential in creating and driving the architecture of Zappos' dynamic culture as well as applying R&D to ensure the company is always relevant to both employees and customers. Jamie travels the country to work with world-renowned companies, authors, researchers, and business leaders to spread one message: by valuing both your employees and customers, good companies can become legendary companies.
"Jamie is a strong voice and advocate for professional women across the country, but particularly here in Las Vegas," said Melissa Skipworth. "Jamie manages to embody and model both career advancement and work / life balance, and she still finds time to mentor and support women. We can all learn a lot from Jamie's example, and I know she's eager to learn from the communities of WIMMI and GIT gathered."
Amber Bradley and Melissa Skipworth encourage anyone who wants to hear about and learn from inspiring women in the Las Vegas community to attend this event.
"Personally, I've gained so many positive and amazing connections through my involvement with WIMMI," Melissa Skipworth said. "Helping to expose the amazing female talent in Las Vegas to each other, and to Jamie, I hope will benefit them in the same ways I've benefited from my participation the organization. Bringing women together to network and hear from experienced women for mentorship and professional and personal development opportunities—it's very powerful."
WIMMI is a national organization with chapter in nine cities. Melissa Skipwork says the organization is quickly growing.
"We support women with networking receptions, focused topic discussions, regular female-authored blogs on female-focused topics—across the country. You can check out our always growing calendar of national events here," she said. "Locally, WIMMI Las Vegas will continue to meet regularly with different featured members of our thriving local community, like Jamie, in Mentor Moments. We are also extremely proud to continue our partnership with hi-Tech Vegas on the 2015 LV Women in Technology Awards."
As for Girls in Tech Las Vegas, their organizing team has been working hard on expanding their outreach in the community.
"We have recently started working with the Boys and Girls Club to offer the GIT Geeky Computer Series," Amber Bradley said. "In 2015 we are looking forward to continue our partnership with the Girl Scouts of Southern Nevada along with new events such as a Design-A-Thon and Finance Classes. Check out our schedule of events here."