The Downtown Rangers, in partnership with the Mayor's Faith Initiative and Clark County's Help Hope Home, are joining forces to host two nights of networking for faith groups, business groups, community members and nonprofit organizations.
Dubbed "Speed Dating", these two nights will allow volunteers in the community to find their non-profit agency match.
"The goal of the homeless-service-provider speed-dating experience is to connect community members, faith leaders, and potential volunteers with local agencies serving the homeless," said Merideth Spriggs, Homeless Outreach with Downtown Rangers. " The faith community has reported through meetings with the Mayor's Faith Initiative that they would like the opportunity to better develop relationships with the nonprofits for the purposes of congregational referrals, volunteerism, and strengthened community engagement. It is the intent that, through this event, faith leaders will cultivate stronger relationships with local service organizations, as well as increased education about available programming in Southern Nevada."
"There are numerous non-profits in town that are in need of help but too busy in the trenches to sing their praises," she continues. "I wanted to highlight some of these agencies and give them a space to link up with community members that they might not have been exposed to before. The event brought new groups of people into to downtown from all over Clark County and gave Downtown Project a chance to shine as well."
Why the Speed Dating theme?
"I have been to networking events that are awkward and no one talks to you, or even worse someone gets you and tells you their whole life story and you can feel your eyes alternate from rolling back in your head to checking the time on your watch," she explained. "I didn't want that to happen at this event. By doing a timed session, it gives everyone in the room a chance to meet all the agencies. It well received by everyone and we got nothing but positive feedback from the agencies."

At the first "Speed Dating" event held on June 17, 2014, homeless agency providers were invited to downtown Las Vegas with the help of Clark County's Help Hope Home and the Mayor's Faith Initiative. For that first event, the focus was on families and youth.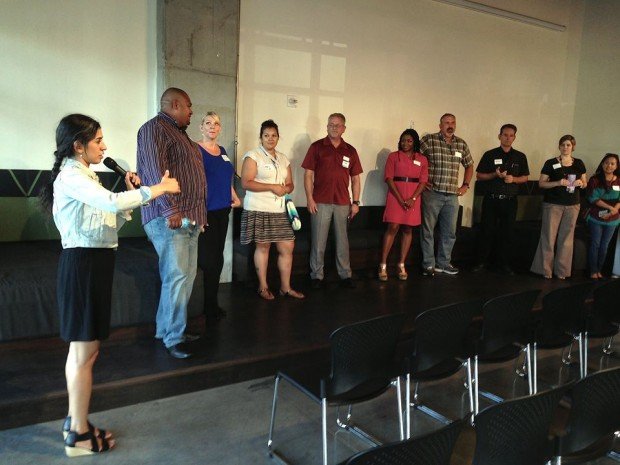 "Providers were introduced and seated at stations around The Window. Volunteers were given time, two minute increments, to move around the room and interview the charities," Merideth Spriggs explained. "We copied a speed dating format for the event. This event was a way for volunteers to find their charity "match." At the event we had Catholic Charities, WestCare, SafeNest, Lutheran Social Services, UNLV, Purple WINGS, Amerigroup, Care Coalition, Help Hope Home, Nevada Homeless Alliance, Hope Link, Larson Training Center, Hands of Grace, Nevada Partnership for Homeless Youth, Southern Nevada Children First, and Moonridge Group. "
The two "Speed Dating" events were made possible by a donation from the Downtown Project Community Grant, and Brenna Bell was instrumental in helping apply for this grant. That grant allowed for the group to get catering from Pinches Tacos, Rachel's Kitchen and Nacho Daddy. David Gould of The Window allowed the team to use the space.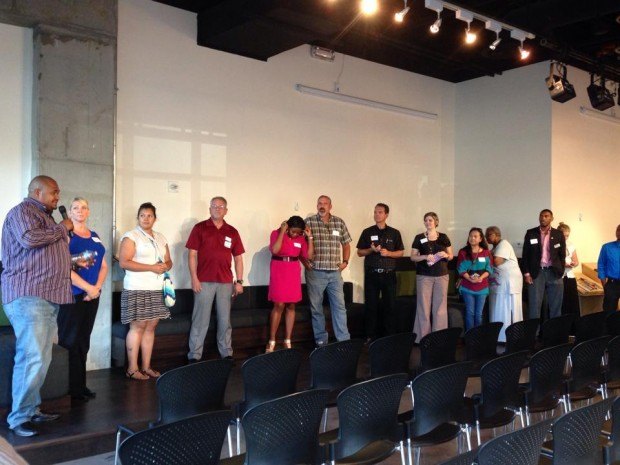 Merideth Spriggs says her role in the downtown Las Vegas community is unique.
"I am the only homeless outreach worker in the US employed by a for-profit company," she said. "My goal with the Downtown Rangers Homeless Outreach is to create partnerships between business, government and homeless agencies to end chronic homelessness."
Merideth Spriggs has only lived in Las Vegas for a year. She began volunteering with homeless services in San Diego 7 years ago.
"After experiencing homelessness myself I created a non-profit, CaridadSD, to personality match volunteers and agencies to each other, as well as advocate for the homeless and agencies," she said. "I want to bring some of what I did in San Diego & LA to town, but personalize it for what works in Las Vegas."
Merideth Spriggs encourages entrepreneurs and startups to get involved in this community event.
"You may not connect with homelessness or think it is an issue that concerns you. However as a taxpayer we pay for services homeless use such as police, 911 calls, hospitals, clean up, and shelter beds," Merideth Spriggs said.
"Startups have many creative people that look at the world differently," she continues. "My challenge to start up community is to come out check out the agencies and see where their creativity can be used to fix our homeless problem in Clark County. Wouldn't it be cool if DTLV were not only the hottest start up community but radically changing how we help the homeless in the United States by having a space where business, charities and government work together to solve a problem creatively?"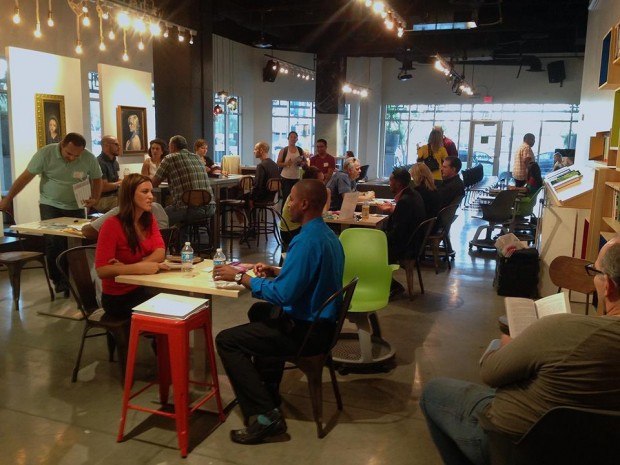 "I always say homelessness is an issue that everyone can find a place in you just have to know what sparks their interest. Some people like pets, the Shade Tree has a pet shelter. Other volunteers might be skilled at teaching interviewing skills and would work well at Larson Training Centers. My dream is to get everyone plugged into agencies where they are a great fit," she said.
Interested in attending? The second of the two event series is happening Tuesday, June 24, 2014 from 6 p.m. to 8 p.m. at The Window (150 N. Las Vegas Blvd. Suite 140 in Las Vegas). There, attendees will meet with Homeless Providers for singles, veterans, and mental health providers. Please RSVP to [email protected].

About Downtown Rangers:  The Downtown Rangers are the ambassadors of the downtown Las Vegas community. Do you need help, directions, or a recommendation? We've got that. The Vision of the "Downtown Rangers" is "To help create the most enjoyable downtown experience worldwide". The Rangers is a cadre of trained individuals whose purpose is to enhance the of life of the residents, business owners, and visitors in the Fremont East District of downtown Las Vegas.