APPNATION is the largest conference and exhibit in North America focused exclusively on the business of apps and the broader consumer app economy. This year, the conference is taking place January 5-6, 2015 at The Cosmopolitan.
The theme of this year's event is: "Discover. Acquire. Monetize." APPNATION's focus is on social and mobile apps across all devices and platforms including social media platforms, smartphones, tablets, internet-enabled televisions, and emerging platforms and devices. There will also be hardware and  infrastructure companies to showcase what they are working on.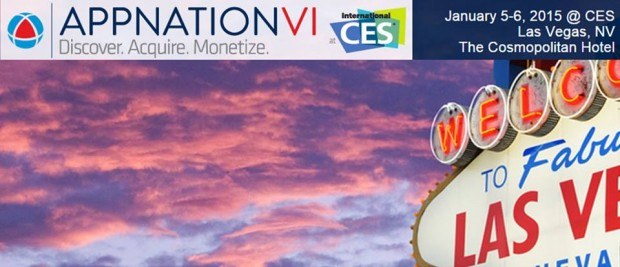 "I'm running the Startup Garage at APPNATION as part of M2-Events, which is hosting APPNATION and the CDX CHIEF DIGITAL OFFICER FORUM," said organizer Milan Koch.  "We are looking to feature developers and mobile entrepreneurs involved in developing apps across all mobile and connected platforms including emerging platforms and the Internet of Things (cars, connected home, wearables, etc.) The primary qualification is that your company has received no more than $2MM in total funding to-date."
Milan Koch says local Vegas startups should apply because he and his team can offer great exposure to leaders, C-level executives and investors in the app economy.
"Our unique demo area features cutting edge, up-and-coming developers and entrepreneurs from around the world," he said. "APPNATION is thrilled to give young start-ups an opportunity to showcase their apps, products, and innovations in front of thousands of marketers, advertisers, agencies, carriers, device manufacturers, and angel and venture investors."
The mission of APPNATION is to help app developers of all shapes and sizes build great businesses through inspiring keynotes, topical roundtable discussions, and deep-dive workshops that deliver actionable advice and best practices.
"We focus exclusively on the consumer app economy and our core areas of coverage include: Discovery, Distribution, Acquisition, Monetization, App Marketing & PR Strategies, Analytics & Optimization, Lifetime Customer Value, Consumer Insights, UI/UX Best Practices, and Cross-Platform Development," Milan Koch explained.
He says being part of the Startup Garage is a great opportunity for developers of all shapes-and-sizes to meet their peers at APPNATION, but also have the opportunity to engage with the global consumer electronics industry.
"CES attracts over 160,000 attendees and thousands of hardware and content companies as well as leading marketers and ad agencies," he said. "As we know, virtually all consumer electronic devices will ultimately be "connected" and this is a unique opportunity to bring the global connected device, content, marketing, and consumer app communities together to network, develop partnerships, and explore new business opportunities. As an attendee of APPNATION, you are automatically registered for a complimentary CES Exhibit Plus Pass, which grants you access to exhibits, Keynotes, SuperSessions and free conference sessions at the 2015 CES."
Apply to be part of Startup Garage here. Indicate you heard about this event on VegasTech.com for a discount on registration.