The first meetup of its kind for Virtual Reality enthusiasts and developers in Las Vegas area is now happening!
Originate, a leader in designing, building and investing in meaningful software products and companies, formed the Las Vegas Virtual Reality Meetup with other enthusiasts in the community. This is the first Meetup for virtual reality (VR) enthusiasts, programmers, and developers in the Las Vegas area.
Creation of the Las Vegas Meetup comes as interest in virtual reality has expanded in recent years and similar gatherings have convened in Los Angeles, San Francisco, and Orange County.

"I got the bug. I saw we aren't doing anything like this in Las Vegas, and thought there needs to be something happening here," said Rob Mallery, Director of Organizational Development at Originate and founder of Las Vegas Virtual Reality Meetup. "Our Meetup is an opportunity for anyone looking to build virtual reality experiences and games to come together in a relaxed, fun setting and use Oculus Rift VR goggles with Unity software. The Oculus is currently the leading hardware in the VR space and it allows users to experience VR while they create amazing, immersive experiences."
The first Las Vegas Virtual Reality Meetup was held on July 1, 2014 and brought together close to two dozen participants from the Las Vegas area. The event included presentations by the founders of Orange Country Virtual Reality Meetup, demos using Oculus hardware, and an introduction to working with Unity—the leading virtual reality software and graphics platform.
While virtual reality is approximately three decades old, only recently have advances in technology, including better software and hardware, created opportunities for more widespread and robust applications. Facebook's $2 billion acquisition of virtual reality company Oculus VR in March is a sign that Silicon Valley is devoting resources to what may be the next technological frontier.
"Virtual reality is no longer science fiction," Mallery said. "We are now ready to move beyond purely mobile and web. VR will change the way we socialize, learn, and absorb content in the future."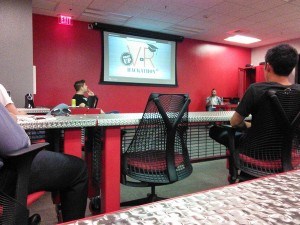 Originate estimates that within 5-10 years, virtual reality will transform businesses and educational institutions, with training and lessons being offered through virtual classrooms. Leisure activity will be transformed as well, and Las Vegas is primed to take advantage of this development. A large number of casinos and gaming companies in the area already use technology that is well-suited for creating virtual games and experiences. The pieces are in place for guests, in only a matter of years, to layer virtual on top of physical experiences and do things that would have been impossible a decade ago.
Originate displayed its expertise in VR development when three members of the company participated in and were part of the winning team at the Education VR Hack-a-thon in California in June. The 36-hour long event tasked teams with developing educational and immersive applications using Oculus development kits. The Originate team built an engaging game to help people learn to type quickly and accurately on a virtual keyboard without looking. By typing words correctly that appeared on graphical tiles, users would get to "explode" the tiles and increase their score.
Learn more about how the meetup in Las Vegas got started here.
The Las Vegas Virtual Reality Meetup will continue to take place once a month. It will be organized by Originate and hosted by the Rob Roy Innevation Center and will feature demonstrations, presentations, speakers, and educational sessions. Regular hackathons will also be held.
Join in on the fun! Those interested in joining the meetup or finding out more information can go here.


About Originate:  Originate partners with forward-looking enterprises and high growth startups to design, build and invest in ambitious software products and companies. Our designers, developers, and product strategists design and build modern mobile, web, and data-driven software in iOS, Android, Ruby, Scala, Node.js, Javascript, and other scalable technologies. To fully align partners and employees, Originate passes through 20 percent of the upside it earns in each partnership to the employees that contributed to the success. Founded in 2007, Originate is a global company with offices in Los Angles, New York, San Francisco, Silicon Valley, Las Vegas, Orange County, Stockholm, and Hangzhou, China. Go to www.originate.com to learn more.