TBAN presents Tech Nevada Honors on Wednesday, April 23, 2014 at 1 OAK Nightclub in the Mirage. Tech Nevada Honors is an annual event designed to celebrate those individuals and their companies who have enhanced the growth and prestige of Nevada's technology community.
The Technology Business Alliance of Nevada is proactively fostering technology business growth in Nevada. TBAN is dedicated to assisting technology-based startups, emerging and growth companies in finding the talent, customers and financing needed to be successful.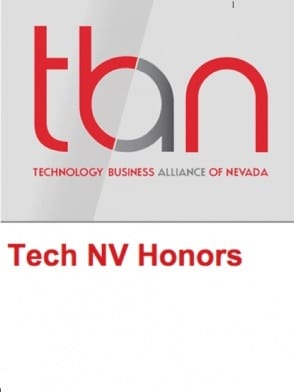 "TBAN has been recognizing the technology talent in the Las Vegas community for over 6 years," said Jason Mendenhall, TBAN President and Executive Vice President, Cloud at Switch. "We think Las Vegas is a great place for technology companies to grow and develop. The organization is made up of companies that have moved here, had success here and, most importantly, given back to the community. Las Vegas has always been about the people and the growing technology community continues to thrive. We are looking forward to acknowledging this years candidates."
All are invited to attend a night in which the community in Las Vegas will recognize outstanding achievement within technology in Nevada!
Nominations for technology companies and outstanding individuals are now open for a limited time. Nominate your favorite Nevada tech companies here!
"Last year's event had over 250 attendees and we are expecting another blowout party," said Alexis Glaser, TBAN President Elect and Innevation Director at The Innevation Center. "We can't wait to see the nominees and hear the winners."
Doors open at 7pm on Wednesday, April 23, 2014 at 1 OAK Nightclub in the Mirage. Hors d'oeuvres will be served. An RSVP entitles attendees to 2 drink tickets. RSVPs are limited — reserve your spot here!