The #VegasTech community is invited to register for a 1-on-1 Mentor Hours session with Jeffrey C. Robbins, Attorney for entrepreneurs and angel/venture investors at Messerli & Kramer P.A. Mentor hours with Robbins will take place 2:00-4:00 on Thursday, April 28, 2016 at Work In Progress.
"I'm from Minnesota and I wanted to find an impactful way to connect quickly with the entrepreneurial community in Las Vegas on my monthly visits," explained Robbins. "It took very little work to discover that Work In Progress is not only one of the few entrepreneurial co-working facilities in Las Vegas, but that it was also backed by a fund, VTF Capital. For me, having a good concentration of start-ups to meet in one location was great. And I think there aren't many legal counselors in Las Vegas who focus on early-stage technologists. The fit therefore was perfect and I volunteered to do office hours each month when I am in Las Vegas."
Robbins started holding monthly office hours at Work In Progress at the beginning of 2016 and says he has seen the sessions grow over time.
"The first time, only one entrepreneur signed up," he said. "As the word has spread, my dance card has filled each time after."
Robbins says a successful Mentor Hours session is one where both parties walk away from the conversation with something of value. Robbins has started two companies of his own in the past, and knows firsthand that being a founder can be lonely and daunting at times. While there are many resources available on the internet to read and learn, time is the most precious commodity for founders and entrepreneurs. In some areas, it's just easier to turn to others who've "been there, done that" for advice.
"The most common things so far that I have been asked are about entity choice (often picking between an LLC or a corporation), equity compensation arrangements to attract and retain talent, and fundraising planning and challenges," he shared. "After working with start-up companies for over 30 years, I've got an intuitive sense of what a company should do legally and I'm very good at breaking down complex legal concepts into digestible bites."
Robbins says that when working with a mentor, it's important for a founder or entrepreneur to know what it is that they want to learn. Then, it's time to select a mentor who likely has the requisite experience to be helpful on the issue at hand. "And it's cool when a mentor gives you advice about something and it works for you!" he said.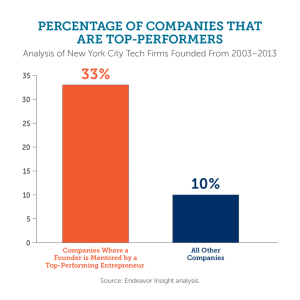 Recent analysis by Endeavor Insight of the top-performing companies in New York's tech sector revealed several interesting patterns. The team found that many of the entrepreneurs leading these startups had strong personal connections to the founders of other successful companies. One of the most powerful connections identified in the analysis was mentoring relationships.
When he reflects on mentors he has had during his career, Robbins points to the law firm founder who hired him for his first job in 1983.
"He gave me two specific pearls of wisdom that I still pass on to associates today," he shared. "First, after he literally tore apart the first contract I ever drafted, he praised me, commenting that it is a lot easier to be reactive than it is to be creative – and that I'd given him a document he could easily revise. Second, after I complained about being assigned to learn about one area of the law after the next, he assured me that many years later, I'd be able to look back and recognize the value of that experience. I took him out for lunch 10 years later and reminded him of those words, which stick with me all these years later."
When it comes to helping founders and entrepreneurs with fundraising planning and challenges, Robbins decided to launch AngelPolleNation as an event for the community to gather and solve this challenge together.
"I'm now starting to build better local knowledge about the investment climate with the inaugural launch of our AngelPolleNation Las Vegas networking events in February. The next one is Tuesday, May 24, 2016 and I'm on the hunt for presenting companies," he said.

To register for Mentor Hours with Robbins, visit Work In Progress' website!