The Innevation Center welcomes two team members from The Abbi Agency for their Thursday, March 26, 2015 CommunityCation luncheon.  This is a free event that will take place from 11:30am to 1:00pm.
Constance Aguilar and Jackie Dennis will present "Growing Your Business Up", highlighting business growth strategies from a global perspective.
Constance Aguilar is the Director of Digital Strategy, and her role focuses primarily on technology clients. Clients range from being in their beta/launch phases all the way up to funding rounds and thought leadership development.
Jackie Dennis is the VP of Marketing for The Abbi Agency, and she is the leader of our southern Nevada division/offices. She is a seasoned marketer experienced in handling management and initiatives for high-level accounts.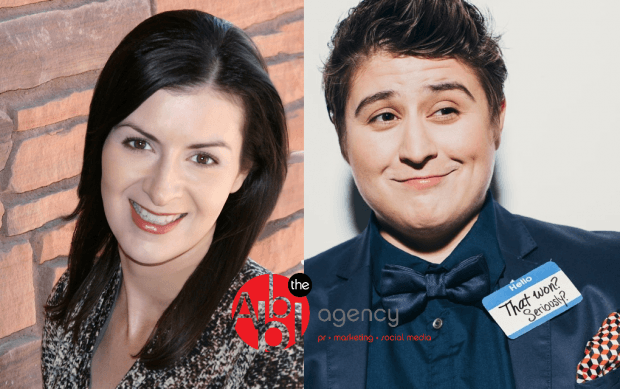 The Abbi Agency started in 2007 from owner and president Abbi Whitaker's kitchen table.
"Abbi turned down an offer to become the VP of her then employer, an agency out of San Francisco, to start her own agency… in the midst of the recession," said Constance Aguilar. "Since then, we've grown to a statewide agency in Reno and Las Vegas, added a creative department, and currently have 20 employees on staff in various positions and departments."
At The Abbi Agency, the team tells the stories of clients across mediums in an effort to engage customers, partners, event attendees, esteemed colleagues, and surrounding communities.  To do this, the team strives to think beyond today's trends, and deliver the results that position clients as innovators and thought leaders.
"No two clients are the same, therefore we never tell the same story twice," said Jackie Dennis. "Instead, we inject the emerging worlds of content development, digital marketing, social media, and traditional media relations with a deep understanding of business development goals, brand positioning, and audience engagement."
Abbi Whitaker and Constance Aguilar began their journey into the #VegasTech ecosystem when they started working out of an office in downtown's Emergency Arts a few years ago. Since then, their team has worked with several Vegas-based technology companies and forged close working ties with statewide business development government organizations.
Recently, Abbi Whitaker worked directly with Switch founder Rob Roy and team to assist in the expansion of The Innevation Center to Northern Nevada.
In addition, they worked with Las Vegas-based 3D printing startup Full Spectrum Laser. The Abbi Agency team focused on the startup's Kickstarter campaign, as well as CES coverage and product launch press. The work resulted in placements with GigaOm, TechCrunch, and more.
"At the CommunityCation luncheon, we plan on discussing and detailing new approaches to public relations and integrated marketing, emphasizing how startups can shift their thinking in regard to PR representation based on the motivation and goals of their particular company," explained Constance Aguilar. "We strive to move away from the "press release factory" image, and focus on effective marketing and PR outreach suited for specific initiatives. We'll touch on content marketing campaigns, including thought leadership and expert positioning, fueling sales initiatives with PR, when and how are the best opportunities to initiate press outreach, when is a press release the most effective option, and more."
The duo says that since The Abbi Agency team has years of experience working with software and hardware startups, much the content will be geared toward technology companies. However, the agency has a wide range of B2C and B2B clients outside of the tech world as well.
"We plan to toss in messaging applicable to a variety of business across industries," said Jackie Dennis. "The targets are anyone in the company interested in bridging the gap between marketing, PR, content creation, and social media with the goal to forward the business and/or brand in specific ways."
Constance Aguilar thinks there are very exciting opportunities to position Vegas as an attractive and successful city for startups to both launch from and relocate.
"Challenges and opportunities are most definitely visible in the next level of positioning for the ecosystem outside of Tony Hsieh's direct circle," she said. "Vegas needs to demonstrate and draw attention to the success and continued development of technology related startups in the area, and what is being done by these companies to disrupt ever-evolving segments of the national/international technology community."
2015 has already proven to be a busy year for The Abbi Agency. The company just moved into an office building in Reno and even have a rebranding campaign for the agency itself in the works.
"We're excited about working with TravelNevada (the Nevada Commission on Tourism) as an in-state partner to their newly acquired agency! We love this state, and it's been a life-long goal to serve as representatives for Nevada tourism initiatives," said Constance Aguilar. "We also are looking forward to the addition of a creative director before mid-year. We are kicking into high gear in our morphing process from scrappy PR agency to a fully evolved agency offering robust options in services."