The Innevation Center is hosting their June 2014 CommunityCation event on Thursday, June 26th at 11:30am.
"Our CommunityCations are open for the entire community," said Adam Kramer, VP of Innevation at The Innevation Center. "We have Innevation members, people from the VegasTech community as well as people from the general Las Vegas community who are just curious to see what our great speakers have to say. CommunityCations have had speakers such as Marc Nager, CEO of UP Global and Heather Wilde, Director of Technical Services at Evernote."
Adam Kramer says the team was looking for a great speaker and didn't have to look far. The featured guest for June is Frank Gruber, Founder and CEO of Tech Cocktail and author of Startup Mixology: Tech Cocktail's Guide to Building, Growing, and Celebrating Startup Success.

"We were excited about Frank releasing Startup Mixology and thought it would be a great opportunity for him to share some author insight with the community," Adam Kramer said. "We're as excited as everyone to hear from Frank and get insight into his new book Startup Mixology as well as learn about the great work that Tech Cocktail is doing as it continues its expansion."
"Frank will be talking about his book, which covers the basic "ingredients" of winning entrepreneurship," added Alexis Glaser, Innevation Director at The Innevation Center. "As always, lunch will be served and admission is 100% free. We love our #VegasTech community! We also invite everyone to come down at 9:00am to watch/co-work with the World Cup USA soccer game playing."
Frank Gruber said the idea for the book grew out of his experiences with Tech Cocktail.
"As we travel around the country hosting events, we're constantly seeing entrepreneurs of all stages striving to get traction and grow and succeed," he explained. "We also see tons of wannabe entrepreneurs who don't know where to start. At the same time, it's easier than ever to become an entrepreneur – and cooler than ever, according to the media. As an entrepreneur myself, I know how hard it can be. There are lots of resources out there, but how do you digest it all and put it into practice? Where is the definitive step-by-step guide, recognizing that the journey will be different for everyone? That's what I set out to create."
Frank Gruber encourages anyone who wants to be an entrepreneur or be entrepreneurial (intrapreneurial) within their company to attend the Innevation Center's CommunityCation this month to hear him speak.



"In addition to the step-by-step guide part, the book has tons of inspiring stories from entrepreneurs who started from nothing and built something amazing. I'm constantly inspired by the entrepreneurs I meet through Tech Cocktail, and I hope to share some of their stories," he shared. "You can tell just by looking around downtown Vegas that people are definitely getting things done. I'm a huge advocate of just doing it – diving in, trying different things, and learning. The community in Vegas does a great job at that. The book also talks a lot about the importance of relationships, and everyone downtown knows how important true community, support, and connection are."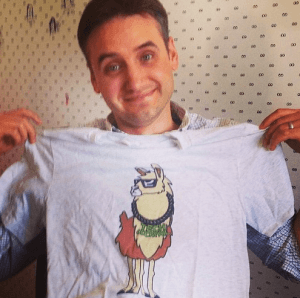 In Startup Mixology, Frank Gruber writes around two major themes. First, he says he lays down the harsh reality: starting up isn't easy!
"You may offend your customers, get zero attention from the press, or run out of money. You may lose contracts, lose friends, or fail altogether. The media doesn't talk much about the unglamorous parts of starting up, and I think lots of people are unprepared. My book tries to shed some light on that," he said.
On the flipside, Frank Gruber also talks about how starting up should be enjoyable.
"That's part of the premise of Tech Cocktail, and something I strive for personally," he said. "And I believe the key to enjoying the journey is celebration: recognizing the positive moments and progress along the way. Taking a moment to pause and acknowledge what you've accomplished – no matter how small – can give you and your team the motivation to continue. Whether through baking cakes, taking workations, or having a llama parade, that's up to you."


About Tech Cocktail: Tech Cocktail is a media company and events organization for startups, entrepreneurs, and technology enthusiasts. Since 2006, its goal has been to amplify local tech communities and give entrepreneurs a place to get informed, get connected, and get inspired. Tech Cocktail dedicates itself to covering news, how-to's, up-and-coming startups, and industry trends online, and hosting events in over 20 cities in the US and abroad.
About The Innevation Center:  The inNEVation Center is the first public / private economic diversification effort of its kind. We bring together entrepreneurs. Business leaders. Mentors. Investors. Educators. And government agencies. In other words, everyone it takes to build an economy of superheroic proportions.  The inNEVation Center is the brain child of Switch founder Rob Roy. As the most successful technology entrepreneur in Nevada's history, Rob is extremely passionate about enabling a more diverse Nevada economy. The inNEVation Center is a commitment to "pay forward" the success of Switch by helping to empower Nevada's next generation of successful start-ups.