Collide B2B will host Justin Weniger, Founder and CEO of Wendoh Media, for an event at Inspire Theatre on Tuesday, January 26, 2016.
Weniger's company is the conglomerate behind The Pulse of Las Vegas and the Life Is Beautiful festival. He will be presenting multiple areas of needs within his organization for startups to make business proposals.
"After moving my startup to DTLV I discovered it was being very difficult for me and other startups to engage with local businesses," explained Rodrigo Alonso, Founder and CEO of Collide B2B. "I went to Mark Rowland, CEO of Downtown Project, with a proposal to create this event to foster community. He engaged immediately and bring Downtown Project's executives as the guests for the first event in November. It was a total success for the community."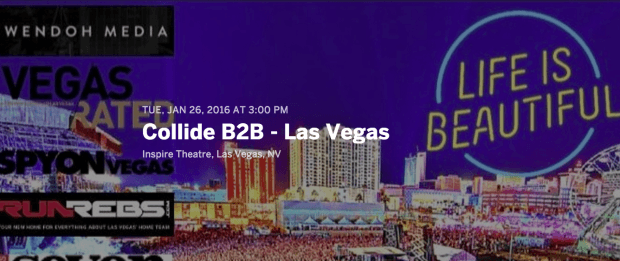 Alonso says Collide B2B is a unique and different event focused on engaging startups with local companies to do business together. "Startups get traction and local companies get innovation. A win-win relationship."
He launched Collide B2B in Las Vegas, and has since tested it in Latin America with great results.
"We decided to package it so every startup community around the world would be able to easily replicate it," he said. "By February, we'll have a weekly calendar for the rest of the semester. Events will feature CEOs from the biggest Nevada businesses. We expect to make a greater event by the end of the year around vertical industries and all Nevada startups attending."
For the January 2016 event, Alonso says he invited Justin Weniger to speak because he's an innovative CEO who has opportunities for startups within his company.
"Justin is leading how media companies and art festivals create new experiences for the people," he said. "We talked with Justin about how to leverage the Life Is Beautiful festival and invite startups to add value. In this way, a big local business like Wendoh Media, lifts local startups to create businesses. This is community working as a community."
Alonso says if you are a startup or small business, you should consider attending Collide B2B.
"There is no other better way for you to make business, get traction and grow your company," he said. "We have reached out more than 20 coworking spaces in Nevada to invite startups and small businesses. Everybody is empowered to add value, volunteers, sponsors, mentors, and more. At the end of the day, what we are doing here is bringing together the local community to have a win-win business relationship. If you are a CEO, Board Member, or executive and would like to have the most innovative startups helping your business to innovate and differentiate from your competition, send me an email at [email protected]."
Get more information about the event and register to attend here!