WordCamp is a conference that focuses on all things WordPress. These informal, community-organized events that are put together by WordPress users.
The #VegasTech community has had a rich history with WordCamp events. WordCamp Las Vegas has been taking place since 2009 and John Hawkins was the original Lead Organizer from 2009 – 2013.
This year, business owners, bloggers, designers, developers and other advocates of WordPress will gather on September 19-20, 2015 at The Innevation Center to learn, discuss, and network at the 7th Annual WordCamp Las Vegas.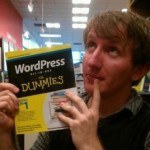 "WordCamp is a series of amazing events that allows WordPress users to meet and greet with other WordPress users, developers, business owners, and hosting companies from all around the world," said Russell Aaron, member of the organizing committee for WordCamp Vegas 2015. "At a single WordCamp Event, a participant can expect to see 20+ presentations ranging from "Just getting started with WordPress" to "Advanced Things you can learn about WordPress". There is plenty there for everyone no matter what your skill level is with WordPress."
Aaron says each WordCamp event provides a unique learning opportunity for anyone in the WordPress Community.


"Not only are there sessions that you can learn from but there are workshops, meet and greets and opportunities to sit one on one with the WordCamp Speakers (presenters) so you can get to know them or ask them a question or two," he explained. "WordCamp events exist because there is a high demand for them. They offer a chance for people to hang out, in person, with individuals that they interact with online. Maybe that's because they are in different cities or countries."
This year, the WordCamp Las Vegas organizing team consists of many of the same community members who organize the Las Vegas WordPress Meetup Group.
"Russ is Lead organizer. Robert helped us pick out the speakers that we wanted to bring to the WordCamp and did some of the graphic designs for the T-shirts," said Aaron. "Kenny is in charge of getting volunteers and recording video for the event."
This year, Las Vegas WordCamp is taking a step back from the Las Vegas lifestyle theme that has been used traditionally.



"We usually have a poker chip, ace of spades or some kind of combination of the two as our logo," explained Aaron. "For 2015, the theme of our WordCamp is Rock N' Roll. While the event is based around WordCamp, each room designated for speaker presentations will have a name from a famous band in the 80s. We're going to have sponsor tables and that area is called "Back Stage". Our t-shirts are going to look super awesome. We have an awesome design on the front and on the back, we have a list of cities that a WordCamp has already taken place in 2015."
Aaron says WordCamp Vegas started off much like other WordPress events throughout the word. The team had a very low budget and the event's success relied on getting local companies to donate their services.
"From local coffee shops to help fuel attendees in the morning to local print shops helping with all of the credentials that needed to be printed," said Aaron. "As WordCamps started to gain traction through out the world, things have been getting easier. We have more sponsors and more local shops that are willing to help us out. Having amazing partners really makes our event planning easier and easier."
For the past 3 years, a major partner for the event has been The Innevation Center.
"We had the camp there for the last 3 years. They accommodate all of our needs and donate the space to us," Aaron said. "As a leader in the Vegas Tech Community, it would be foolish of us to move the event."
The organizing team is looking for additional community sponsors. Businesses and individuals in the #VegasTech community looking to get involved can donate their services too. Simply contact Russell Aaron through the 2015 vegas website.
In addition to sponsorship, anyone looking to volunteer at the event is welcome to get involved.
"Anyone and everyone should attend WordCamp," said Aaron. "If you are interested in learning what WordPress can do for you or your blog or business, we invite you to purchase a ticket for $40 (2 day ticket) and meet the WordPress Community. This event is for bloggers, designers, developers, matadors, owners of a local knit shop that just put their website on WordPress, and so much more."