Are you ready to hire your first employee? Before you make that first hire, it's important understand legal requirements as an employer such as tax payments, government registrations, and employee benefits.
Las Vegas-based HR outsourcing company Back Office Remedies will host a workshop on Friday, February 10, 2017 from 1:30-3:30pm at Work In Progress in downtown Las Vegas to walk through must-do processes for hiring new employees.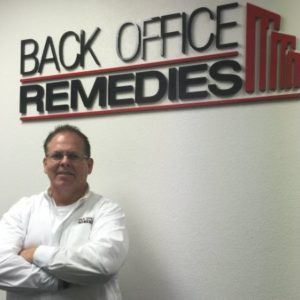 "We offer human resources outsourcing solutions for small to mid-size businesses," said Jeffery Stone, President and CEO of Back Office Remedies.  "Having created and grown businesses from the ground up, I have a soft spot for those who have the courage to launch their own ventures.  At the same time, I have a strong desire to help startups avoid some of the pitfalls and mistakes we all make in the beginning.  Consequently, a "pet project" of mine is doing our part in helping revitalize the local small business community by empowering startups with human resource guidance."
Back Office Remedies moved their corporate headquarters to Las Vegas in 2015 and they are committed to growing their business in the valley.
"In short, we handle the complex "back office" tasks, freeing up business owners to focus on operations and growing their business," said Stone. "Since moving to Las Vegas, we recognized the startup scene here is growing and has great potential to expand.  We also see that #VegasTech is an integral component in that scene, connecting exceptional individuals and companies.  We are happy to do our part and support the startup community."
Stone and his team decided to put together an in-depth human resources workshop that covers everything #VegasTech startups need to know when hiring employees and managing HR and payroll matters.  Their "HR 101 Seminar" event is just one of a series of seminars and workshops Back Office Remedies hopes to offer.
"With over 25-years of experience in supporting human resource management for small businesses, we know the common pitfalls and how to avoid them," he said.  "Our hope is this after attending this seminar, startup founders will be ready to welcome their first employee with confidence!"
This workshop is a great roadmap for not only startups that look to hire a new member, but also a helpful resource for small business owners to review current hiring procedures to see if it meets legal requirements.
Stone says there are 3 challenges startup founders face when making their first hire:
Reluctance to Delegate.
"A common trait amongst business owners is the need to control every aspect of the business," said Stone. "With tech companies in particular, the owner usually processes a high level of knowledge and skill in a particular area.  However, that skill set doesn't necessarily serve the needs of human resources, accounting, marketing, etc.  Recognizing that you need to hire and surround yourself with people more knowledgeable than you in those areas is critical."
Failure to prioritize hiring needs.
Stone says most tech startup founders start out wearing numerous hats.  "Suddenly you are the salesperson, developer, bookkeeper, customer service representative, human resources manager, and more," he explained. "This is common in the beginning, however, when it is time to hire they sometimes fail to hire for the correct position.  A practical approach to hiring is to fill positions that will relieve you of the most time-consuming burdens first.  If you find yourself spending most of your day dealing with one administrative area of the business, then hire that person first.  By continuing to delegate time consuming tasks to new hires, you will be able to stay focused on growing the business."
Failing to define a corporate culture and building a team around it.
People often think that defining a corporate culture is only for large companies.  However, Stone says that even a new tech startup has a culture. "It is usually born from founder's personality and vision for the business," he said. "By defining your vision, values and practices for the business, right from the beginning, you can establish a blueprint for the type of people you need to hire in order to build the team that will embrace and champion your ideals for the business."
The Back Office Remedies team picked Work In Progress in downtown Las Vegas as the venue for the workshop because of the role the space has played in the local startup community since opening.
"Work In Progress is an important hub for entrepreneurs, startups, and freelancers in Las Vegas," explained Stone. "We met them at Governors' Conference on Business 2016, and we immediately clicked after sharing our vision to contribute to the local startup community. When we visited their co-working office downtown, we felt a lot of positive energy from people there, which assured us that Work In Progress is the right place to hold our event."
Stone and his team hope to make their upcoming seminar as interactive and practical as possible. Rather than simply giving information to attendees, Stone said he's like to see situational questions from entrepreneurs answered during the seminar.
"If you have any questions regarding the topics we plan to cover, please feel free to send us your questions in advance," he said. "Your questions would help other fellow entrepreneurs too. You can also join our Facebook live streaming even though you cannot be at the venue."
The team will also be exhibiting at Preview Las Vegas on January 24, 2017.
"Our consultants will be there to answer questions on outsourcing HR. Anyone interested in having a one-on-one consultation can just let us know," invites Stone.
To learn more about this free workshop, to view the agenda and topic list, or to register to attend, visit the event page here.