A new kind of vehicle was built at and driven out of the Las Vegas Convention Center when VegasTechFund-backed Local Motors live printed the world's first 3D-printed car at the annual SEMA Show. This vehicle was called The Strati and the printing of the revolutionary vehicle happened on display, giving conference attendees a front-row view of the future of car manufacturing.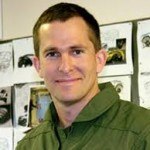 When attendees say the car printed at the annual SEMA Show, Local Motors' CEO John B. Rogers Jr. said there was excitement and astonishment.
"People are truly shocked to see a car print and drive in just four days," he said.
The Strati was built in three phases during the four–day show. Phase one, the actual 3D printing, started in the morning on November 4, 2014 and lasted approximately 44 hours. The team used cutting edge technology called additive manufacturing.
Phase two, known as subtractive manufacturing, included eight hours of milling.
Rapid assembly of the vehicle by the Local Motors team was the third phase and started on November 6, 2014.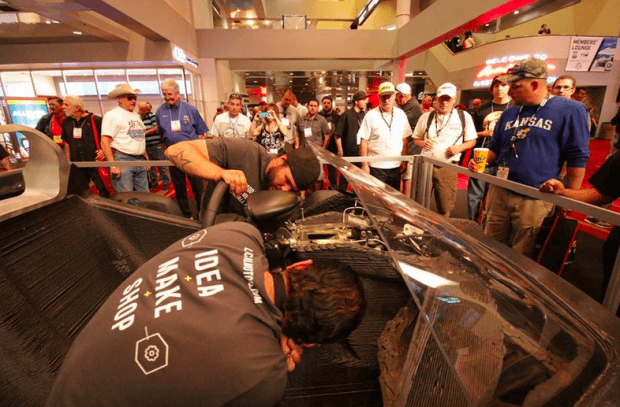 The car was completed and ready to drive at 3:00 p.m. on November 7, 2014 where it led the SEMA Cruise to the official afterparty.
At the annual SEMA Show, Local Motors also announced their next big campaign called The ModMen Challenge.
"We just announced our ModMen program that will start in January 2015," John B. Rogers Jr. continued. "12 winning design proposals will receive 3D-printed car bodies to hack and mod. They will bring back their creations to SEMA 2015 where we will announce the winner. We also have plans to sell 3D-printed cars to the public in 2015."



The ModMen Challenge, a bold competition that asks the hot rod and motor vehicle aftermarket community to "hack up" and modify a 3D-printed vehicle, just like they would any other car. The contest starts online, where participants submit design modification proposals designed for and built on the same 3D-printed car model. After an online voting round, 12 "ModMen" winners will be awarded a real 3D-printed vehicle on which to bring their winning designs to life. The ModMen Challenge culminates next year at SEMA 2015, where all 12 of the modified cars will be presented and judged. From there, one vehicle emerging victorious as the grand prize winner and title of ultimate "ModMan."
"With the announcement of our ModMen program, we got nothing but support from such a passionate group of enthusiasts. We're all excited."