The team from Silicon Valley Bank have been in meetings around Las Vegas getting to know the tech community over the past year.

"Since attending the Life is Beautiful festival last October, my team and I have been to Las Vegas at least six times to meet with entrepreneurs, clients, key service providers and other influencers," said Dax Williamson, Managing Director, SW Region, at Silicon Valley Bank. "Each time, I am impressed by the evolution and growth I've seen with the Downtown project, as well as increased connectedness with the broader innovation ecosystem across the city. There is a maturing of the ecosystem that is happening, which will help entrepreneurs and early growth companies scale their companies faster. The streamlining and elimination of inefficiencies within the ecosystem will be key in helping the city become better positioned to compete with larger tech ecosystems across the country."
Dax Williamson says there are 3 key differentiators of Silicon Valley Bank, each of which reinforces the other.
"First, is that we are the only global financial institution that is exclusively focused on serving the of the innovation economy. This is important, because we don't cycle in and out of the tech sector, as the economy fluctuates, but are fully committed," he said.
"Second, is that by not only banking about 15,000 technology companies globally, we also support about 700 venture and private equity funds. In this way, we sit at the intersection of ideas and capital," he continued. "Last, is our ability to scale with companies as they grow and truly serve as their financial partner beginning at inception all the way through their exit and beyond."
Beyond capital, Silicon Valley Bank helps entrepreneurs with connections and counsel.
"I tend to describe it as the "three c's"…capital, connections and counsel. In many ways, capital is a commodity," Dax Williamson said. "While SVB has pioneered unique lending models over the years, competitors eventually try to replicate what we do. Competitor's lending methodologies can adapt over time, but it is much harder to match our deep network and 30+ years of experience focused solely on the innovation sectors."
How can Dax Williamson and his team at Silicon Valley Bank help your #VegasTech startup?
"Our mission is to help increase the probability of success for entrepreneurs globally, so we want to help companies in other ways," Dax Williamson said. "One of those ways is in serving as a portal to other complementary sources of capital, such as alternative debt, angel, venture and corporate venture investors. Another way is through providing valuable counsel or advice to entrepreneurs who may be new to the ecosystem and need help with things ranging from refining an investor pitch deck, to understanding what type of capital makes sense for them, to helping them select other important advisors like lawyers, investment banks and even find key employees like a Controller or CFO."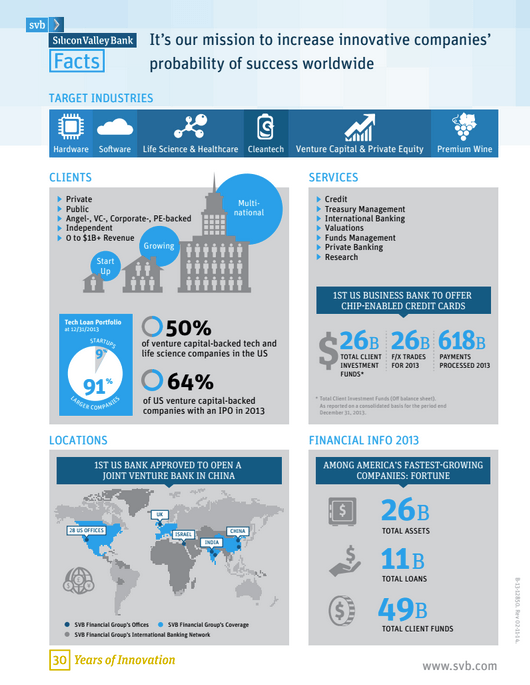 Dax Williamson likes to think of his team as very good "dot-connectors" in helping companies solve unique problems they encounter as they scale their company.
"One way we have done that in Phoenix is by matching early-revenue companies with entrepreneurs/executives that have already successfully scaled their companies," he explained. "Additionally, we are always interested in opening our network to help venture-ready companies connect with sources of equity capital, both within the SW region and in some of the more venture-heavy coastal regions."
If you are raising capital for your first time, Dax Williamson says it is critically important to have a good attorney, who is familiar with venture financings and knows how to work with early-stage companies, but more importantly can help you strategize on what type of capital you will raise and what the end result will be.
"Generally, first-time entrepreneurs are not likely to have the internal expertise necessary to understand the obstacles that can derail a venture financing," he advises. "There's nothing worse than having critical issues arise once you are at the finish line with your new investors. In other words, don't be penny-wise and pound foolish, by trying to do everything on your own."
Rather, he suggests to begin with the end in mind and hire the right advisors early on in your start-up.
"Some issues that can derail a company are the entity formation not being correctly documented at the outset, or even issues with the cap table and lack of clarity on founder equity/ownership. An experienced attorney can help you avoid these future problems," he said.
Dax Williamson says he believes connections are everything, and he and his team hope to meet more and more Las Vegas startups and entrepreneurs.
"While we try to be very well-connected and knowledgeable about the innovators and emerging growth companies, we certainly don't know everyone. To the extent that there is a high-growth/high-potential company that hasn't heard of the unique ways in which we help entrepreneurs, we'd very much appreciate an introduction. Together, we hope to play a small role in accelerating the success of the Vegas tech ecosystem," Dax Williamson said.

About Silicon Valley Bank:  SVB Financial Group is the parent company of Silicon Valley Bank and its affiliates that serve the technology, life science, venture capital/private equity and premium wine industries. Offering diversified financial services through Silicon Valley Bank, SVB Analytics, SVB Capital, SVB Global and SVB Private Client Services, SVB Financial Group provides clients with commercial, investment, international and private banking services. The company also offers funds management, broker-dealer transactions and asset management, as well as the added value of its knowledge and networks worldwide. Headquartered in Santa Clara, Calif., SVB Financial Group (Nasdaq: SIVB) operates through 27 offices in the U.S. and international operations in China, India, Israel and the United Kingdom.