The Strong Cities Strong Communities (SC2) Challenge is a federally funded program to generate new and innovative economic development ideas for United States cities through a worldwide competition. First announced in July 2011, this initiative seeks to strengthen neighborhoods, towns, cities, and regions around the country by enhancing the capacity of local governments to develop and execute their economic vision and strategies, providing necessary technical assistance and access to federal agency expertise, and creating new public and private sector partnerships.

"The city of Las Vegas is one of three cities that received this $1M grant last year," explained Tammy Christensen, Grant Program Coordinator for Parks, Recreation & Neighborhood Services at the City of Las Vegas. "The other cities include Greensboro, NC and Hartford, CT. For Las Vegas, the competition is designed to help solve some of the economic development challenges unique to the focus areas in our City." 
The city of Las Vegas and the U.S. Department of Commerce's Economic Development Administration (EDA) are hosting the Strong Cities, Strong Communities (SC2) Challenge from now through May 2015.
"The SC2 Challenge was developed by The Common Pool (TCP) and RAMPIT Software, the country's foremost incentive engineering firms, in cooperation with the White House and the Economic Development Administration," she continues. "Both TCP and RAMPIT have been responsible for other high profile public and private sector prize competitions. They have worked with such partners as Google, the Bill and Melinda Gates Foundation, National Geographic Society, and many high net worth individuals committed to breakthrough innovation."
Tammy Christensen said the city of Las Vegas is administering the competition locally and an esteemed panel of judges, including many leaders from the city's business community, will select the winning ideas.
"The goal of the SC2 Challenge is to secure innovative, creative and transformative economic development ideas for one of four target areas in Las Vegas: Cashman Center, the Medical District, business parks or any existing project within the Redevelopment Area," she said. "Once the winning ideas are chosen, the city will study their feasibility and work with the federal government with the goal of securing implementation funds."
The goal is to procure highly innovative, creative, and transformational economic development ideas for Las Vegas from qualified multidisciplinary teams in Nevada and throughout the world.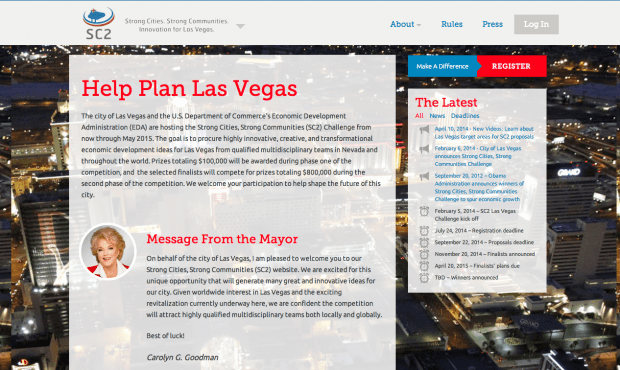 Prizes totaling $100,000 will be awarded during phase one of the competition, and the selected finalists will compete for prizes totaling $800,000 during the second phase of the competition. Phase one winners will receive $60,000 for first place; $30,000 for second place; and $10,000 for third place.
"Winners must submit a specific proposal which must include a discrete project (with a budget, schedule, and a list of any other resource requirements) embodying their overarching economic development strategy for the city of Las Vegas," Tammy Christensen said. "Up to 10 finalists from the first round may be selected to enter the second round, when both the prize amounts and the level of effort are substantially greater."
"In the second round, the grand prize winner will receive $500,000 and the judges may award other prizes totaling up to $300,000: $100,000 for second place; $75,000 for third place; $50,000 each for fourth and fifth place; and $25,000 for sixth place. To win prizes in the second round, teams must submit both a detailed and comprehensive economic development plan, building off their earlier proposal, along with letters of endorsement from local leaders to substantiate claims and validate community support of their technical approach," she continued.
In all cases, Tammy Christensen said prize money will be awarded with no strings attached.
"The City will own the winning plans with plans to implement one or more of them as funding becomes available. This may be done in collaboration with the team who created the plan," she said.
"The competition is open to anyone in the world, including professionals, students and individuals," Tammy Christensen explains. "Participants must work in multi-disciplinary teams of at least two people. While the competition is ideal for land and urban planners, architects and designers, economic development professionals, technology or medical experts and business owners, it is open to anyone with visionary ideas that will generate jobs and help to bolster the economic vitality of our city."

"We encourage you to visit the website to learn more about the credentials of each judge and hear a message from Mayor Goodman. You can also register and create a team at lasvegas.sc2prize.com," she said.  "The site includes in-depth information about the competition and how to submit a proposal. There are videos about each of the four target areas and there is a list of additional resources. A webinar with the SC2 Challenge team is planned in early June, so be sure to check the website for updates."
Participants must register online by July 24, 2014, and phase one proposals are due September 22, 2014. Phase one winners will be announced in November, and they, along with up to seven other finalists, may advance to the next phase.
During phase two, teams will build out their proposals into comprehensive plans which will be due April 20, 2015. Winners will be announced in May 2015.