VegasTechFund-backed Banjo announced the close of a $100 million Series C led by Softbank, alongside BlueRun Ventures. The team has a Las Vegas office at The Innevation Center.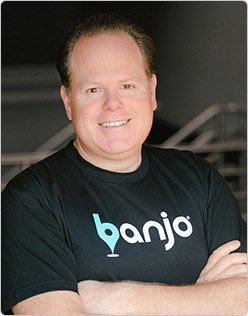 "This funding will help make our vision to build the ultimate crystal ball a reality," said Founder and CEO Damien Patton in a blog post. "By organizing the planet's social signals by location, we've changed the game for our customers, and we are just getting started. Now Banjo is moving far beyond social signals. Our technology will know and understand everything, about any location, at any time, creating value for everyone, from individuals to corporations to continents."
"We're building something that's never existed and to accomplish our vision, we're surrounding ourselves with the best and brightest in every area of our company, from employees to investors," he continued. "I'm excited to partner with SoftBank. Masayoshi Son, Softbank's founder and CEO, is one of the most successful entrepreneurs of our generation. Nikesh Arora, Softbank's Vice Chairman, was part of Google's last ten years and most recently CBO, widely acknowledged as the foremost business strategist in the valley. I look forward to learning from both of them and leveraging their expertise."
In the blog post, Patton shared a statement from Nikesh Arora about why he ultimately decided to partner with Banjo.
"Banjo is in an interesting space, bringing together the ideas of big data, social, local, mobile and trying to derive value from that combination for both consumers and businesses," said Nikesh Arora, Vice Chairman, Softbank. "I am excited by what I have seen so far, and think this has the potential to be very interesting, and big. Damien thinks big, and is a very dedicated individual — we like his aspirations and are delighted to support him."
Read more in this Wall Street Journal coverage of the company's latest funding round.