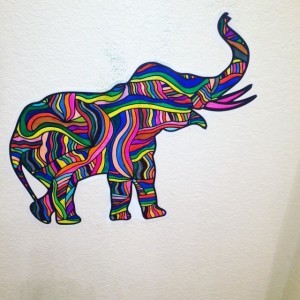 VegasTechFund-backed Walls360 creates on-demand wall graphics and custom promotional products for artists, brands, and digital content partners worldwide. Walls360 premium wall graphics are created on-demand at the Walls360 wall graphics factory in Las Vegas, Nevada, and shipped to customers around the world.
Craig Feinberg, from LA-based Begson, recently partnered with the company for the release of coloring wall graphics.
"For many years I have been exploring the lost art of typography called Letraset; a dry transfer material used by graphic designers and architects from the past," said Feinberg in this blog post. "I wanted to take my work to an even larger scale, and since 2012 I have been working with Walls360 to create custom Begsonland wall-to-wall graphic installations with my clients worldwide.  Walls360 allows me to bring my digital designs directly to real-world walls as giant peel & stick, premium re-positionable wall graphics.  Amazing quality and an unbelievable commitment to service. I love this new medium!"
Read more about the announcement and take a look at the team's amazing designs here!