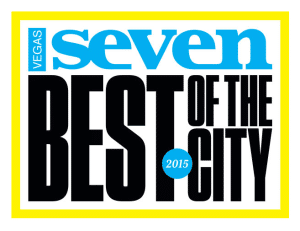 Vegas SEVEN, a weekly publication about life in Las Vegas, released their sixth annual tribute to all that's great about Las Vegas in their Best of the City 2015 piece.
Check out a few of the mentions of #VegasTech community members and organizations:


BEST HOPE FOR DOWNTOWN PROJECT'S FUTURE: Mark Rowland
Downtown Project Ventures is an entity devoted to running those business concerns that Downtown Project rolled out in its wildly optimistic, cash-rich infancy—among them Gold Spike, Coterie and many of the small businesses of Container Park. Now that the marketplace is having its way with these dream projects—buoying some, driving some to failure—it's up to Mark Rowland, named CEO of DTP Ventures in February, to right the ship and even chart a course to expansion. Read more here.

BEST PLACE TO BUILD YOUR STARTUP: The Mill Startup Accelerator
The Mill started out as a micro-investment for entrepreneurs, doling out $5,000 so people could quit their day jobs for a month and work on their big idea. But what if you already have your idea and are looking to start building your company? The Mill has your back. In 2015, this tiny branch of the Vegas Tech Fund expanded into a full-on startup accelerator, where teams can receive up to $22,000, office space and three months of mentoring. Read more here.

BEST TECH BLOG: VegasTech.com
Barely a day goes by without a startup popping up somewhere in the Valley, and the best place to stay on top of all the news is VegasTech.com. Written and curated by former Ticket Cake co-founder Jackie Jensen, the blog offers a comprehensive calendar of techie events, updates from existing companies and introductions to the Valley's newest entrepreneurs. Read more here.