Remember that B2B travel startup we talked about a month back looking to eat Airbnb's lunch on extended stays?
Well, it's back in the news to display more traction and significant updates.
If you're unfamiliar, Workbnb is addressing a market that remains overlooked by other short-term rental online travel agencies like Airbnb, VRBO, and Booking.com.
As these platforms continue to battle over vacationers and short-term renters, traveling workers are often placed in hotels and motels for weeks and months without kitchens, which relates to low employee morale and a direct correlation to low productivity.
Even extended stay hotels are now widely considered subpar and outdated similar to Blockbuster Video's fate. Plus, Corporate housing is also completely undigitized and inefficient, which gives this Nevada-based startup the upper hand to disrupt precisely when Construction industry experts say the US is entering into the "Infrastructure decade."
Workbnb has been furthering its execution on solving this prominent need. In late March, the company completed its demo apps to simulate supply and demand-side user journeys.
Unlike other organizations that only talk to a founder once, and that's it (shots fired), we like to follow each startup founder periodically throughout their journey so that you can watch in real-time as a baby business turns into a market leader.
We're placing our bets that this startup, Workbnb, will succeed in its goal to improve the lives of millions traveling for work and, in this article, you'll get the chance to see why as you read about the team's mindset, marketing strategy, exclusive insights from current clients, and more.
Building Out In The Open
As the team gets ready to launch their app this summer officially, they are constantly adjusting the Workbnb platform to fit the needs of current clients properly.
Yeves Perez and his team share a philosophy of "building out in the open" to receive feedback from their audience in real-time and cater to the platform to meet the needs of the people instead of themselves. As the founding product manager, Yeves also believes in sharing what his team learns as much as possible without fear of competition.
As Yeves points out, too many startup founders like to build their products privately, only to discover that the market wants something different from what is produced.
To prevent this, Workbnb formed the "alpha team," also called Workforce Rental Prodigies, to participate in the creation of the Workbnb app as they will be the end-users when it is released.
Happy users, happy business.
Current Alpha Test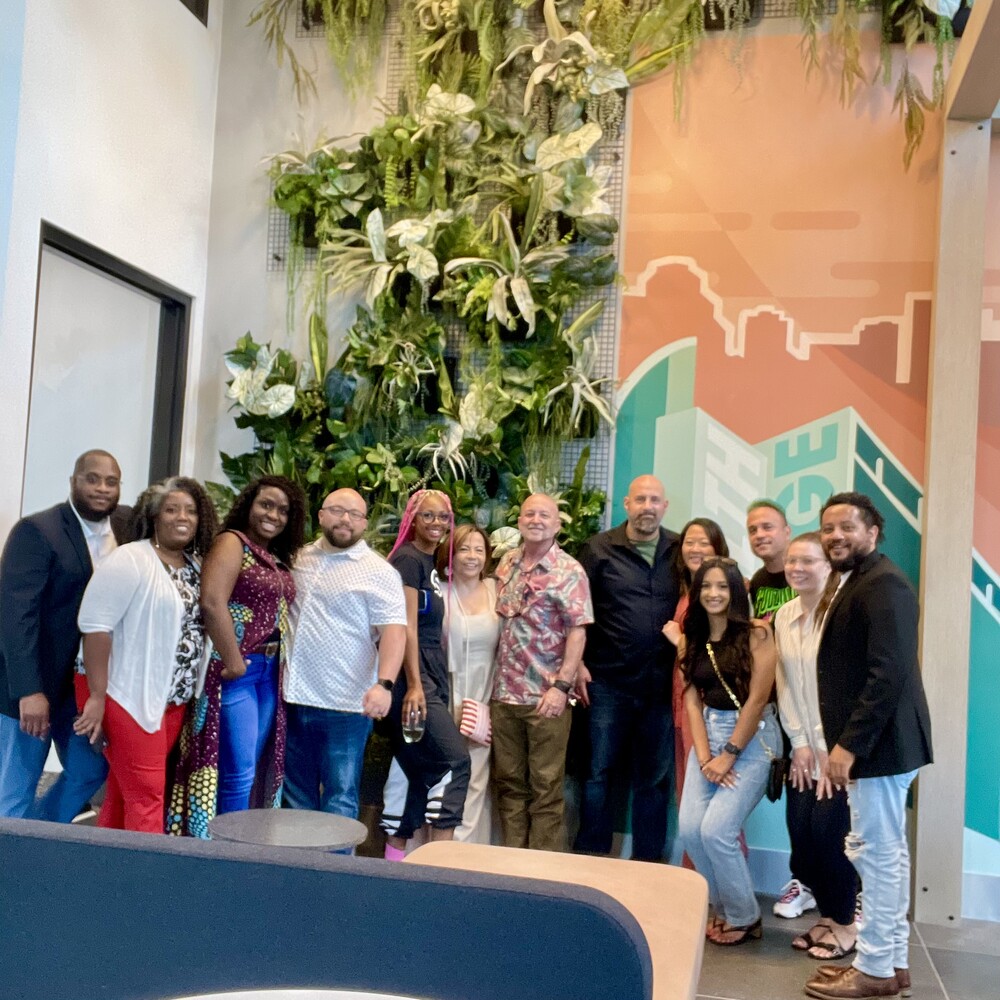 Photo Taken By: Workbnb
As mentioned above, Workbnb puts its users first and wants to design a platform that truly suits their needs.
To do this, Workbnb, Inc recently hosted an open house event to launch Workbnb Lab Orlando and toured several workforce rental homes for extended mid-term stays operated by small hospitality operators.
The Workbnb team has finally built up enough momentum to begin their early stages of testing in three cities in Florida: Orlando, Miami, and Tampa. All three of which are red hot with construction starts and corporate relocations.
Because Yeves and co-founder Daj'Anique can't be in three cities at once to meet with early adopters, they have implemented a "Text-To-Book" marketing strategy that helps funnel Workbnb's alpha team members with interested users until the final app launches.
While other OTA's (online travel agencies) and startups focus on building email lists, Workbnb is focused on SMS marketing as it has widely been proven to be drastically more effective with the higher open/ response rates.
Once users send a text to Workbnb, they are sent to a mobile form that asks which of three cities in Florida they would like to house remote workers. Bookings are done fast and efficiently, with the ability to achieve needs at scale, plus Workbnb is charging a 5 percent service fee per booking, which is more palatable for longer durations compared to Airbnb's 17 percent service fee.
This exact approach is what many construction leaders are seeking simplistic innovations.
Saving money, time, and boosting employee morale is a triple threat power play for this early stage startup.
L.R. Weeden, Superintendent for Layton Construction, says, "This looks like a very scalable product that can positively disrupt the market." Weeden, a Construction executive with over 20 years of experience, recently participated in client interview sessions to ensure Workbnb achieves product-market fit.
Plans For Alpha Testing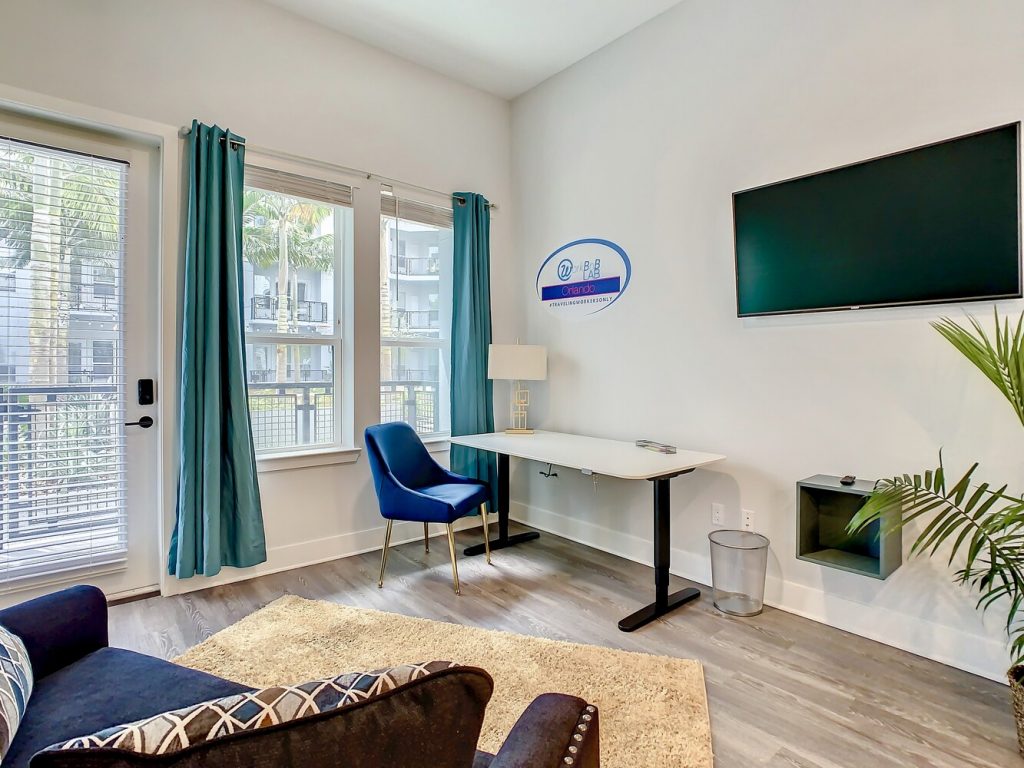 Photos taken by: Workbnb
Yeves and Daj'Anique are constantly in learning mode with their first users by meeting with them one by one.
Although much has happened recently, the team is dedicated to continuously holding interviews with Office administrators, managers, project executives, and more to understand their actual pain points.
The company soon seeks to work with large companies with massive infrastructure projects like Ames, Kiewit, Turner, SR Construction, Swinerton, Gilbane, Clark Construction Group, etc.
Workbnb's first alpha test client Seth Alexander, Project Executive for Ames Construction, recently gave this endorsement:
"Yeves Perez and his team at Workbnb have made temporary housing for employees exponentially more efficient by offering a turn-key solution. I used to juggle multiple leases at various properties, furniture, late utility bills, etc. Workbnb has allowed me to focus on my primary role of running a business and my employees are happy, which makes me happy."
Yeves also recently appeared on the Construction Genius Podcast and spoke with host Eric Anderton about the trends and need for workforce rentals to help prevent tool theft in the industry, which is another under-addressed pain point.
Over 300 workforce rental homes are in final preparations to begin "alpha test" bookings, and the team is now ready to take on corporate bookings for their operations in Orlando.
Workforce housing needs are on the rise, several tech companies are either relocating or expanding Headquarters to Orange County, Florida, and over 30 massive construction projects are currently in progress in Orlando Metro, making it the ideal place to test the services of Workbnb.
The startup also recently joined the Orlando Economic Partnership membership to gain deeper insights into Orlando's growth and support all the major employers.
Smart move.
Recent Opportunities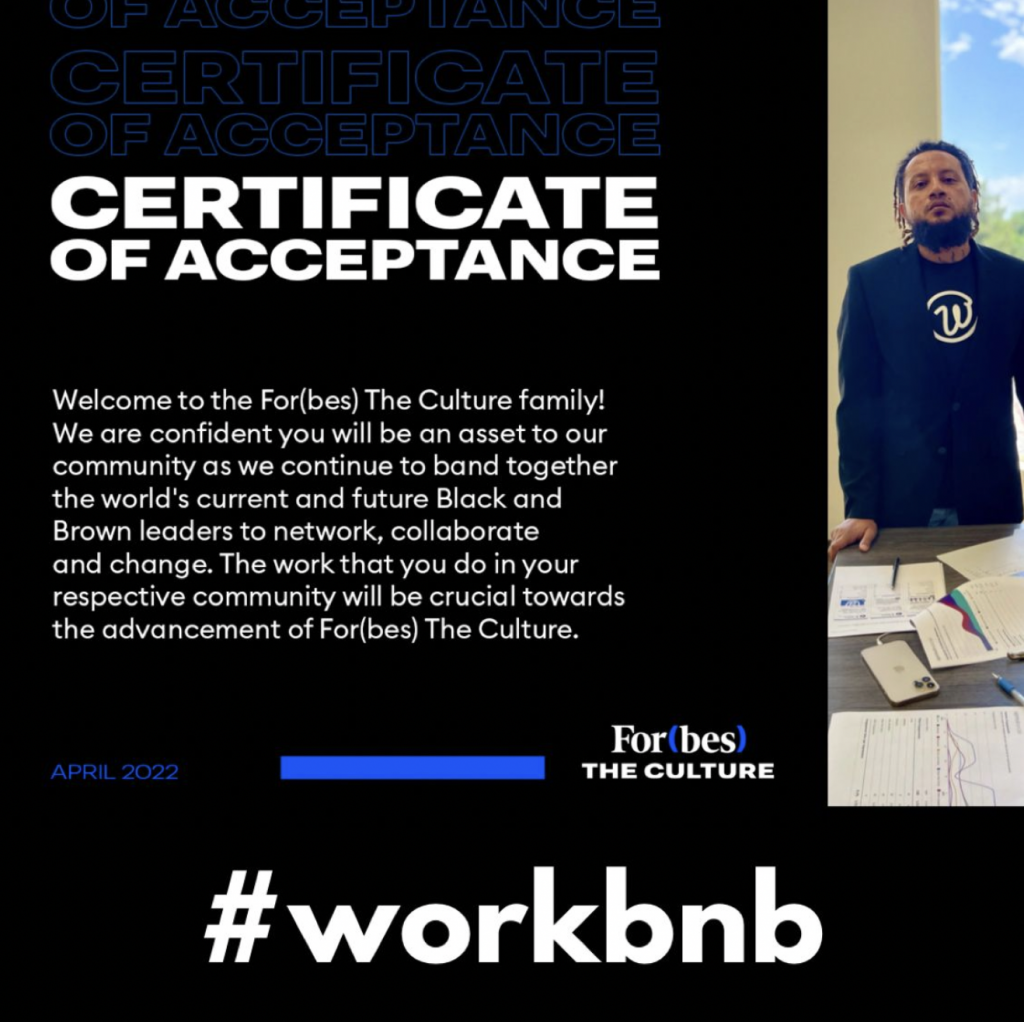 Photo Taken By: Workbnb
With "Text-To-Book" marketing, hosting and participating in popular tech events, and building a team of operators to help join the alpha testing team, tremendous opportunities have presented themselves to Workbnb.
Recently the company received an inquiry from AdventHealth, a massive health care provider that could potentially bring 1,000+ international nurses to the platform every year.
Although the two parties are still in the early stages of communication for a pilot program, it validates the idea that Yeves and his team bring to the table.
Around this same time, the company secured a deal with Rentalprenuer TJ Tijani to join the Board of Directors. The Houston-based real estate developer and popular short-term rental Key-note speaker Tijani has committed $200,000 to Workbnb, Inc, according to a joint statement. Tijani has also been named the lead investor for the travel startup's 3 million (pre-seed) Wefunder community round beginning in a few weeks.
"I believe that Workbnb has the potential to be a major player in the short term rental industry. I am excited to join the team because I believe it can be the perfect solution to bridging the gap between companies' housing needs, and hosts booking needs. I believe Workbnb has a solid passionate team that can see it to its full potential," says Tijani.
Workbnb executives have also hired Jose Padilla and the Padilla Law Firm from San Antonio, Texas to represent the company on their scale-up journey.
Another brilliant move.
The recent traction that Workbnb has been stacking up week after week, and just days before this interview, the team received an offer to join Techstars in Tulsa, Oklahoma, to expand their vision further. But will they need it at this point? The team has a tough decision to make.
Client Insights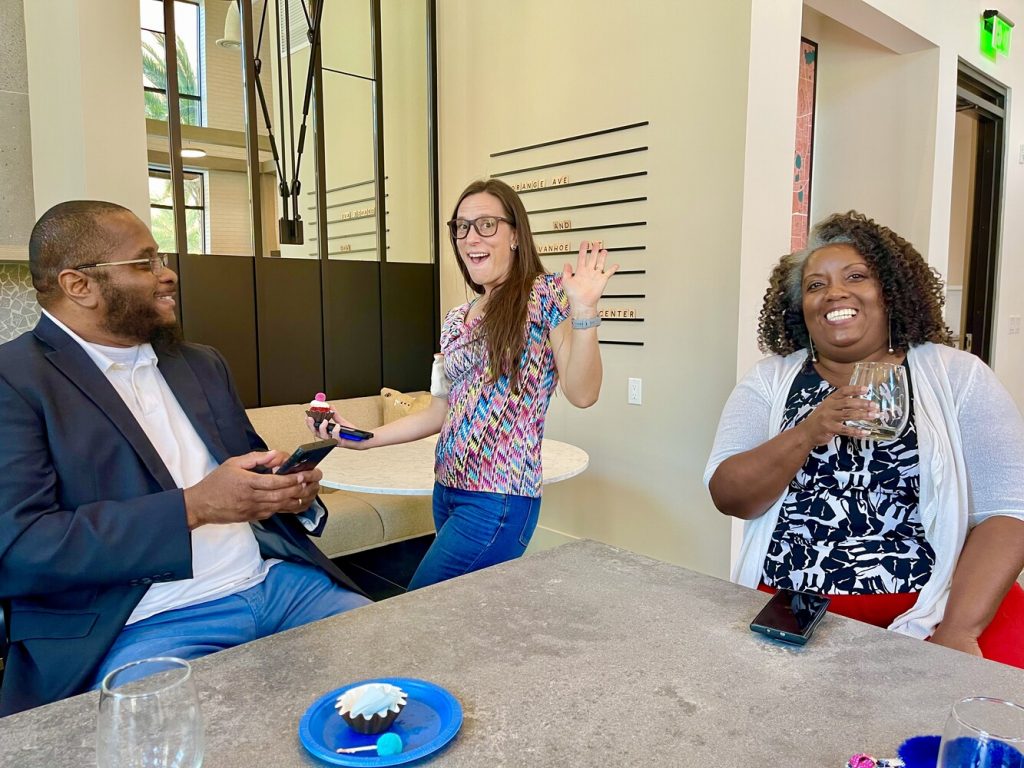 Photo Taken By: Workbnb
For this update, I had the pleasure of speaking with the operators themselves that manage properties with the Workbnb team, to understand their experience and goals for the future with this startup.
Enjoy the following interview discussion.
What made you want to join the Workbnb alpha team?
"The concept was so easy to get behind because these are the types of people we want in our properties, " says Mike Dawson at Soar First Innovations.
His partner KC Barnwell issues the same sentiments. They, unfortunately, have experienced a few terrible short-term rental experiences and love the idea of being able to hold multiple people accountable for any actions not agreed upon.
Since many long-term renters are sent by their employer to live in a unit, hosts no longer have to rely on an online travel agency, like Airbnb, to dispute any arguments.
Instead, Workbnb gives the power to the owner of the property as they can hold their guests accountable to a higher standard of residence since the owner can have direct access to the guest's boss.
Not only was the concept easy for KC and others to wrap their heads around, but the alpha team behind this disruption has given other real estate investors hope for a better future in this space.
"Yeves and his team described their mission was so clear to me that I was confident in his leadership," Barron Littleton, an operator in Henderson, Nevada, describes.
"The Workbnb team had clear answers for every alternate perspective we had, so I knew we were in good hands," says Kesha Cort, another of Workbnb's alpha test team members.
Where do you envision being in a year?
Michael Dawson envisions his partnership with Workbnb to cause him to reach his goal of at least 30 units in 3-5 different markets. Meanwhile, his partner in crime, KC Barnwell, is even more optimistic and aims for at least 100 units in each market. "We want to grow with Workbnb every step of the way, and we're thrilled to be on the ground floor going into the infrastructure decade," says Dawson.
Kevin Sullivan, the CEO of Hardbargain, LLC and the alpha team leader based in College Station, Texas had this to say: "We started our STR (short-term rental) business in 2019, and followed the vacation rental strategy with some success. But it's hard to make any money with 2-night stays. In 2020, we changed our target customer to essential workers. Companies and their workforce employees need longer stays… 30+ nights, and are better guests. Best decision we could have made. We now have net profits that average $2,400 per property per month."
What was fascinating about this interview is that all the users I spoke to are very optimistic about the future despite a looming economic downturn that has already demonstrated hiring freezes among other tech companies.
Kesha, the operator, introduced earlier in this article, believes that Mike and KC's growth projections can be hit in even less than five years, given the attention Workbnb has been getting lately. Kesha and Tyson Cort, owners of Sunshine & Blueskies of Florida, are also ready to scale up operations to meet the demand. "We're ready to go," says Cort.
Conclusion
Workbnb is constantly finding new opportunities to grow its brand awareness and show the world why they are destined to dominate the travel industry's top dogs.
With the promising opportunities recently presented, a clear vision, relentless enthusiasm, and a passionate community behind the movement, this disruptive business is seriously one to keep your eyes on.
For more contact information, reach out to Workbnb with the information provided below.
Workbnb, Inc.
Yeves Perez
1-775-301-3416
workbnbapp.com
Text "Workbnb Florida" to 1-833-644-1906.
Want to help out?
Check out their wefunder page here:
Want To Share Your Startup?
Contact us or leave a comment down below to be featured in the next blog post.