Why Is This Startup Podcast Blowing Up In Vegas?
Before the holiday weekend, I had the pleasure of speaking with Jake Gallen, the host of The Guest List podcast.
Just like myself, Jake had an urge to share the stories of all the awesome entrepreneurs he was speaking with here in Las Vegas, so he decided that he would simply record the conversations he was having.
He decided that long-form podcasts were the best way to capture these moments since the medium has been quickly gaining more attraction from the average listener.
It has now been just over a year since Gallen's first episode, and within such a short amount of time he has successfully amassed more than 10,000 podcast downloads with over 165 episodes, which now places him in the top 10 podcasts to listen to from Las Vegas.
Because Gallen had such a wide network before he took on this journey, his very first episode received around 200 downloads, and although he has had his ups and downs, the trend has always pointed upward since then.
Throughout this time, Gallen has spoken to visionaries in all industries and from all backgrounds to help connect the Las Vegas startup community together, and because of his rapid growth he has received sponsorships and collaborated with local government officials and some of his city's most influential people.
He has also joined a new podcast centered entirely around the cryptocurrency market, where Jake focuses most of his time and attention towards the rise of NFTs.
After hearing from him about his incredible growth, I figured he would be the perfect person to ask common questions that almost every beginner podcaster has before they begin their journey.
Here are some of the key points that I noted from my last conversation with Jake that will help you if you decide you want to follow a similar path.
How To Start A Podcast With No Audience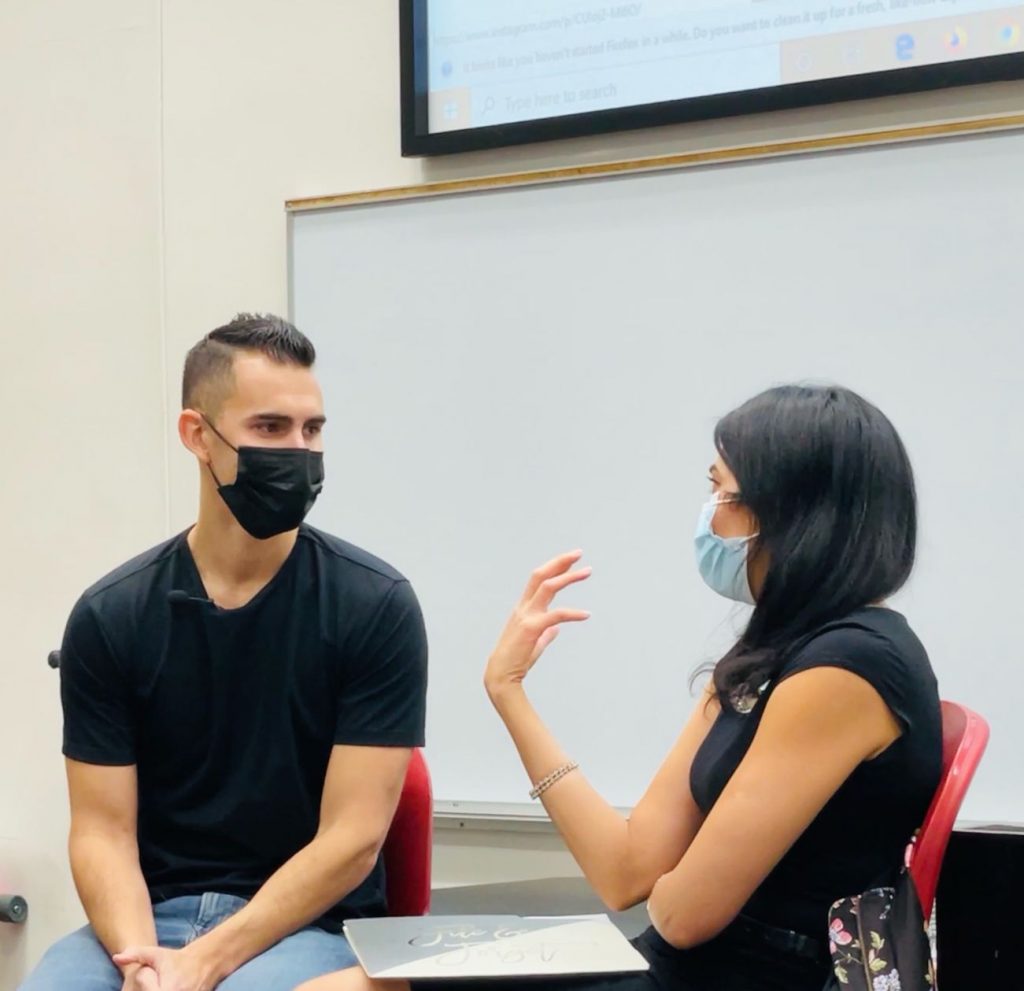 The photo above was taken during an event at UNLV that Gallen was invited to speak at.
Gallen made it this far by utilizing the power of networking.
While in college, Gallen was a member of a fraternity and worked at OMNIA Nightclub each night.
Gallen would work all night speaking to others at the nightclub, only to come home and see all of his fraternity brothers still partying.
During his time at UNLV, his life was one constant party.
Because of this, Gallen met all types of people and developed new business relationships as well as personal relationships.
By the time he launched his first episode, he had around dozens of people in his social circle to send the content out to be consumed.
If you are looking to start a podcast, but might not have as many connections as Gallen, here are four ways to find your audience:
Join networking events in your city.
To find a loyal audience, it is best to personally know the recipient of your content.
Go to Meetup.com and find groups that you think would benefit from your idea.
People that you meet face-to-face are 10x more likely to support your journey than some random stranger on the internet.
If you live in Las Vegas, check out this article here for additional help.
2. Join local interest groups
Besides Meetup, you can also join local communities on places like Facebook, Nextdoor, LinkedIn, and Highlife to find people who may be interested.
3. Connect with people on LinkedIn
LinkedIn is an untapped opportunity that many completely overlook.
Since the platform is primarily designed for business professionals, you will likely find people who are willing to listen to your content because they understand and appreciate the hustle.
4. Post clips of each episode to TikTok.
Users on TikTok have seen explosive growth in the past few years, and it not clear if this opportunity will be available in the near future.
People love short, fast-paced content, so if you can cut up your videos and make them consumable to a broader audience, people will eat it up.
What Does It Take To Start A Podcast?
Podcasting is an underappreciated skill.
If you want to take your venture to the next level, you should be willing to step out of your comfort zone and speak to complete strangers, make yourself known to the public, learn as many interpersonal skills as you can, and have unwavering determination.
Although Gallen's first episode got around 200 downloads, this traffic was not consistent from the very beginning, Gallen didn't see high traffic for months and had to teach himself to detach himself from the numbers he was seeing on the screen.
It was because of his unwavering determination that he was able to continue with the podcast and eventually gain more of an audience.
How Much It Costs To Start A Podcast
Now is the absolute best time to start a podcast. Why?
Because everyone is using Zoom right now.
This gives you the excuse to simply record zoom meetings with others and post them on social media and people will understand that, because of the pandemic, everyone is social distancing.
This means that as long as you have a laptop/computer with a working webcam and microphone, then you can start your podcast for free.
If you are thinking about getting nicer equipment to start off though, I would recommend checking out this video here.
Where To Start A Podcast
Gallen films all of his episodes inside his apartment living room, yet nobody knows this (until now LOL) because he simply places a curtain behind him and places the camera at an angle where the curtain covers the entire background.
There's no reason for you to spend hundreds of dollars creating your own podcast studio when you are first starting out.
Everything can be filmed at home and even in your bedroom if you really wanted, you just need to be a little creative when covering the background.
How TheGuestList Has Grown
After 164 episodes, Jake has spoken to multi-millionaires from all around the city, and is working on projects with individuals with millions of followers online that he cannot disclose just yet.
He has been featured in other podcasts around the city, local magazines and news networks, and has been invited to speak at public events at UNLV and other places downtown.
Here is a recent episode that Jake filmed with Dennis Yu, a Las Vegas visionary who is an expert entrepreneur who has been appeared in the Wall Street Journal, New York Times, Tech Crunch, over 700 colleges across the nation, and more.
He is dedicated to creating over a million jobs for young adults. You should definitely give this a listen!
Conclusion
In summary, Jake Gallen has utilized his extroverted personality to connect with hundreds of business leaders around the city.
In a little over a year, Gallen has created a network of regular audience members who are dedicated to learning more about the Las Vegas business world.
The Guest List podcast has been another incredible resource that is dedicated to bringing the Las Vegas startup community closer together, and with all of the recent organizations that have emerged with the same vision, we are excited to see what the future holds for the city of Las Vegas.
Want To Share Your Startup?
Contact us or leave a comment below to be featured in the next blog post.