As the industry expands, the need for Cannabis Consultation increases dramatically. Here is how this entrepreneur started her journey in this area.
Today's article highlights Juliana Whitney's journey to entrepreneurship in a rapidly expanding marketplace.
By noticing an opportunity for innovation in a newly-formed industry, Juliana has been able to fulfill her life's goal of being a business owner and is now taking over the Cannabis Industry.
Here is her story.
Juliana's Early LIfe
Juliana Whitney has had an entrepreneurial spirit throughout her entire life.
When she was seven, she opened up a mini "restaurant" in her yard to make food for the neighbors.
She essentially took the idea of the classic lemonade stand and upgraded the menu.
In high school she wanted to open her own spa, so she took a year off in college to go to beauty school, but she eventually realized this wasn't the path that she wanted to pursue.
She eventually returned back to college, graduated, and began pursuing her MBA.
When she was studying for her MBA she started a blog about adoption called "That Adopted Girl" and would receive dozens of emails from people who wanted to share their stories, but she eventually reached the same point as she did previously.
After a while, she realized she needed to do something more to impact the lives of adoptees and kids in foster care so she turned "That Adopted Girl" into a 501(c)(3).
Since she was focused on her non-profit organization her parents suggested she take a leave of absence from the MBA program.
This meant she had to get a job.
Because her entrepreneurial spirit was resistant to the idea of working for someone else, she was unclear on what path she wanted to go down, until she met with a family friend.
Her family friends were opening a cannabis dispensary here in Las Vegas, as the industry was just being born, and they had some positions open.
Entry Into The Cannabis Industry
After she accepted a job working for her family friends, Juliana entered into the cannabis industry making 10 bucks an hour as a front-desk assistant.
Although this certainly wasn't a dream job for her, she quickly picked up on patterns around the shop, between observing customer behavior, preferences and expectations.
Thinking that there might be an opportunity to innovate, these patterns sparked her curiosity and she began to deeply observe how the shop worked.
To learn more, she would schedule tours with cultivation and processing facilities.
At the time she was meeting the owners of every company because they hadn't yet hired sales teams, so they were the ones hand-delivering products to the dispensary.
Being a lover of startups, she saw an opportunity to innovate as she noticed that the entire cannabis industry was a startup and nobody really understood how this brand-new industry worked, not even the operators that had invested millions.
From there she started learning everything she could about the business of cannabis and met some friends who had been in the industry since Colorado legalized, and we're building a fortune through cannabis business consulting and investments.
During this time, Juliana had been taking co-workers along with her on tours of one of the largest producers at the time, Deep Roots Harvest.
At each visit, their dispensary space sat empty and not yet operational.
Because of her time learning about the industry, she built up the courage to create a pitch deck to present to Deep Roots Harvest requesting that she acts as a consultant to finally get their dispensary certificate of operation, and set up to launch.
She had a concept to prove and they said, "go for it!"
The Start To Cannabis Consultation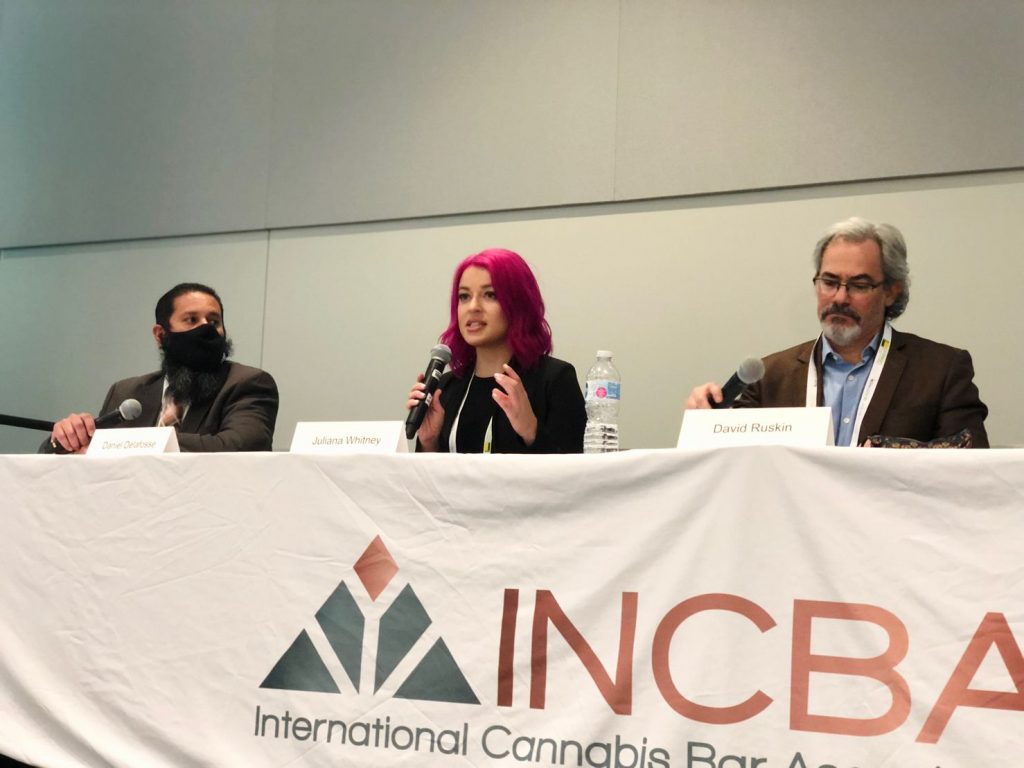 Without any previous experience pitching to anyone, she was able to slam a killer presentation and won her first consulting project with Deep Roots Harvest.
Juliana had now paved the path for her to become a cannabis industry consultant and become the entrepreneur she always dreamed of becoming.
In this new position, she would help business owners open and manage their dispensaries – a service that was (and still is) essential for a brand-new industry.
She was still working at the front desk, and for months after work would sit until 4 am drafting fully compliant SOPs for the new dispensary. On the weekends she would drive to the location to train employees and prepare the physical location.
Within three months, Juliana helped get the facility approved to be opened thanks to her insane work ethic and diligent research.
The Growing Demand For Cannabis Consultation
After spending a few years consulting other dispensaries, cultivation facilities, and processing facilities, the family that hired her when she was just a front-desk agent came back around and needed help in the competitive state licensing process to secure more dispensary licenses.
Juliana and her team went on to develop applications for the 3 most competitive jurisdictions in Nevada and being ranked at the top, the family was awarded all 3 licenses.
After a proven track record of successful consultation, Juliana and her then business partner hired four people to expand the business for a period of time.
Since then, Juliana has found success acting as a strategic consultant in the Cannabis Industry in multiple states, and is working on building her own empire with these three businesses under her name:
1. Cann Strategy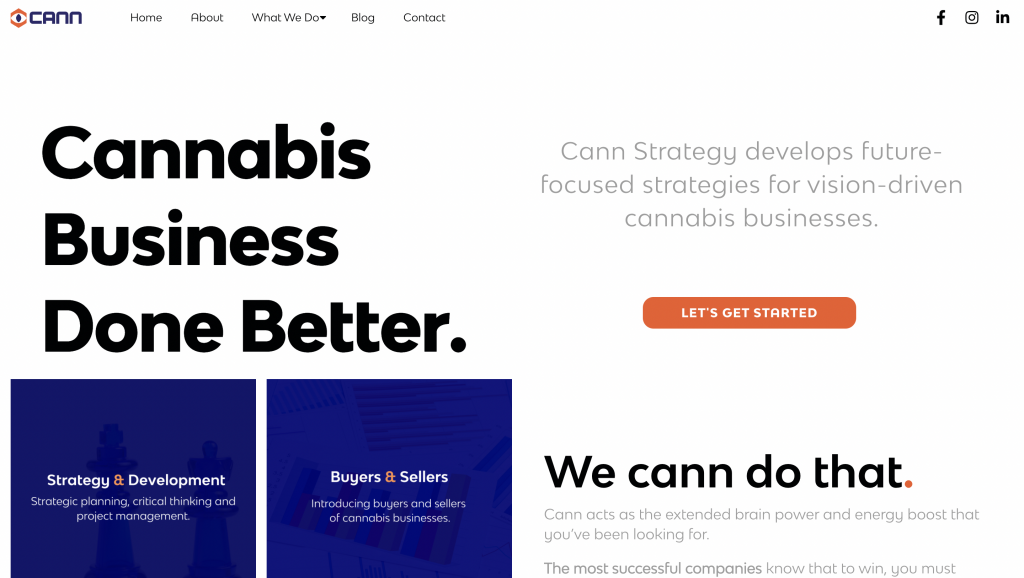 Cann strategy is Juliana's strategic consulting firm in the industry where she helps dispensaries license, launch, startup, expand, and more.
Cann Strategy's team provides project management, growth strategy planning, and ongoing advising needed during competitive licensing application processes and business operation and expansion, such as:
Regulatory Research
Compliant Standard Operating Procedures
Vendor Relationships
Recruitment
Training
Facility set up
Market entry tactics
And so much more.
Check out their website here or watch Juliana's video below for more info.
2. Leafsheets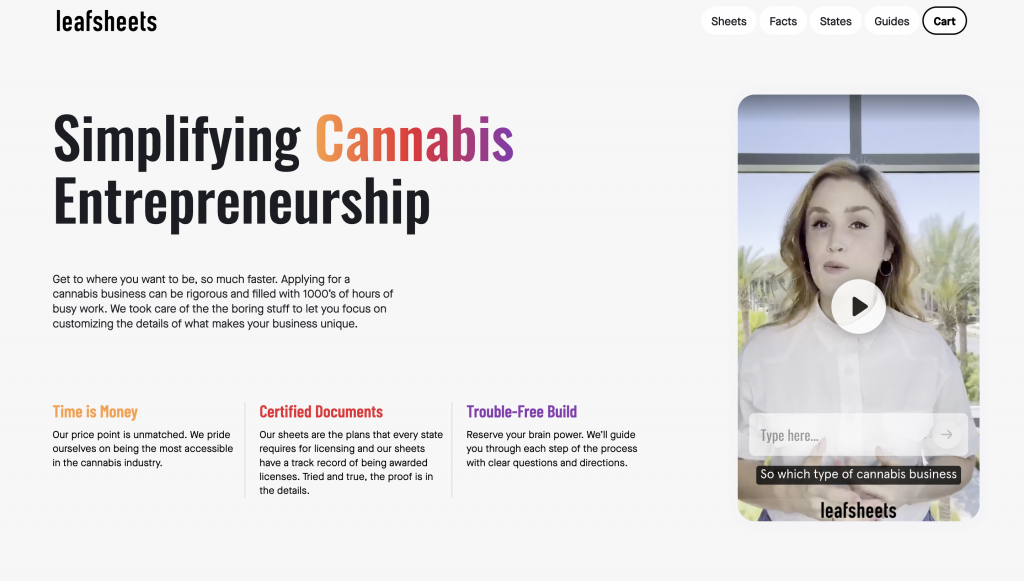 While she builds her empire with Cann Strategy, Juliana also has a team of developers helping build a cannabis business platform known as Leafsheets.
Leafsheets is a "one-stop-shop" that simplifies cannabis entrepreneurship and lowers the barriers to entry and success by providing the most vital documentation and resources for cannabis business applicants and owners to use for their operations and business development.
All at a fraction of the price of traditional industry consultants and legal teams.
For avid podcast listeners, Juliana and her co-founder Nick Bembeneck host a regular podcast all about their industry.
Listen to their episodes here!
Check out Leafsheets here for more info.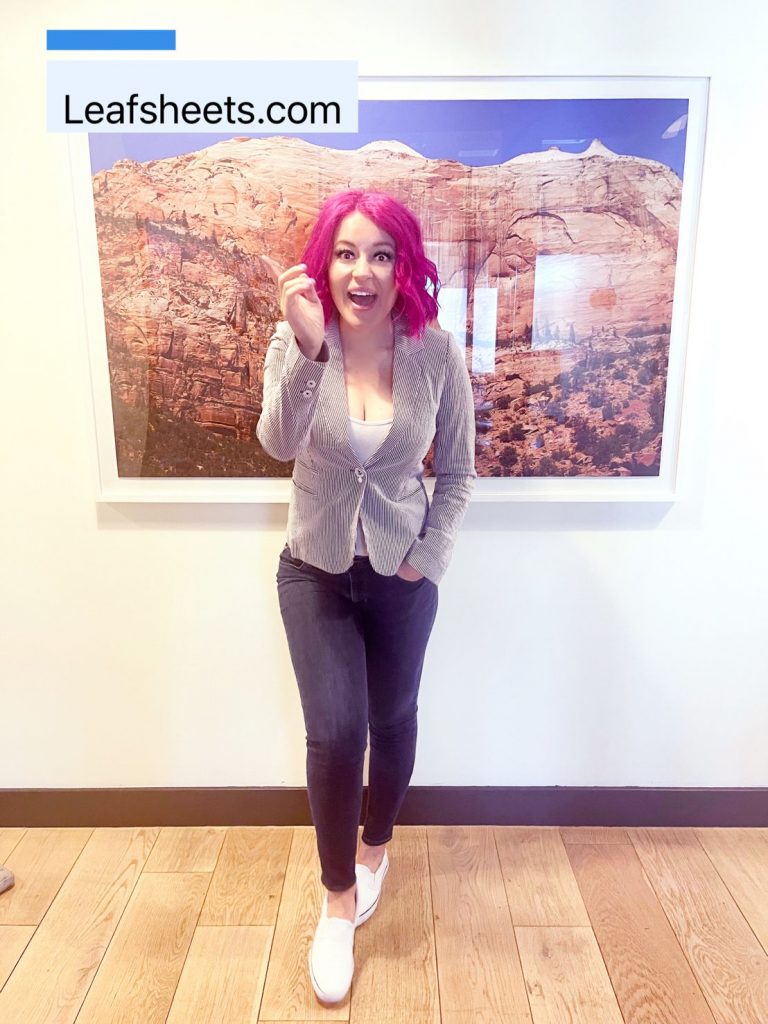 3. Responsible Cannabis Company
The third tier of her empire is yet to be built but is in the works.
For now, it is a secret… but just know it's coming..
Conclusion
In conclusion, the cannabis industry is an ever-growing industry with newcomers entering the market every day.
With so many new eyeballs looking at this opportunity, the need for business management continues to increase.
Juliana Whitney is yet another example of a savvy entrepreneur who had the foresight to see this opportunity and was able to pursue her lifelong passion for entrepreneurship by innovating in a new market.
Want To Share Your Startup?
Contact us or leave a comment below to be featured in the next blog post.