VegasTechFund-backed ShopWithMe stores are the first fully portable, pre-fabricated retail environments that blend the best of online and offline shopping to create a truly personalized experience you can't find anywhere else.
Located at 401 N. Michigan Avenue, across from the Tribune building in downtown Chicago, Illinois, top retail executives from across the United States attended the opening to experience what ShopWithMe deems to be "the future of retail."
This #VegasTech startup created a "smart store" to bring the best of both offline and online shopping together under one roof, while creating personalized experiences for every shopper. The store itself is completely mobile, and designed to be mass-produced so they can be deployed across the US or shipped anywhere around the world.
ShopWithMe will begin its 2015 Holiday tour in Chicago and will feature internationally recognized fashion brands, TOMS Shoes and Raven + Lily. Both collections will be integrated into the ShopWithMe experience.  A full range of products will be featured on smart fixtures and customers will experience futuristic changing rooms that engage with the customers via interactive mirror displays, allowing customers to make purchases or request alternate products without leaving their changing room, providing unprecedented convenience for their shoppers.
"Our promise is to make retail simple and beautiful," states Jonathan Jenkins, Founder and CEO of WithMe. "We provide the infrastructure and technology that brands need to activate a turn key interactive retail store and begin selling seamlessly, overnight. This is something that hasn't been achieved by any retailer before.
Based in downtown Las Vegas, ShopWithMe has nearly 100 people working on the company.
"About 55 are in Vegas and the rest scattered between San Francisco, San Diego, Boston and Dallas," said Danielle Jenkins, Co-Founder of WithMe. "We have had to get creative with our office space to fit all of our teams when people come in town! Our dogs and baby still come to the office everyday as well."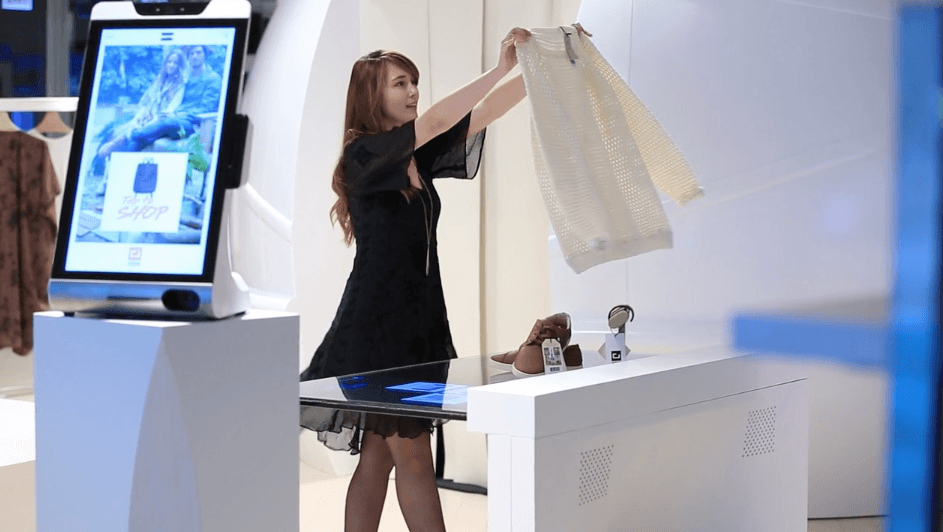 Danielle Jenkins says the team's new idea for an interactive retail sore is an expansion of their original ShopWithMe shopping station that they used to launch the Zappos Popup Shop last holiday season in downtown Las Vegas. She notes the biggest win for that event was being able to see the community come out and really get into the holiday spirit.
"The biggest challenge was keeping the snow hill cold!" she said. "We had to truck in once daily to keep the snow hill up and running!"
Danielle Jenkins explains that the team has created a line of smart fixtures and even created the concept of mass producing physical retail stores.
"Why should a new store have to be physically built for every brand? At ShopWithMe we change the files not the fixtures to create a new experience," she said.  "Today the store can be TOMS Shoes and next week it can be an entirely new brand without us having to rebuild the store."
ShopWithMe plans to bring its stores to Chicago, New York, Dallas, Los Angeles, San Francisco, Houston and Miami in the coming months and will begin shipping stores globally at the first of the year.
Read more about the team's announcement here.


About ShopWithMe: Founded in March 2011 as OrderWithMe, WithMe creates beautifully simple tools for retail, offering three primary solutions for enterprise and consumer markets, including WithMe Business, WithMe Financial, and ShopWithMe Retail.  ShopWithMe is an entirely new experience for today's consumer, enabling shoppers to touch physical goods in-store while browsing and easily ordering related or out of stock products that get shipped to their home. The company has been featured in TechCrunch, Forbes, CNBC and Entrepreneur Magazine.