AdEspresso is the most easy and intuitive Facebook Ads Management and Optimization Tool.  Using AdEspresso customers can easily split test every aspect of their Facebook Ads Campaigns, discovering which creatives and demographic targets deliver the best result. AdEspresso also performs conversion tracking on external websites allowing users to optimize by leads & customer acquisitions, not just CTR.

"AdEspresso is the SaaS solution for Facebook Ads Optimization for SMBs, particularly for the ones spending anywhere between $2k/mo and $50k/mo in Facebook Advertising," said Armando Biondi, co-founder and COO of the company. "Our focus on design and simplicity is extremely appreciated by people that don't have a huge expertise and don't have time to learn. This is specifically true for Startups, eCommerce owners, small and medium Media Agencies."
The AdEspresso team first got involved through VegasTechFund when they were invited to experience firsthand what's happening in downtown Las Vegas.
"Being startups one of our core customers and having learned a lot from the being part of 500Startups, we wanted to give back some of that knowledge and support by being involved and help the VegasTech Community," he said.
Recently, the AdEspresso team shared this presentation all about Facebook Ads Optimization.
"The untold secret on this presentation is that it was actually born as a workshop for the latest batch of 500Startups," said Armando Biondi. "We put together some slides in less than 24 hours and the feedback from the audience was so positive that we decided to turn this into an actual presentation, to be shared on SlideShares and across our social channels."
In fact, the presentation was featured by SlideShare and made quite a splash in that online community.
"It always feels good when you see your hard work recognized by someone else, and when you can add value to the community by contributing to the existing conversation. That's what we want to do at AdEspresso," he said. "Not only we want to build an amazing product with great focus on design and UX, but we want to help as many other founders possible succeed with their own ventures."
"We believe so much in the value of training users to help them achieve success, that we structured a whole Facebook Ads Academy and we keep it constantly updated with blog posts, ebooks, webinars and guides," Armando Biondi said.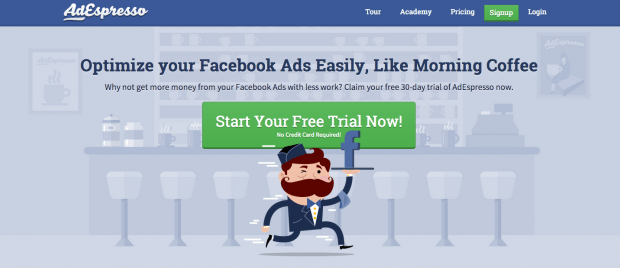 Armando Biondi says that as a startup founder, you need to do several things you don't really know a lot about.
"Gail Goodman from Constant Contact said: "Every founder needs to face two ugly truths, the first is that you're doing something wrong all the time." At the same time every company, particularly at early stages, needs to experiment on distribution channels (Facebook Ads of course being one of them)," he explained. "So out presentation can maybe help on both regards, giving the basics to play with Facebook Ads without wasting time and money."
When entering the world of Facebook advertising, Armando Biondi says he sees two big mistakes made by entrepreneurs and small business owners.
"First big mistake is to avoid testing Facebook Ads because they don't know how they work," he said. "Facebook can be a super powerful tool to acquire users in relatively chep way, if used correctly. Second big mistake is to think that Facebook Ads works kind of the same as Google Ads, which is not the case. Adword is great for demand fullfillment, Facebook is great for demand generation… and both have their own rules."
Love the team's Facebook Ads SlideShare deck? Check out their thoughts on fundraising on Angel List!