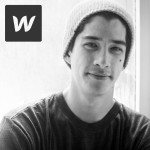 William Wong is a web designer, who was born and raised in Las Vegas. He has been living in DTLV since 2009. Wong currently leads Customer Happiness (which he dubs "Happiness Guy") for Webflow. His main focus in life is to help build and nurture sustainable communities.
"Webflow is a visual programming environment that allows you to design production ready sites without writing any code," he explained. It's a web design tool, CMS, and hosting platform in one.
Recently, Wong launched the Webflow Web Design Meetup, but is quick to note this Meetup is not a Webflow product seminar, a transgression he says he sees all too often.
"It is a Web Design meetup that uses Webflow," he explained. "People will actually learn how to design for the web from these classes. In fact, I do not intend on even showing Webflow specific info unless people are requesting it."
Wong says he has always enjoyed teaching and helping others reach their goals.
"A common tenet I live by is 'If I help enough people get to where they want to go, I will be where I want to be.' This Meetup will help beginner web designers gain a better understanding of the web and will help seasoned web designers expand their toolkit to develop projects faster," he said.
Wong has been an ongoing member of Work In Progress and says he believes there isn't a better place to host educational Meetups.
"They have great technology, wonderful staff, and they fully support tech-ed," he said. "I couldn't be happier with the venue. Shoutout to Veronica and Tracy for helping with our ongoing efforts here."
This meetup is for those who love designing, but hate coding. The Webflow Design Meetup is for anyone currently using or interested in learning about building custom websites using Webflow. Attendees don't have to have any experience to join, just an interest in visual programming/design. These weekly Meetups go over "Webflow how-to" as well as provide a place where all web designers can meet to refine and share new skills.
The Meetup group is currently in a 6-week series all about rebuilding the Zappos.com homepage.
"The design course is structured so anyone can join whether it's half way through a class or halfway through the cohort," Wong explained. "However, the reason I decided to have the class span 6 consecutive weeks is simply due to the vast amount of ground we'll cover in order to rebuild the Zappos homepage. I decided to rebuild Zappos.com for a few reasons, but primarily because they have always led the way in the online e-tailer design space having won numerous Webby Awards. I'm also a Zappos alum. After the 6 week course is finished I plan to start another 6-week course to rebuild the Zappos.com blog."
Wong says this educational course is something he fully supports on his won personally, and he does not transfer expenses onto Webflow.
"Any help, sponsorships, or support from the #VegasTech community is super duper 100% appreciated," he said.
Specifically, here's 4 avenues Wong says you can take to help make this Meetup a success:
Provide classroom snacks (veggies, hummus, water)
Underwrite Work In Progress meetup fees
Volunteer as a guest speaker (anyone who has a passion for web, tech, startups, design, or DTLV)
Volunteers to assist with registering, video recording, and more
"The community can support this meetup by sharing their awesome feedback/designs/creations with me at @thewonglv," he said. "The best thing this meetup can receive is an example of someones success with building for the web. Outside of that, all venue options/venue sponsorships would be super helpful. The next 6-week course can be planned with venue sponsors in mind."
Keep up with what's coming up at the Webflow Web Design Meetup by checking out their Meetup page.
Get to know other #VegasTech community members here!