The Innevation Center and Work In Progress, sponsors of VegasTech.com, announced the #VegasTech Design Contest in March 2015.
"The idea was to have the merchandise available to anyone online, such as t-shirts, and that no profit from the sales were added to the price," said George Moncrief, EIR at VegasTechFund. "We would like to see the winning design used by the community however they see fit, the way previous community logos have been used. The assumption is that the Vegas Tech community as a whole would have ownership in the design, in the same way we have all contributed to the #VegasTech hashtag on Twitter to help our community grow over the years."
The contest drew in 19 designs from the community and the winning design was determined by the community via a vote using Wedgies. The winner of the #VegasTech Design Contest is local creative Keri-Lynn Mitoff. The community can purchase Mitoff's design on t-shirts, at cost, by visiting the VegasTech.com shop.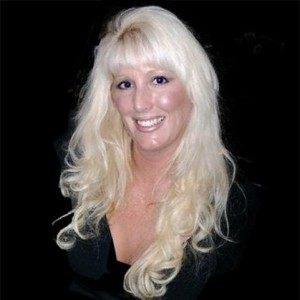 Originally from Michigan, Mitoff moved to Las Vegas in late 2008.
"I am a Design Director, Creative UX Director, Lead UX/UI Designer full-time consultant for a living. I create and design within the digital realm," she said. "I have been involved in design since 1993. I was going to school and majoring in business and accounting at Wayne State in downtown Detroit and I truly hated it. I was paying for school by doing graphic design work. Once I had a bullet graze my shoulder and I never went back to Wayne State and kept designing as that is where my passion is. My own business started because that is the only way I can guarantee that I get paid. So many companies I have worked for in Metro-Detroit have gone under and I have had paychecks bounce. The company I moved out to Las Vegas to work for did not work out. The only realistic solution was to work for the one person I can depend upon, me."
Mitoff's clients range from top tier companies to small mom and pop shops. Check out her portfolio of work online here.
"I love that my projects are always changing so I never get bored," she said. "There is always something new and exciting to work on. Each project has a different vision, feel and requirements. I dislike looking at portfolios where projects are the same look regurgitated over and over again. Design and trends are always changing and it's exciting keeping up with that."
Mitoff said she had been hearing about tech in Las Vegas and came across the #VegasTech web site. She thought getting involved with the contest would be a good way to network with people involved in the tech community in the Las Vegas area. Mitoff said her winning design's inspiration came from tech and Las Vegas coming together.
"I did have difficulty picking a font as I have over 10,000," she said. "I thought that a lightbulb for idea combined with a brain representing knowledge would work well together with a tech-like font."
Mitoff says her business goals for 2015 are to network more in Las Vegas when she's not traveling for work, meet more Las Vegans, keep her portfolio updated on her website.
"To me, design is a solution and art with a purpose. Design is a never-ending process where you will never have all of the answers, but you always have to be asking lots of questions," she said. "As a creative you have to do the work: you have to just try different things out, because even if you think you have all of the answers, you don't. As a creative you should start trying different things, taking creative risks and really putting your work out there and see what feedback you get. Through experimentation and failure, you actually realize what works best and where you need to try a different direction or vision."
Those interested in hiring Mitoff for web, app, UX, and UI design can contact her here.