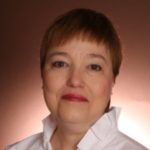 Dr. Janet Runge focuses on entrepreneurship at UNLV. She works with start-ups, small businesses, family firms, and not for profits and is a frequent speaker and consultant. Dr. Runge has put entrepreneurship on the map at UNLV through a number of initiatives including developing a major and minor in Entrepreneurship and establishing a Business Plan Competition for high school students in 2002 and continuing to judge for the statewide competition. Dr. Runge was recently honored by the National Association of Women Business Owners as a 2011 Woman of Distinction in Education for her efforts in entrepreneurship education.
Dr. Runge also designed and currently directs the signature UNLV College of Business scholarship program, called the Global Entrepreneurship Experience. She manages program structure, course delivery, and student recruitment.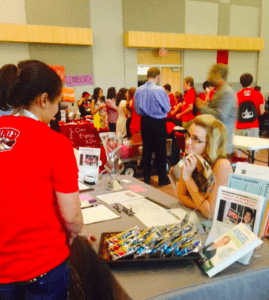 "I launched the Global Entrepreneurship Experience (GEE) program in 2009," she said. "It was designed to be a signature program in the Lee Business School. The Experience is cohort-based and admits up to 20 high school seniors each year for a program that begins their freshman year and concludes upon their graduation with a Minor in Global Entrepreneurship four years later."
The Global Entrepreneurship Experience attracts creative, high-achieving students to the UNLV Lee Business School to study entrepreneurship on a global scale. Through an engaging curriculum that combines immersive learning and leadership development, students gain experience crafting unique business models to bring new products and services to world markets.
Dr. Runge says there are key features to note about this amazing program which make it different and unique:
The program is open to all students, regardless of their intended major. "I think this is one of the greatest strengths of the program – different experiences, different knowledge and skills, different viewpoints coming together in each cohort," she said.
Courses in the program deliver entrepreneurship education through a number of ways. The series touts multidisciplinary perspectives, experiential learning, co-curricular experiences, and flexibility. "In their first year, students expand their own creative capacities and develop skills for building innovation in team-based settings," she explained. "The second year is about taking innovative ideas from cocktail napkin to business plan and beyond. Third year students examine international entrepreneurship and cap off the year with a trip abroad. Finally, students explore how entrepreneurship can be a force for positive change, studying sustainability and social entrepreneurship."
This program is all about community. Dr. Runge and her team recruit students who can learn and grow together.  "We send them out with the skills to be entrepreneurs and change-makers in whatever arena inspires them," she said.

Another achievement of Dr. Runge is founding the UNLV Center for Entrepreneurship. The UNLV Center for Entrepreneurship is a non-profit center located on campus that promotes entrepreneurship for students, UNLV, and the surrounding community.
"My vision in founding the Center for Entrepreneurship vision was to build a university-wide, multidisciplinary focus on innovation and entrepreneurship at UNLV, and further, to foster the creation of an entrepreneurial culture," she said. "The goal was to work in three broad areas, campus-based initiatives, community outreach, and new venture creation and growth. Additionally, my hope was that the Center, through its efforts, would encourage talented students to stay in the community and serve as a catalyst for promoting economic diversification and growth in the Las Vegas valley."
"What I have learned in this program has made me realize that my dream of becoming an entrepreneur is obtainable," said Mike Withers, Cohort 2, Business Major. "I have learned how to make a business from nothing but an idea and I know I have a support system at UNLV that wants to see me succeed."
If you are interested in getting involved with Dr. Runge and her work at UNLV, there are simple ways to lend a hand.
"We are always looking for community partners and to build strong relationships," said Dr. Runge. "We have opportunities for guest speakers, mentor programs that need mentors, events that need sponsors and judges, and potential interns that need quality internship experience. What we offer in return is the opportunity to work with terrific students – future employees, future customers, and, if we're doing it right, future entrepreneurs."
Meet other #VegasTech community members! Follow our series here.