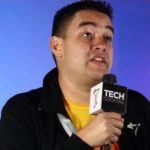 Gabriel Shepherd finds himself inspired by entrepreneurs, fascinated by business experiments, and prides himself on being a relationship builder. This familiar face around the #VegasTech community recently stepped into a new role – Campus Director at The Iron Yard.
The Iron Yard is the world's largest code school with full-time immersive courses in 20 cities. The team in Las Vegas is working directly with Allegiant Airlines, MGM, Clark County School District, and tech startups like WiseBanyan and Alice Receptionist to not only help bring education to the Las Vegas ecosystem, but to help people get careers as software developers. Eric Dodds, co-founder of The Iron Yard, shared why Las Vegas was an exciting expansion for the program with us here back in March 2015.
The excitement The Iron Yard is bringing to the tech scene in Las Vegas is easy to see. From regular Meetups and teaching amazing students, to hosting exciting demo days and recruiting passionate teachers, The Iron Yard is shaping the community in a powerful way.
In this Q & A, we talk to Shepherd about the community of the past, what's ahead for the future, and how community members can shape the startup ecosystem of Las Vegas.
Tell me a bit about a #VegasTech community project you worked on before joining The Iron Yard. What did you learn from this project?
Well, my baby was VegasTechSXSW. We brought community members, startups, and large supporting organizations like Switch and Vegas.com together around a common purpose – promoting Las Vegas as a desirable location for tech companies to get started. You tell people in the community now that we took 100 plus people from Vegas to SXSW, had the biggest exhibit, and one of the best parties and it is almost unbelievable.
The real privilege in that work was making friends with everyone involved in that process. I have gone on to remain friends with them, work for them, consult them, and (hopefully) work with them again when we get the band back together.
Two lessons stand out for me.
People here are amazing. When I first started the VegasTechSXSW stuff, there were skeptics. But the tech startup scene rallied to help me, participated, and have continued to be there for me after we accomplished our goal.
I learned doing the right thing for the right reason matters. Doing the right thing because you think you will get accolades or some form of compensation isn't actually doing the right thing. Doing the right thing for the right reason – that's what matters. If you want to build an event, a community initiative, or help a junior developer with some problem they are having – do it because you care, not because there is some benefit to you once you help. I never looked at the SXSW stuff as an opportunity for me. I was just so inspired by others and what was happening I thought I could contribute, and so I got to work. The accolades and benefits of doing the right thing for the right reason, they will come naturally. People will notice. But people will also notice if you are doing it for a self-serving purpose.
How do you think the #VegasTech community has changed over time?
Sometimes I am guilty of waxing poetic about the Vegas Tech community. But trying to be as objective as possible, I think the energy and focus is different than a couple years ago. Back then, Downtown Project was getting a lot of positive press and startups from across the country were visiting every week. There was just energy to the Downtown side of our community that was palpable. That energy brought in people from surrounding suburbs to a centralized location – The Beat Coffeehouse.
Fast forwarding to today, that energy doesn't exist in the same way. As much as I get nostalgic about those times I think ultimately with the hype having subsided, tech startups have gone back into heads down mode. They have recommitted to their purpose, which I think is a good thing. Lots of people have moved away, many startups just didn't work for one reason or another, and some grew frustrated over various things that happened, and went back to what they were doing before those "glory days."
What do you think the #VegasTech community is missing? What challenges do we face? How can we improve?
Where we are today presents a lot of opportunities. I was just talking to some friends who helped organize those early days, and they are moving their company back to Las Vegas. The first thing they asked was, "How can we help build some of that early magic? What can we do?"
I think there is opportunity for the Do-ers of the community, to get the band back together, and focus on building our vision of the tech scene.
I am trying to do my part, in part through The Iron Yard. We opened up our space to many of the tech Meetups in town and are trying to host more events. I see opportunity for Las Vegas in all the new faces graduating from The Iron Yard's code school. Most of them are graduating with a new skill, have ideas, or want to work with other developers to learn more, but don't have as easy of access to the startup folks as we did. Being in the Arts District is awesome because I see new restaurants, bars, and coffee shops being built.
I can't help but think how awesome it would be to have the old Tech Jelly back – at least in some form.
What's still missing is funding. There just isn't a lot of capital to invest in early stage startups, which outside investors should look at as an opportunity.
Beyond funding, many of the new faces in the community are green to startups in a lot of ways. They have never tried to raise capital, produce MVPs, or been a part of Startup Weekend. So if we did get the early days group back together, the onus would be on us to help those people.
What makes you most excited about the future of the tech ecosystem in Las Vegas?
I don't want The Iron Yard to shape the future of Vegas Tech, I want Vegas Tech to shape The Iron Yard's future.
What I mean by that is, I want the future of our tech ecosystem to drive what we teach, how we teach, and how we prepare people new to software development. If we have a growing demand for developers because of the community's work, naturally The Iron Yard will work with the community to address those needs. More startups, more tech Meetups, more developers – that gets me excited about the future.
How can community members help you achieve your goals?
Build more stuff. Have an idea? Validate and build it. Wish there was a meet-up for something specific? Organize it. Specifically for The Iron Yard? Just come by.
Come co-work from here for a day and meet our instructors, our alumni looking to get involved in cool projects, our students looking for people to be motivated by.
That's it. Let's build.

Meet other #VegasTech community members! Follow our series spotlighting amazing people and their work here.