Welcome to the November edition of StartUp Vegas: LevelUp!
Those familiar with our events know that LevelUp is Nevada's premier battleground for startups and new companies that want to make their mark on the world. The goal of Startup Vegas is to facilitate these connections, provide ongoing programming, and publicize mentorship opportunities—all to take business development to the next level. Through these efforts, we aim to support these intrepid companies in their journeys and advance the Las Vegas valley as one of the country's hottest destinations for tech innovation.
StartUp Vegas – LevelUp!
Since we began our LevelUp event, hundreds of investors have connected with us to share ideas, perspectives, and visions for the future. Today, StartUp Vegas represents an opportunity to pitch to the largest angel group in the Bay Area featuring Las Vegas. This month, we saw some great advancements in commercial space utilization, on-the-go phone charging, and ingestible beauty products. Read on to hear their stories.
SpaceTogether Shows You How Much Extra Value Your Commercial Facilities Can Provide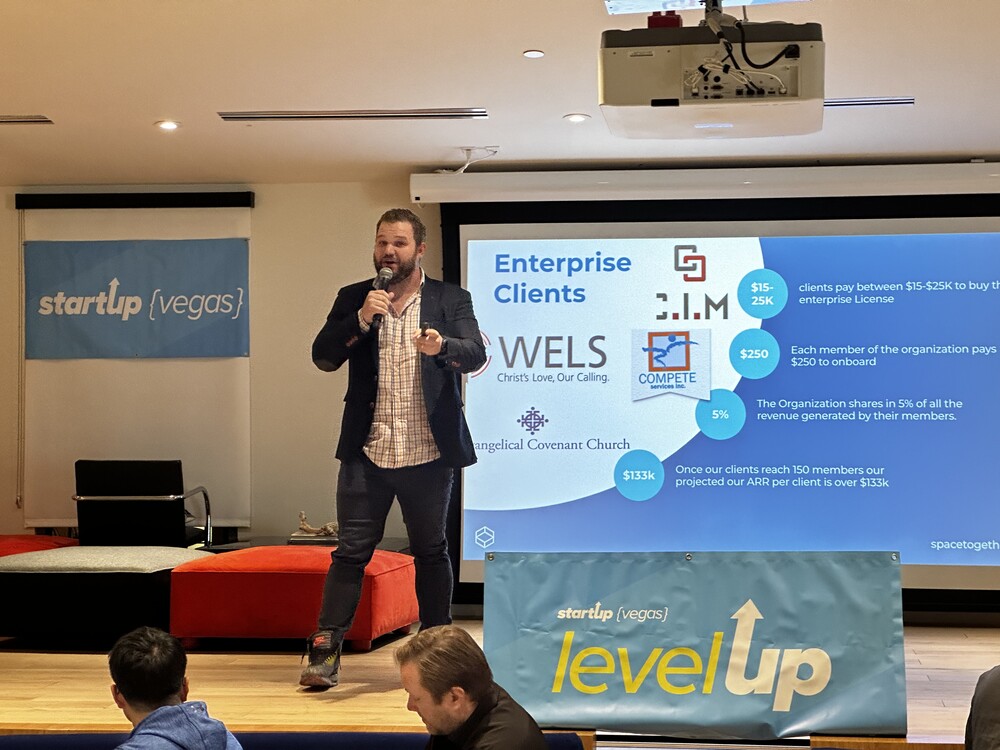 [SpaceTogether, Justin Knapp, Founder & CEO]
Finding the perfect space for events is a process rife with challenges for both renters and property owners. SpaceTogether aims to revolutionize space sharing and provides an all-in-one platform for long-term rental management.
SpaceTogether's online marketplace empowers churches, schools, and businesses to monetize and rent the underutilized parts of their buildings. Common areas for rent include commercial kitchens, gymnasiums, meeting spaces, and parking lots. All these spaces have potential value for renters but usually remain unoccupied for most of the calendar year.
"SpaceTogether matches underutilized spaces to the needs of communities based on functionality, availability, budget, and location," says Justin Knapp, CEO and Founder of SpaceTogether.
Rather than leave these facilities empty, property owners can use SpaceTogether to connect with like-minded organizations and boost property value through commercial renting arrangements. The platform provides all the tools for organizations to facilitate space sharing:
Messaging and communication tools
Tour scheduling
Document sharing
Automatic payment processing
Counter lead management
All coordination is handled through the platform, which facilitates communication and supports best-fit matchmaking for all underutilized commercial spaces.
"We have just over three million square feet of functional commercial space across the nation and over 30 states. People on our platform have received over $91 million with a 31% acceptance rate since we started tracking," says Knapp.
SpaceTogether is currently raising $800,000 to support growth efforts over the next 24 months, with plans to hire additional developers, deploy more advertising, build out a mobile application, and achieve the goal of 20 enterprise clients.
Visit SpaceTogether to learn more!
ChargerGoGo Eliminates the Hassle of On-the-Go Phone Charging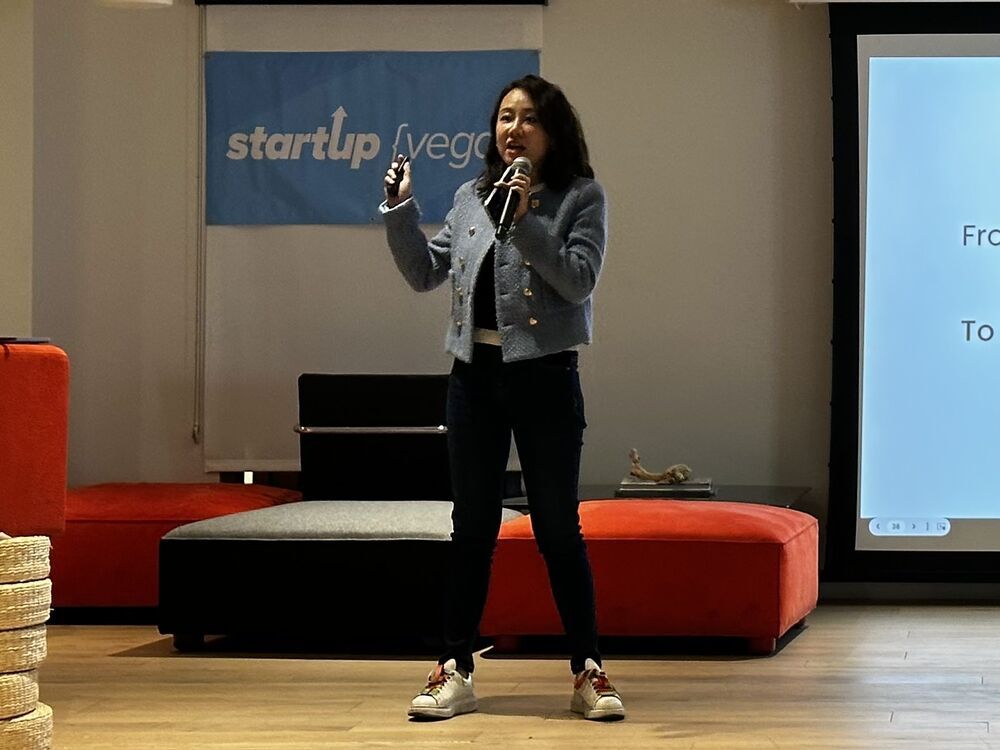 [ChargerGoGo, June Zhu, Founder & CEO]
Anyone with a mobile device knows how frustrating a dead battery can be, particularly when they travel, attend events, or try to manage remote work calls.
"According to research, 80% of cell phones hit low battery while away from the home at least once a week," says June Zhu, Founder and CEO of ChargerGoGo. "Low battery anxiety is a real and common problem for all of us."
ChargerGoGo remedies this problem. It gives mobile phone owners a convenient way to keep their devices charged while on the go. ChargerGoGo is a mobile application that coordinates with dedicated phone charging stations to give users a simple way to keep their devices charged.
The app connects with each station and allows users to find charging stations nearby. When located, users are free to pick up a wallet-size portable charger with built-in cables and recharge their batteries. After that, they return the charger to any ChargerGoGo station.
Currently deployed in 27 U.S. states, ChargerGoGo has seen substantial growth since its inception. It has a strong technological backbone and modular charging station design that can be stacked and deployed across locations to accommodate demand.
"Thanks to our tech ecosystem and our distribution, we're at least 12 to 18 months ahead of any other competitors in this market," says Zhu.
ChargerGoGo estimates a market size of $2 billion in America alone, with a total untapped market over $15 billion. Zhu notes that ChargerGoGo is at the post-revenue stage and expects $100 million in annual recurring revenue (ARR) by deploying 300,000 units in 2025. Series A fundraising efforts are underway to continue recruitment, build exposure, and accelerate ChargerGoGo's growth.
Visit ChargerGoGo to learn more!
Rizo Radiance Provides Skincare Routine Beauty in a Bottle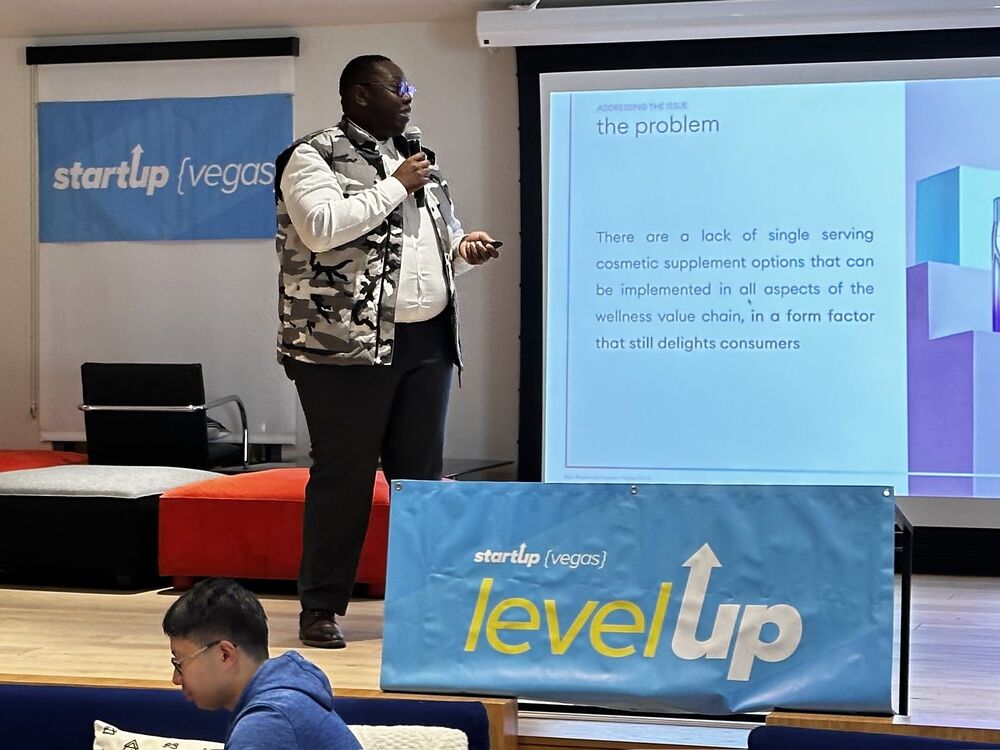 [Rizo Radiance, Jeffrey Stewart, Founder & CEO]
The wellness market has grown exponentially over the past few years as consumers have begun to view physical and mental wellness as a lifestyle rather than a passing fad. Rizo Radiance aims to support consumers in these wellness journeys and bridge the gap between cosmetics and food & beverage with an innovative line of ingestible beauty products.
"In America today, 41% of females 18-34 take an oral supplement every day for their skin health," says Jeffrey Stewart, CEO & Founder of Rizo Radiance.
Rizo Radiance represents a single-serving cosmetic supplement that can be implemented in all aspects of the wellness value chain in a form that delights customers. Rather than take a supplement, consumers can enjoy a drink that tastes great while it helps them meet their wellness goals.
"When we think about skin care, we think about the three P's – Prevention, Protection, Promotion," says Stewart. Each of Rizo Radiance's beauty products is meant to address these principles and eliminate time spent managing burdensome skin care routines.
With a total addressable market of $3.2 trillion, there's plenty of room for growth in the hotel and hospitality sectors. Rizo Radiance is offered at upscale spas, wellness centers, hotels, and more where it acts as a supplemental wellness option for customers. This validation has helped Rizo Radiance achieve visible sales pipelines that enable predictable revenue growth.
"The hotels and spas love us. They've never seen products like this that truly align with their functionality," says Stewart.
Rizo Radiance seeks $2 million in its next financing round to help reach 15,000 business-to-business locations and 30,000 direct-to-consumer monthly orders.
Visit Rizo Radiance to learn more!
November 2022 LevelUp Overview
November's LevelUp expo brought together 123 at WeWork Town Square. As always, our guests brought perspectives from a broad range of industries and provided essential support to make this event possible.
Attendee Breakdown:
Entrepreneurs: 55%
Marketing: 13%
Investors: 12%
Developers: 11%
Creative: 5%
Other: 4%
Panelist Shout-Out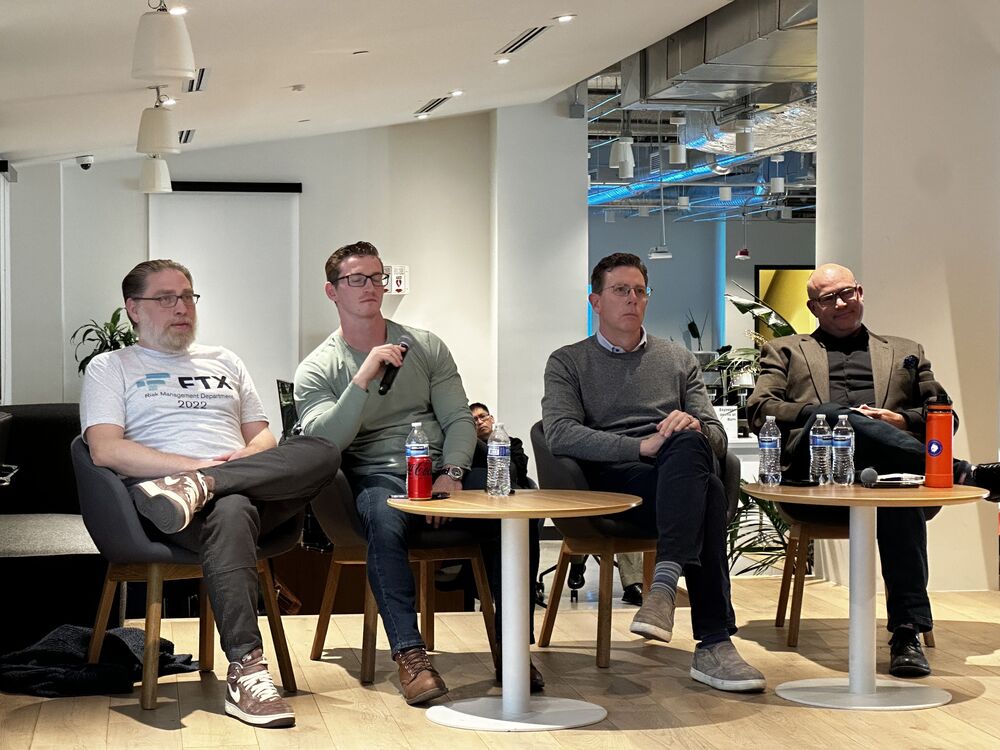 We always like to recognize the panelists who give their valuable time and attention in service of StartUp Vegas. This month's shout-out goes out to panelists Logan Brown, John Emmons, Dan Steele, and Scott Wiegan. Thanks for everything you do!
Coming Attractions
What's coming up for StartUp Vegas? Keep your calendars open for upcoming events here in Las Vegas:
ReadUp (Tuesday, November 29th) ReadUp is a local book club for entrepreneurs. Reading can have a huge impact on the success of an entrepreneur and connecting with peers who have similar interests. (Zoom link sent to participants after sign-up)
LinkUp (Wednesday, November 30th) A monthly meetup for local startup founders and entrepreneurs to work remotely in a community workspace setting while they network. (WeWork in Town Square, 6543 S Las Vegas Blvd, Las Vegas, NV 89119)
LevelUp (Saturday, January 7th) An event that highlights the best of #VegasTech. It provides opportunities for companies to pitch to a panel of experts and create a great networking opportunity for the ecosystem. (Historic 5th Street School)


Get in touch to learn more about these upcoming opportunities or to get involved.
Heather Brown ([email protected]) and Piotr Tomasik ([email protected]) are the Co-Founders, operators, and masterminds behind StartUp Vegas. From programming to mentorship to networking, we've made it our mission to cultivate a thriving startup community in the Las Vegas area.
---