It might be hot outside, but it's nothing compared to the heat that our presenters brought to our July edition of StartUp Vegas LevelUp!
Professionals across a wide range of industries came together on Friday, July 22 to share ideas, opinions, and revelations on the current state of the tech industry—as well as where the industry might be headed.
Before we begin our rundown of this month's presenters, we'd like to call out a few other noteworthy events, such as our ReadUp entrepreneurial book club, the newest program in our repertoire, set to meet on August 18th.
We're also pleased to announce that the Techstars – StartUp Weekend is returning for the first time in three years. This event will be held November 4th through 6th and will include a 54-hour long series of team-based activities, mentoring, breakout sessions, and more to help professionals grow their skills and support their businesses. If you're in the area, you won't want to miss this one!
StartUp Vegas – LevelUp!
This month's event featured a diverse range of presentations across 3D virtualization tools, social event planning, neuroprotective health supplements, and innovative fitness programs. As always, LevelUp is intended to give hot new startups a chance to get in front of investors and hash out ideas to support their long-term growth. On that score, we're pleased to announce that this month's presentations were a smashing success.
MattoBoard Revolutionizes Design With Cutting-Edge 3D Visual Curation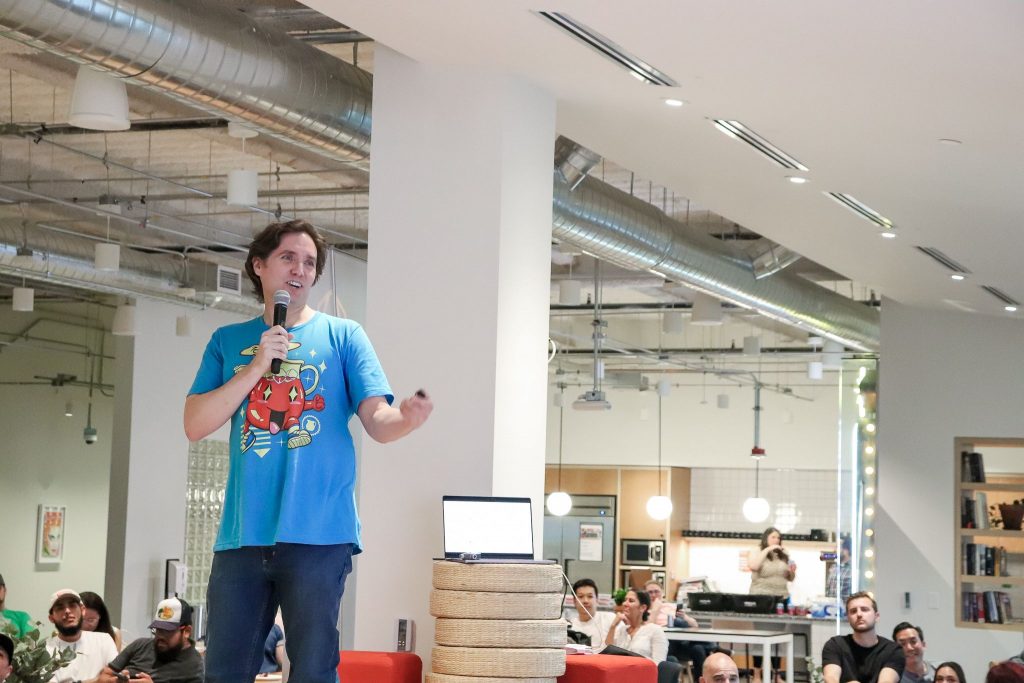 [MattoBoard, George Hart, Co-Founder & CTO] 📸 Photo Credit: Maya Tomasik
MattoBoard is a web-based tool that allows designers to search through all 3D materials in the world to create material boards without any need to purchase or manage physical assets.
Founded in January 2022, MattoBoard is set to revolutionize design by giving creators a cutting-edge platform that aligns capabilities with the rise in 3D technologies. We've all seen industry-wide shifts in the way content is consumed, with digital ecosystems, augmented reality, and Metaverses that herald a shift from 2D to 3D design philosophies.
"It's an interesting time for 3D on the web," says George Hart, MattoBoard's CTO and Co-Founder. "What we're doing wasn't possible 18 months ago."
MattoBoard's solution is a response to a billion-dollar problem in the design world: Existing systems of material shipping and management are expensive, and many designers never use all the materials they procure.
Budget-conscious design studios and independent creators struggle to balance these costs as they fulfill work obligations. But with MattoBoard's 3D visualization tools, creative professionals can pull 3D assets and create unlimited combinations of materials for client presentation. As the platform develops, the founders intend to further build out their material design library to let creators choose from actual materials that will be used to build the space.
The solution represents a $140 billion market with potential applications across interior design, architecture, fashion, travel, and more. Creators can use MattoBoard to showcase any combination of materials at a fraction of the cost of traditional material procurement.
And with 5,100 signups so far (1,100 over just the last 30 days) it's clear that there's an appetite for a better, smarter system of design visualization. MattoBoard's team is seeking $750k pre-seed to become the standard tool for interior design.
Visit MattoBoard's website to learn more.
Bringing the Social Back to Social Media With AT: The Social Map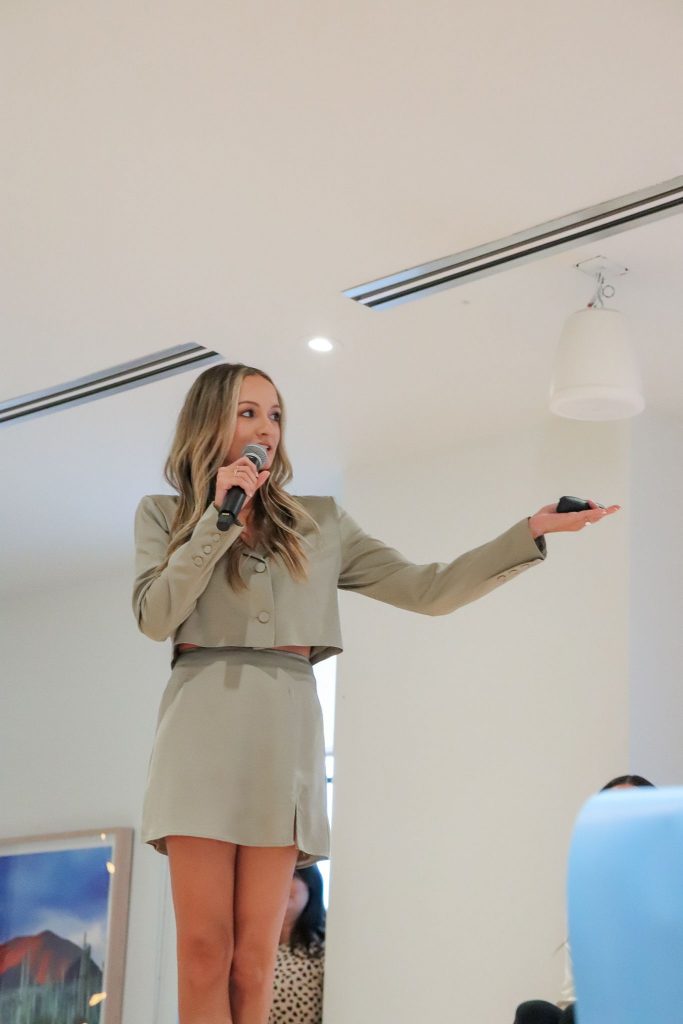 [AT: The Social Map, Gabby Bailey, Founder & CEO] 📸 Photo Credit: Maya Tomasik
AT: The Social Map is a platform for event planning and management that aims to create a simple, unified experience for users. The platform is a social media app that lets users check in to any location, plan events with friends, and keep histories of all the places they've been.
The solution aims to address a critical gap in the event planning market. While many social media and planning applications currently exist, many of them lack the necessary planning tools, geolocation functionality, and privacy features that AT: The Social Map provides. And with over half of the global population currently using social media and a serviceable obtainable market (SOM) of 40 million potential users between 18-30, the sky's the limit for growth.
"Something that's going to be really important for AT is targeting communities because what's going to drive people to AT is when their friends are on the app. That's what makes it fun," says Gabby Bailey, Founder and CEO.
Users can set up events, RSVP, check in to locations upon arrival, view where their friends are in real-time, and handle all aspects of event planning from a single platform. The solution isn't just about logistics but, rather, to help people find and maintain social connections in a complicated and oversaturated world.
AT: The Social Map has been focused on development so far and has plans to further build out application functions as needed by users. Future goals include monetization through advertisements and partnerships with event companies like Ticketmaster and Fandango.
The platform will soon enter the user acquisition phase and will open up to outside investors within the next 6 to 12 months.
AT: The Social Map is available in the Apple Store with plans for an Android release in the near future.
Download AT: The Social Map here.
NeuroReserve Preserves Lifelong Brain Health and Longevity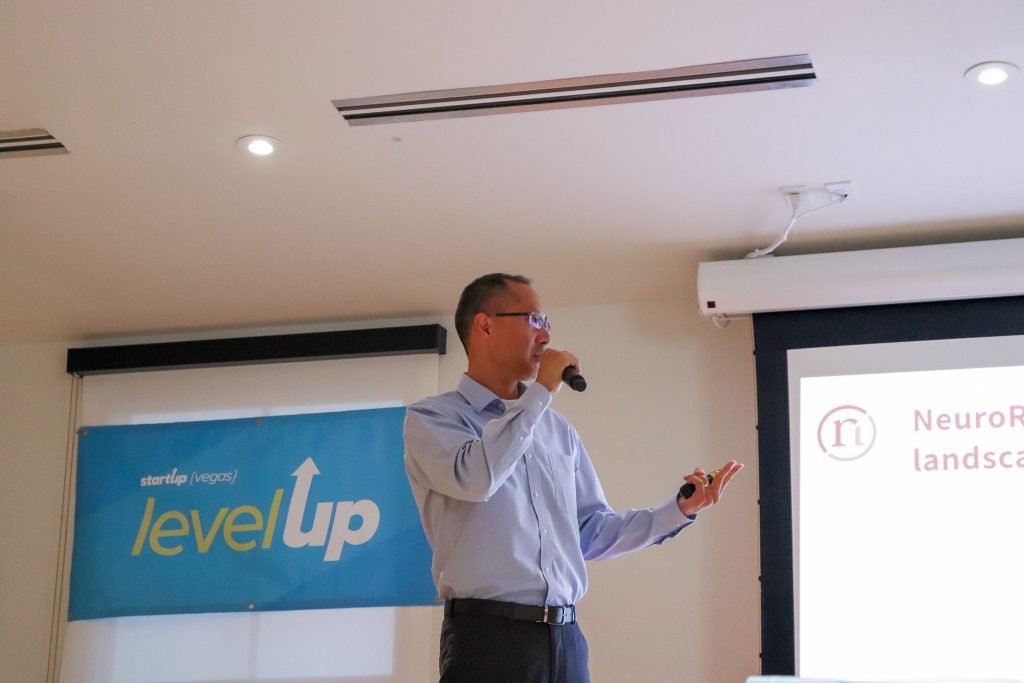 [NeuroReserve Inc., Edward Park, Founder] 📸 Photo Credit: Maya Tomasik
NeuroReserve Inc. is a preventative health company designed to safeguard people from the growing epidemic of neurodegenerative disease and cognitive decline through evidence-based nutritional products and dietary guidance.
Launched in early 2021, NeuroReserve aims to tackle one of the biggest health challenges of the 21st century: protect brains from neurodegenerative disease. This is a growing concern for all of us as the numbers of those with diseases like Alzheimer's continue to increase.
There are many factors behind these problems related to diet, lifestyle, and environmental factors. NeuroReserve is a nutritional supplement meant to address brain aging and longevity in an evidence-based manner.
"It's not just a problem of aging; it's an accelerating problem," says Edward Park, Founder & President of NeuroReserve. "If you look at the past 20 years and the causes of death—heart disease, stroke, some major cancers—they've all been either flat or going down. The ones that have been going up have been Alzheimer's Disease and Parkinson's Disease. These are the ones that are accelerating."
The company seeks to address these issues through a flagship product called Relevate, a patented nutritional supplement based on dietary patterns to support long-term brain health and reduced disease risk. The product relies on the accumulated evidence of the Mediterranean and MIND studies and acts as a powerful supplement for neuroprotection.
The U.S. nutritional supplement market sits at $56 billion per year, with the brain category one of the fastest growing segments. NeuroReserve began with direct-to-consumer sales through their website that currently represents 65 to 70% of revenue, and they are entering the retail market as well.
NeuroReserve earns over $20k in net revenue per month and is in the middle of a round of fundraising. They have raised nearly $600k so far, with the majority of funds aimed at growth. The company intends to hit $80k in net revenue per month after this funding round, with plans to launch a second product that will position the company for a possible Series A round by the end of next year.
Visit NeuroReserve's website to learn more.
Laser Tag Fitness: The Exercise Program You'll Love to Do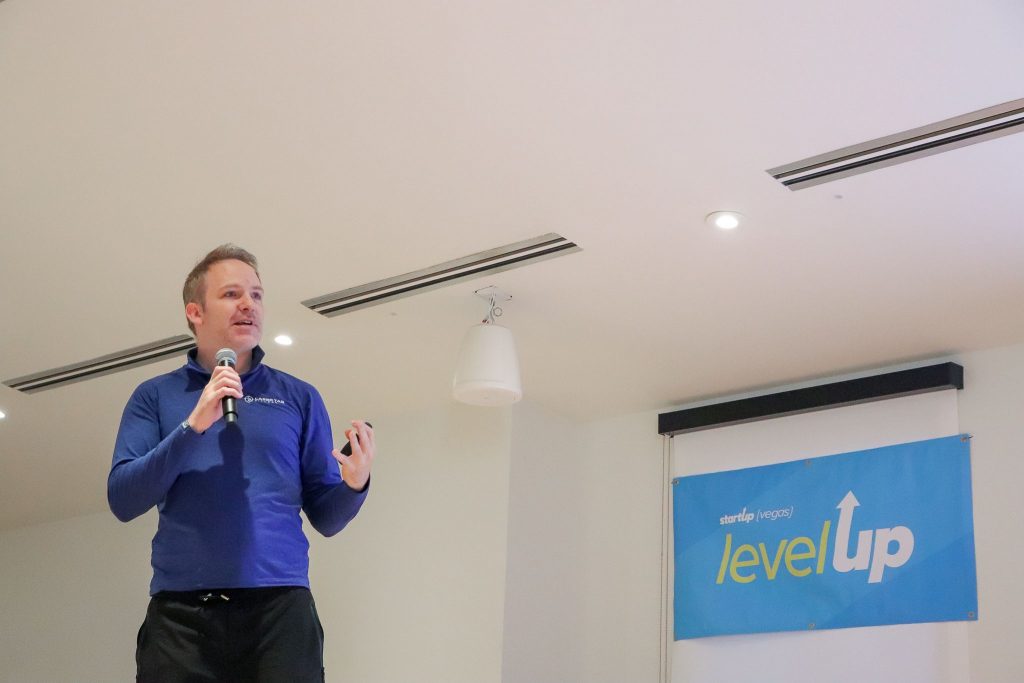 [Laser Tag Fitness, Michael Trollan, Founder & CTO] 📸 Photo Credit: Maya Tomasik
Laser Tag Fitness is a new type of exercise program that provides a thrilling alternative to conventional workout routines.
"Simple problem: Workouts are boring. Laser tag is fun. Why can't workouts be like laser tag?" says Michael Trollan, Founder and CTO.
Laser Tag Fitness is a community fitness option where users can assemble, join others, and battle it out with handheld laser guns—while getting a great workout in the process.
The fun factor of laser tag is the driving force behind this idea. It's no secret that traditional workout programs can be boring, and adherence rates for gyms and fitness classes is low. Laser Tag Fitness provides an engaging way to exercise that encourages active participation and makes users actually want to attend.
The company's proprietary technology will include laser guns with heart rate monitors built into the handle. These will allow users to continually monitor their exertion level during the activity.
Metrics like heart rate and calories burned can be assessed after the fact to review the quality of each workout. Combined with gamification elements across incentives, rewards, and unlockable participation bonuses, Laser Tag Fitness can almost guarantee that its users will want to come back for more.
Users pay a drop-in fee to attend each session, and in the future, customers will have the option to purchase long-term memberships similar to conventional gym spaces. The company boasts a total addressable market of $96.7 billion in global health club revenues and seeks to make its mark in the health and fitness space.
Laser Tag Fitness is currently fundraising to support its growth with long-term plans to open more studios and franchise out.
Contact info@lasertagfitness to learn more.
July 2022 LevelUp Overview
This was another fantastic LevelUp event, and we couldn't be happier with the outcome. This month's LevelUp event brought together over 150 attendees at WeWork Town Square, and a diverse range of industry professionals showed up.
Attendee Breakdown:
Entrepreneurs: 53%
Marketing: 14%
Investors: 14%
Developers: 10%
Creative: 5%
Other: 4%
Panelist Shout-Out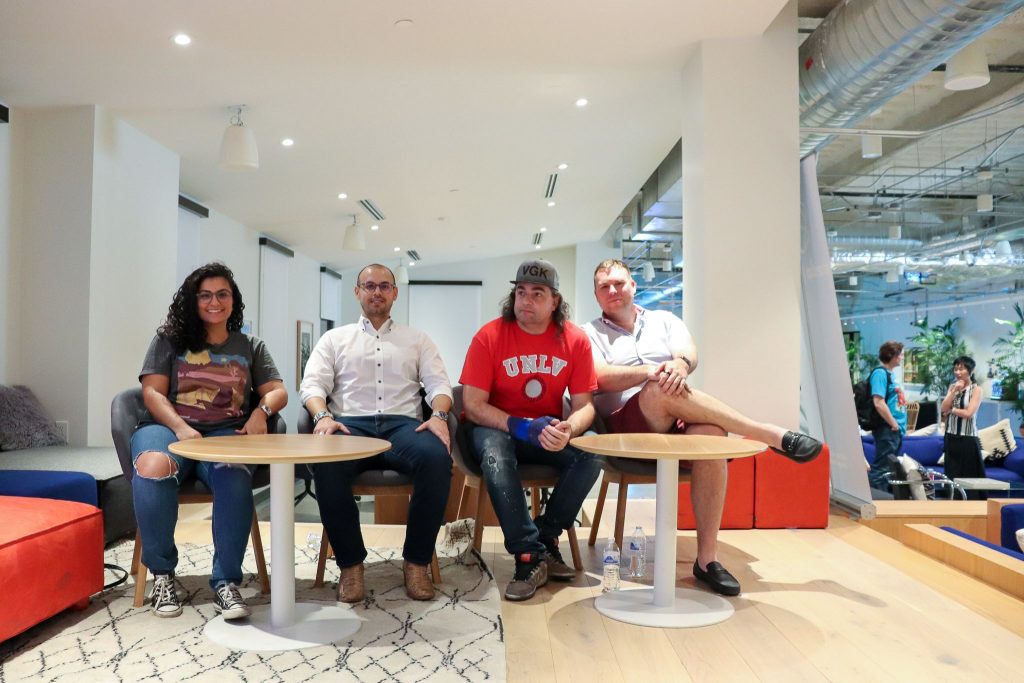 Faye Almeshaan, Andrew Baca, Marco Benvenuti, and Piotr Tomasik 📸 Photo Credit: Maya Tomasik
We always like to give a shout-out to our expert panelists who provide questions, insights, and support across each LevelUp event. This month, we recognize Faye Almeshaan, Andrew Baca, Marco Benvenuti, and Piotr Tomasik. Thanks for everything!
Coming Attractions
StartUp Vegas never sleeps. Check your calendars and keep your schedule clear for the next events in our series:
LinkUp (Wednesday, July 27th) A monthly meetup for local startup founders and entrepreneurs to work remotely in a community workspace setting while they network. (WeWork in Town Square, 6543 S Las Vegas Blvd, Las Vegas, NV 89119)


LevelUp (Friday, September 23nd)An event that highlights the best of #VegasTech. It provides opportunities for companies to pitch to a panel of experts and create a great networking opportunity for the ecosystem. (WeWork in Town Square, 6543 S Las Vegas Blvd, Las Vegas, NV 89119)


SyncUp (Wednesday, October 12th)An organized opportunity for group mentorship headed by a facilitator. Founders spend the day learning about each other, their companies, and some of the challenges each person faces. (Invite only. For consideration, email your deck to [email protected])
Get in touch to learn more about these upcoming opportunities or to get involved.
Heather Brown ([email protected]) and Piotr Tomasik ([email protected]) are the Co-Founders, operators, and tireless advocates for StartUp Vegas. Their ongoing mission? Provide critical infrastructure, support, and community needed to make Las Vegas the premier tech ecosystem in the nation.
---