Welcome to the May edition of StartUp Vegas 2022!
We've just completed another round of exciting presentations to expand Las Vegas's presence as a tech powerhouse in the national spotlight. This was one of our best events yet.
Before we kick off our rundown, I am thrilled to announce that StartUp Vegas is represented with a seat on the Nevada Governor's Office of Economic Development subcommittee for startups and venture capital. The first meeting occurred on May 5th. Key themes for this meeting were (1) expanding the ability for everyone to invest in startups and (2) building out opportunities to get more people working in tech—two subjects we're passionate about!
Soon we will launch a new monthly event: StartUp Vegas ReadUp. This event will focus on the written word and how to share entrepreneurial, startup, and tech materials with community members. You won't want to miss it.
StartUp Vegas – LevelUp!
As always, StartUp Vegas brought together some of the best and most forward-thinking minds in the area. We shared insights, wisdom, and ideas on the roles of technology in the public consciousness. Our event on May 20th saw some amazing ideas in medical scheduling, event planning, and artificial intelligence-enabled solutions for fitness and hospitality/gaming. Read on to learn more about these startups and what they're bringing to the table.
Full Documentation and Price Transparency Made Easy Through Hutano
[Hutano, Ephraim Makuve, CEO & Founder]
Hutano is a software-as-a-service (SaaS) healthcare technology company that helps patients find healthcare providers, book appointments, and pay for services online. Hutano provides a way to manage the entire patient journey with greater speed and efficiency than current solutions do, particularly for emerging healthcare businesses.
"We are the only platform that makes it easy for independent healthcare providers to start a telemedicine, on-site, and clinic business, literally in hours, and reach thousands of patients in their neighborhood," says Ephraim Mukuve, CEO and Founder of Hutano.
Healthcare access is a known struggle in the United States. It takes the average American 22 days to receive primary care. These delays cause Americans to resort to emergency services for basic care and suffer high healthcare costs as a result.
Hutano provides a comprehensive solution for users to access healthcare when and where they need. Hutano lets patients find providers across chosen times, dates, and services, select whether services will be on-site or virtual, and add medical documentation and details as needed. Services can be booked and paid for entirely online, with transparent pricing available to view—before services are fulfilled.
The platform gives patients more information about service availability and pricing while it digitizes record submission. This decreases time spent in waiting rooms and creates a digital healthcare solution that benefits both patients and providers.
With a total addressable market of $80 billion and plans to build out outbound sales and marketing teams, Hutano is seeking $3 million on top of its existing funding to grow its customer base, secure additional talent, and fund infrastructure costs.
Visit Hutano's website to learn more!
15 Minutes Twice a Week – JouleFit's AI-Based Approach to Workout Optimization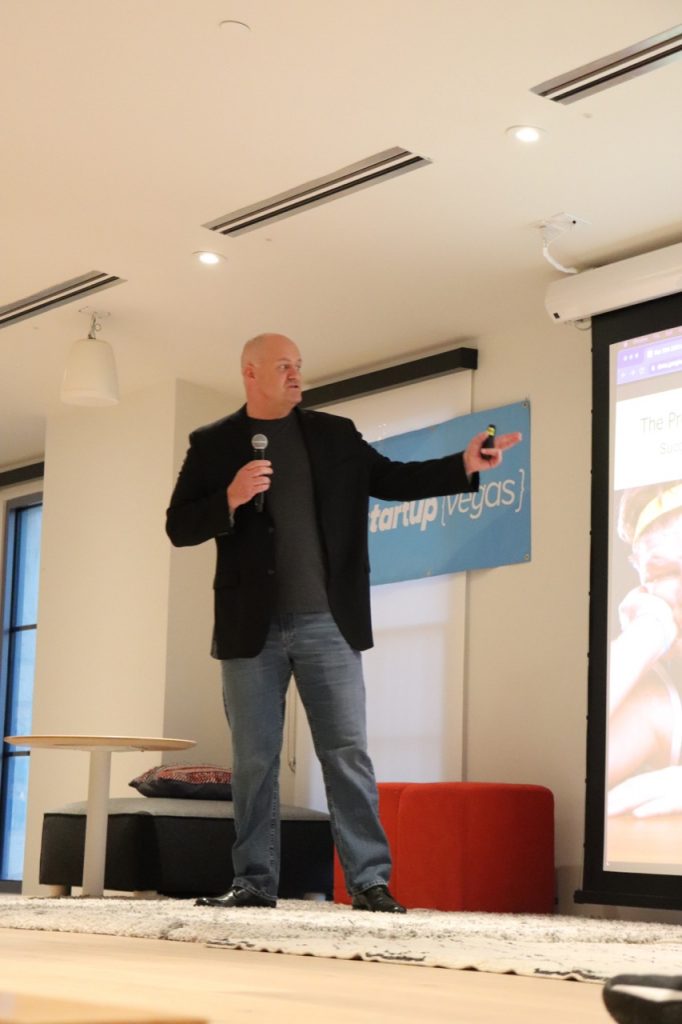 [JouleFit, James Richey, Co-Founder]
JouleFit is a technology company that uses artificial intelligence (AI), robotics, and data to enhance the fitness industry.
It's no secret that many people struggle to exercise effectively with conventional gym memberships. Common barriers include a lack of time, knowledge, motivation, and visible results, all stacked on top of a risk of injury inherent to traditional weight machines.
JouleFit addresses these challenges: It brings a cutting-edge technology component to working out. JouleFit is a destination gym that uses data-driven force-matching robotics to optimize strength training workouts. The technology uses a variety of software-enabled workout machines that, with AI, vary force throughout workouts to match resistance to output. This offers a personalized workout program for every user.
"Through simplicity, data, robotics, and artificial intelligence, we want to enable everyone to succeed in the gym," says James Richey, Co-Founder of JouleFit.
The company offers data-driven robotic strength training that provides an effective and safe workout in just 15 minutes twice a week. Workouts are customized to each user to provide a safe routine without any need for personal trainer input.
JouleFit leverages substantial amounts of user data to personalize workouts and provide real-time information on progress. JouleFit plans to leverage this health data for more comprehensive wellness programs down the line. All equipment will be manufactured in the Las Vegas area.
Across 1,200 potential daily sessions, JouleFit can produce a potential of $7.6 million in yearly revenue per location with a total attainable market of $39 billion.
Contact James Richey to learn more!
Retreat to Your Private Island for Seamless Event Planning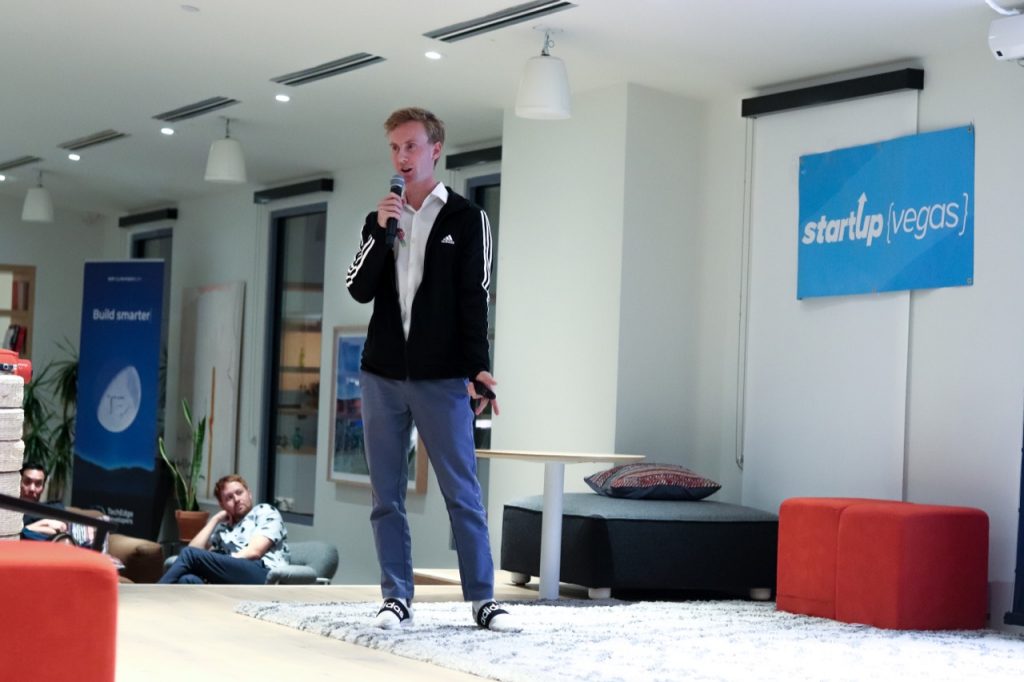 [Private Island, Nicholas Duro, CEO & Founder]
Private Island is an event management service that will map the social landscape and revolutionize planning for private and public events.
Large-scale events are notoriously hard to organize, and even small events require coordination among multiple organization platforms, financing tools, and communication services. These disparate systems make organization difficult because of the many separate, moving parts.
Private Island offers a single, streamlined platform for event management that allows users to explore, organize, finance, and share information for private parties, trips, and adventures.
Users register an account and go through an easy step-by-step process to create events, curate interest, and manage financing. Options for both organizers and attendees create a complete solution for event planning on both sides.
Private Island links to a user's social map to make it easy to curate guest lists from pre-qualified, interested inbound requests and begin interactions early in the process. This allows for more open collaboration that, in turn, supports better exposure, more event visibility, and more opportunities for funding and financing across the board.
"It's really meant to target your social network and engage people that you know as a user," says Nicholas Duro, CEO and Founder of Private Island.
And with a total addressable market of $1.68 billion across annual, formal, and informal events, there's plenty of value to be found. The company is raising $5 million in late seed funding to finish developing the Private Island platform and further build out sales and marketing channels.
Visit Private Island's website to learn more!
Casino Gaming Reimagined With Zillions AI Data Capture Technology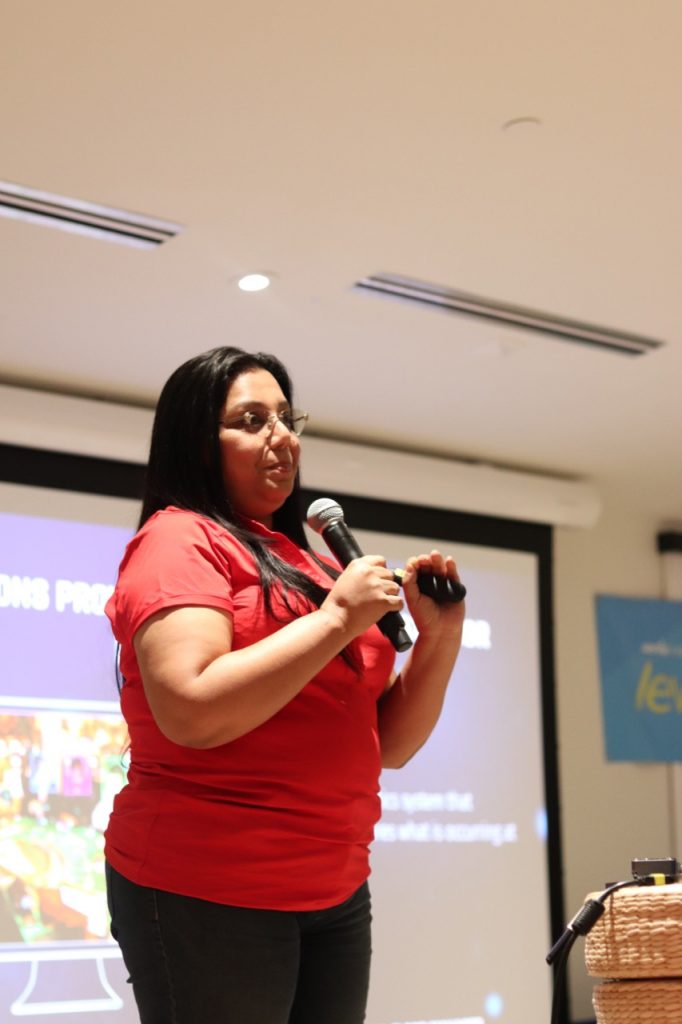 [Zillions Mridula Saini, Founder & CEO]
Zillions is a B2B, SaaS video analytics system that takes hospitality into a new age of real-time data analysis. Their presentation at LevelUp focused on table games in casinos and how Zillions can help owners maximize returns and improve operations.
Although the average revenue of table games is 30 times higher per user than slot machines, table games remain one of the most manually-intensive games to manage. Profits from these games have declined over the years because of rising costs of labor and ongoing marketing. Additionally, casino staff who manage table games can't capture player data the same way that slot machines can. They often rely on manual assessments, which are prone to inaccuracies, disputes, and potential fraud.
Zillions aims to flip the script by providing real-time video analytics that capture everything happening at the table.
"Zillions uses machine learning, neural networks, and computer vision, to capture whatever is happening on a table game and convert that into electronic form with no human input," says Mridula Saini, Founder and CEO of Zillions.
The proprietary system combines body posture and facial recognition tools backed by real-time and 100% automated analytic assessments. The platform captures information on bet values, player identities, dealer engagements, card counting, transactions, and more. By doing so, casinos gain deep insights to improve per-table yields that support marketing, surveillance, and operations.
Zillion's solutions remain compliant with all U.S. laws surrounding privacy and data collection. Further applications of this technology can be used in entertainment, retail, sports, transportation, medical services, education, and more.
With a total addressable market for table games of $2.5 billion, Zillions has already raised $800k so far and seeks $2.1 million in additional funding.
Contact Mridula Saini to learn more!
May 2022 LevelUp Overview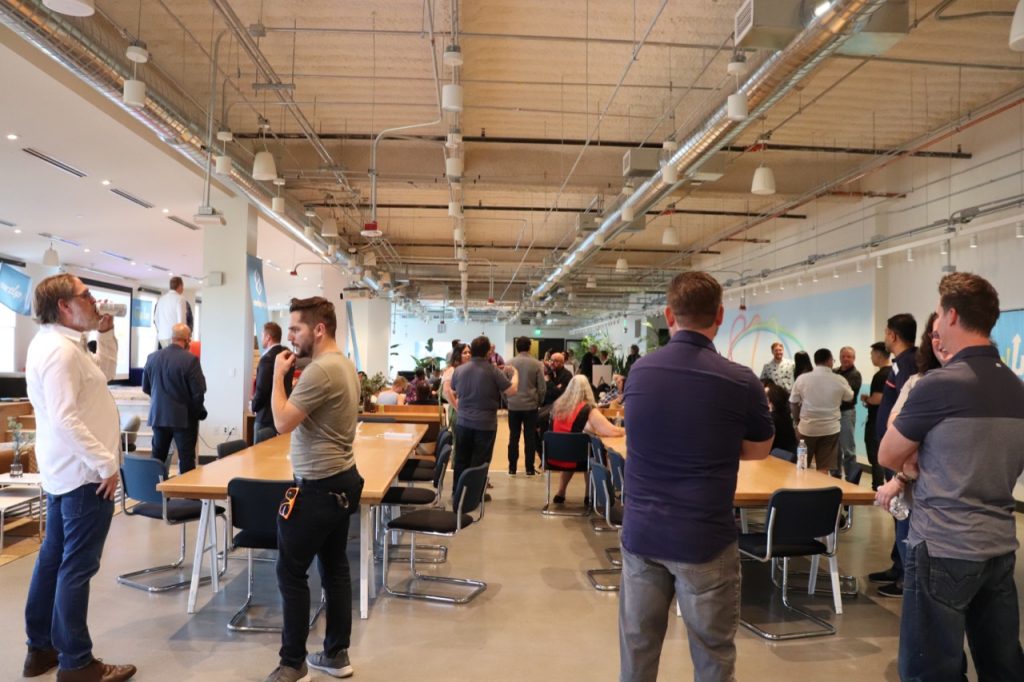 There's so much to be excited about after each of our LevelUp events. Every new idea gets our imaginations going, and we're excited to see that so many others share our enthusiasm for these events. This month's LevelUp expo boasted 140 attendees at WeWork Town Square and represented professionals across a broad range of industries.
Attendee Breakdown:
Entrepreneurs: 50%
Marketing: 15%
Investors: 13%
Developers: 10%
Creative: 6%
Other: 6%
Panelist Shout-Out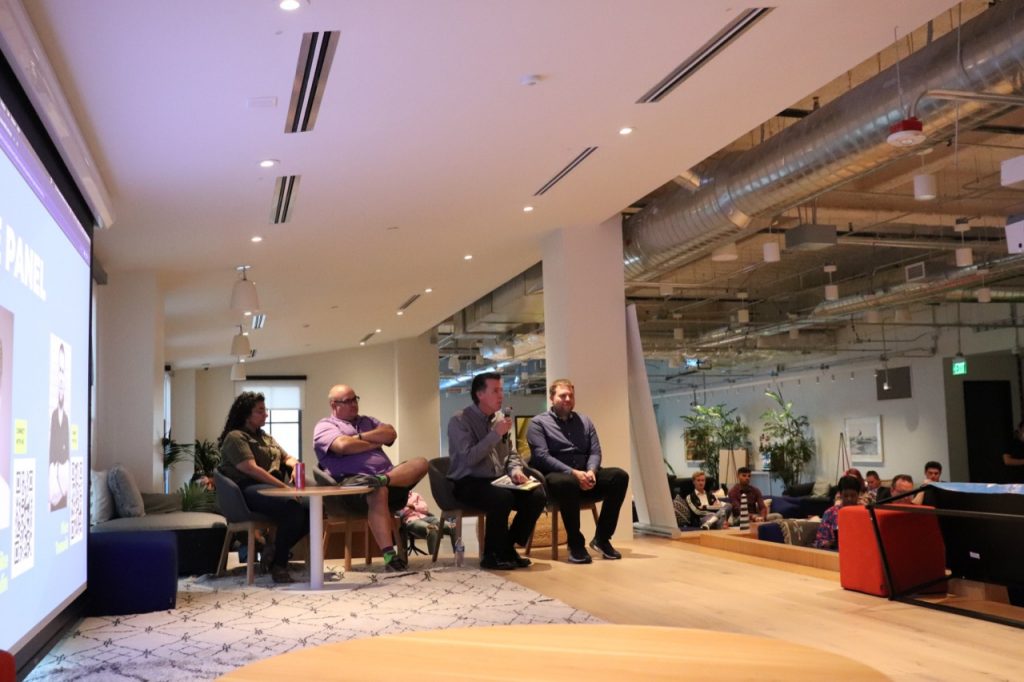 As always, our LevelUp events wouldn't be possible without the insight and support of our expert panel. This month's shout-out goes out to Faye Almeshaan, John Emmons, Mike Scanlin, and Piotr Tomasik. Thanks for everything you do!
Coming Attractions
What's coming up for StartUp Vegas? Keep your calendars clear for the next events in our series. They're coming to an expo center near you:
LinkUp (Wednesday, June 29th)  A monthly meetup for local startup founders and entrepreneurs to work remotely in a community workspace setting while they network. (WeWork in Town Square, 6543 S Las Vegas Blvd, Las Vegas, NV 89119)

LevelUp (Friday, July 22nd) An event that highlights the best of #VegasTech. It provides opportunities for companies to pitch to a panel of experts and create a great networking opportunity for the ecosystem. (WeWork in Town Square, 6543 S Las Vegas Blvd, Las Vegas, NV 89119)

SyncUp (Wednesday, October 12th) An organized opportunity for group mentorship headed by a facilitator.  Founders spend the day learning about each other, their companies, and some of the challenges each person is facing. (Invite only. For consideration, email your deck to [email protected])
Get in touch to learn more about these upcoming opportunities or to get involved.
Heather Brown ([email protected]) and Piotr Tomasik ([email protected]) are the Co-Founders, operators, and masterminds behind StartUp Vegas. Their ongoing mission is to provide the infrastructure, support, and community needed to expand the Las Vegas tech ecosystem in an engaging, supportive, and fun way.